DIY Mason Jar Pendant Light: Upcycle an Old Vanity Light Strip in Easy Steps
Are you looking for an interesting and unique light fixture? Maybe even with a rustic and eclectic twist? Then I definitely think you'll love this mason jar pendant light!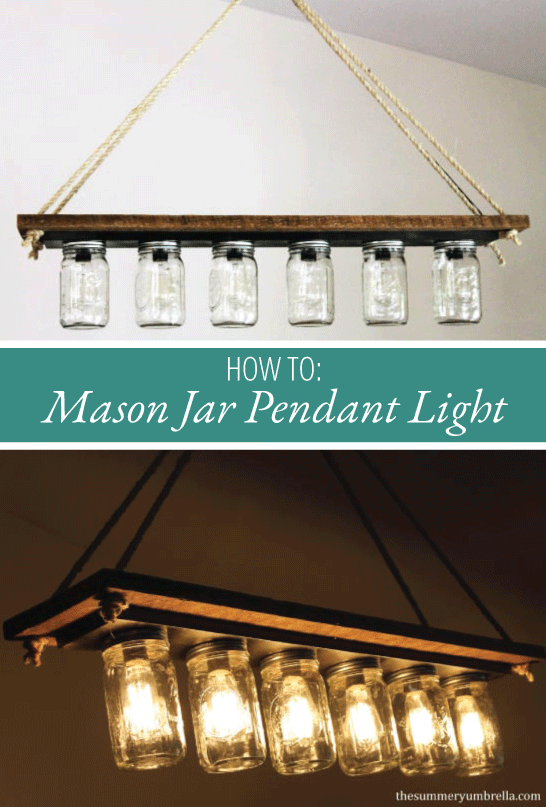 These past few weeks at the Cathcart family home have been jammed-packed! It started off with a crazy overload of allergy issues (both humans and pets). Then, we continued onto DIY projects and lots of wonderful orders from our shop The Summery Umbrella.
Mike and I always attempt to work on one room/project at a time, but that never seems to work out. However, it seems to make for a very interesting and extremely creative way of thinking. Kind of like this Mason Jar Pendant Light. It wasn't exactly on our priority list, but it soon became numero uno!
We started working on our kitchen/dining/living room, but we ran into a snag when our rugs got back-ordered. Then, we had to find the barn wood for our kitchen island and bar.
Plus, I couldn't decide on seating. Should we do chairs, stools, benches, or even a booth? And then, what to do about lighting?
You see, paint is my best friend. I hate throwing away good items just because of "bad" color. Thankfully I am a bit of a paint hoarder, and I've been able to save many items with a simple paint job.
How to Make DIY Mason Jar Lights
With all that being said, I am happy to FINALLY announce that we have finished one of our many lighting projects (plus other "hanging" from the ceiling projects)!
It's not the best picture, but do you see the mirrored lighting above? Recently Mike and I decided to yank out this vanity, and go figure, this task wasn't as easy as we had hoped. Needless to say, everything you can see in this picture (except the toilet) is now ripped out.
Thankfully the lighting worked well so a new dining room light was in the making.
And I am going to share with you exactly how we made our new mason jar lights made with wide-mouth mason jars so you can make some too.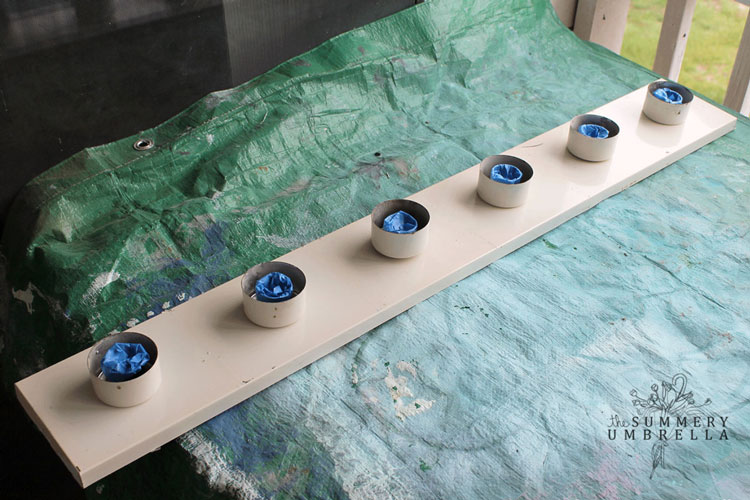 1. Get to the Bare Bones of the Light Fixture
Once the light bulbs and mirrored tiles were pulled off we were left with the bones of this light fixture. They were actually in pretty good shape. It's very similar to this inexpensive light fixture.
2. Paint the Fixture
So, all I needed to do was tape off the light sockets, wipe off any debris and dust that I saw, and get started on the paint. Naturally, I turned to my all-time favorite spray paint color Rust-Oleum Oil Rubbed Bronze Spray Paint.
I seriously heart this color!
3. Secure the Fixture to the Barn Wood
Then we pulled apart the fixture so it could be secured to our piece of barn wood.
4. Drill Holes Into the Mason Jar Lids
Next, it was time to drill holes into the mason jar lids so they also could be securely fastened to our fixture as well as allow the light sockets to push through.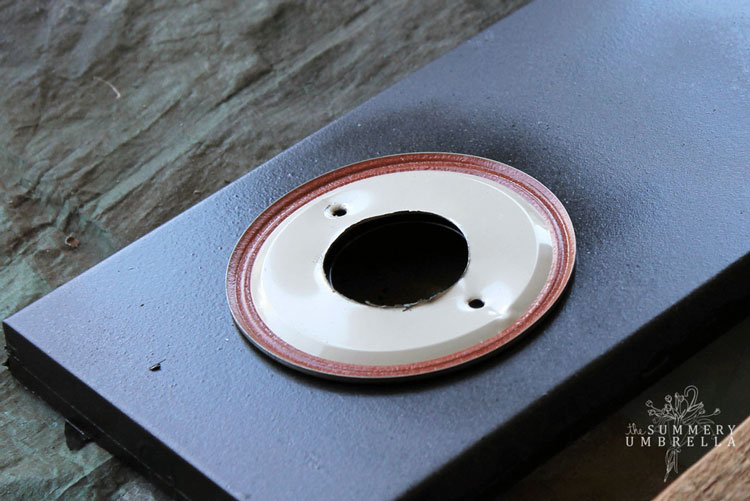 Oh yea, we can't forget to add a hole in the wood for the actual electrical to fit through!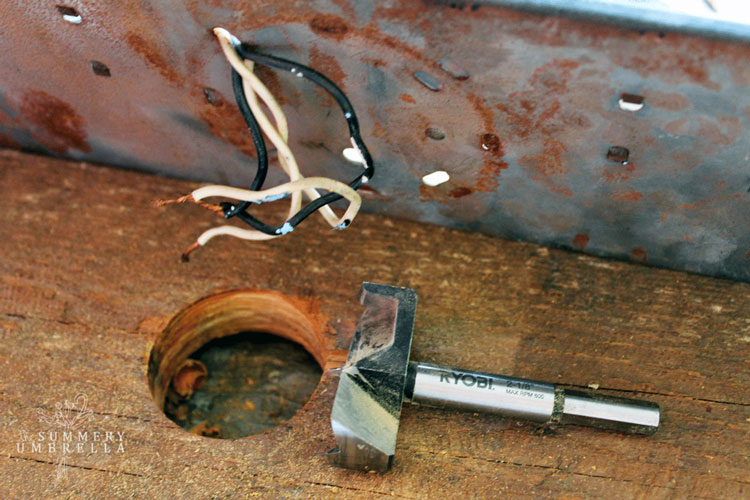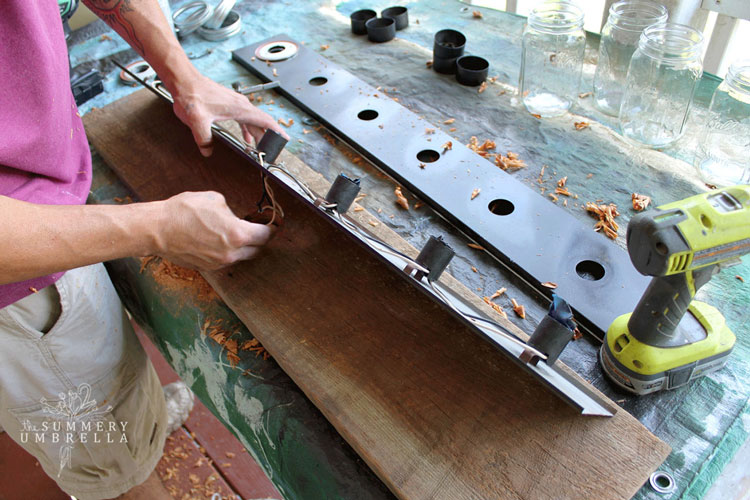 5. Begin to Put It All Together
Ok, so now that we know where everything will be placed now it's time to put it all together!
Mason jar bands placed on first, check! Lids next, and then screw them in.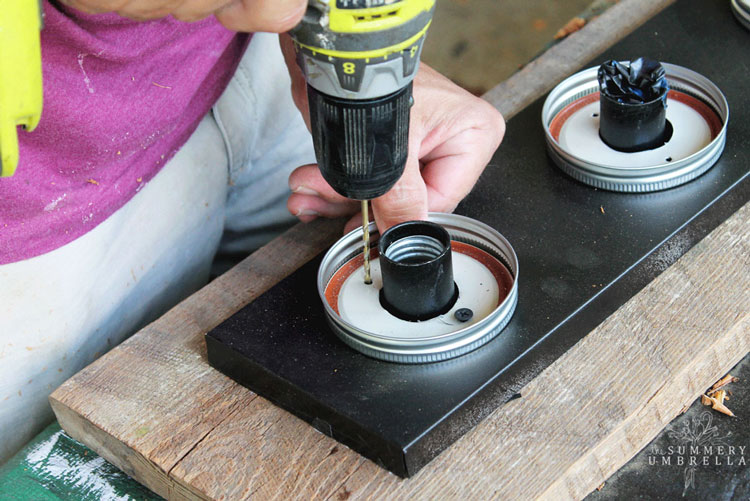 How to Make Mason Jar Lights Look Even On A Slanted Ceiling
I do believe that the only issue we had with installing our mason jar pendant light was determining how to make it look even on a slanted ceiling.
Since we had decided to use a rope to hang up our light and we originally were going to use two ropes. However, it looked a little funny having one side longer than the other so we decided to go with just one.
Mike then installed a ceiling hook with a screw to hang the rope from and being the good wife that I am I allowed him to go ahead and play with the electrical part too. I mean, come on, he likes to play with it! Haha.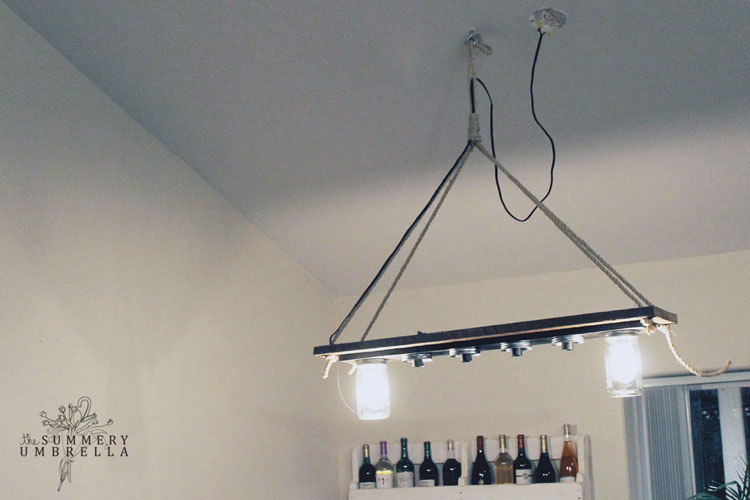 I apologize for the super dark photo! We started this project kind of late at night, and I didn't want to miss out on showing you a few of these steps. This is what our light started off looking like before we tied it up with rope, and then shortened the electrical cord.
After he trimmed up all of the loose ends we put a plastic electrical cap onto the old hole where the light may have been. We really don't know!
We ran the electrical cord on the back of the pendant light to avoid being so obvious since we weren't going to paint it.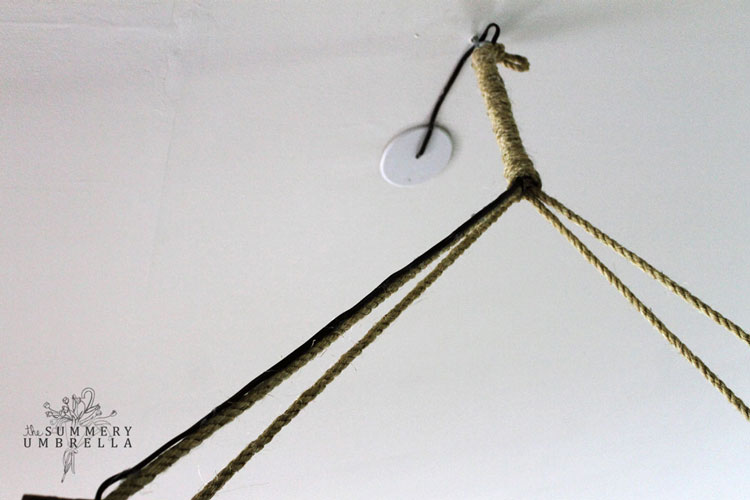 Mason Jar Pendant Light
How gorgeous does it already look!?! We started off using just regular bulbs but felt like there was something missing. So, we invested a few dollars into these old-timey Edison bulbs. Aren't they drool-worthy? LOVE THEM!
You can find these Bulbrite Edison Squirrel Cage-style Bulb on Amazon for a great price! In fact, it was the lowest we could find among most of the stores we typically frequent.
Even though these bulbs look great without the mason jars we still decided to put them back on. Either way though, they would look amazinggggg!
Wowzas! Love our new mason jar pendant light! Another project to add to my book of favorites 🙂
If you loved these ideas then you'll definitely want to browse some of my other DIY projects that are full of step-by-step tutorials as well as freebies galore! Can't wait to see you again!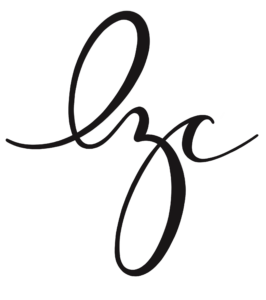 Let's be Social
UPDATE: I've heard through the grapevine that there've been a few concerns about exploding mason jars. I just thought I'd stop by and provide a little insight.
Please remember, mason jars are designed for boiling water (aka. canning foods) so the heat that they're supposed to withstand is at the boiling point. With that being said, the heat from the bulbs will be significantly smaller when compared to boiling water. So, I can ensure you that the risk of these jars exploding is incredibly small. If you have any issues whatsoever with your jars then the company that created them has a huge problem. Also, I've had this mason jar pendant light for years, and I've honestly had no issues with it. Another option is to use LED Edison bulbs which tend to be a lot cooler than regular bulbs. Thanks again for the sweet comments!! 🙂
This post was updated in January 2023.