How to Quickly Seal a Concrete Countertop
Do you love that gorgeous industrial look of concrete, but not sure how well it would hold up in your bathroom? Let me show you just how easy and quickly you can seal a concrete countertop to get this look ASAP!
Coming up with a new and interesting idea is never a problem for me. New ideas enter my brain at crazy speeds, and I usually don't have time to write them all down. And if I don't write them down the chances of me actually accomplishing them are pretty slim. So, here's what happens in "Let's-Just-Do-It-Linda's" brain (this is apparently a new nickname my husband has given me).
An idea pops into my brain.
I write it down.
Since this idea is obviously gold I want to accomplish it right now.
Thus, I explain to my husband why he needs to drop everything to help me.
Three weeks later it'll kind of get done, but by this time I've changed my mind on what I want to do with that particular idea anyways so the vicious cycle starts all over again.
Hopefully I am not the only one that goes through this crazy chain of events every time you'd like to achieve something around the house.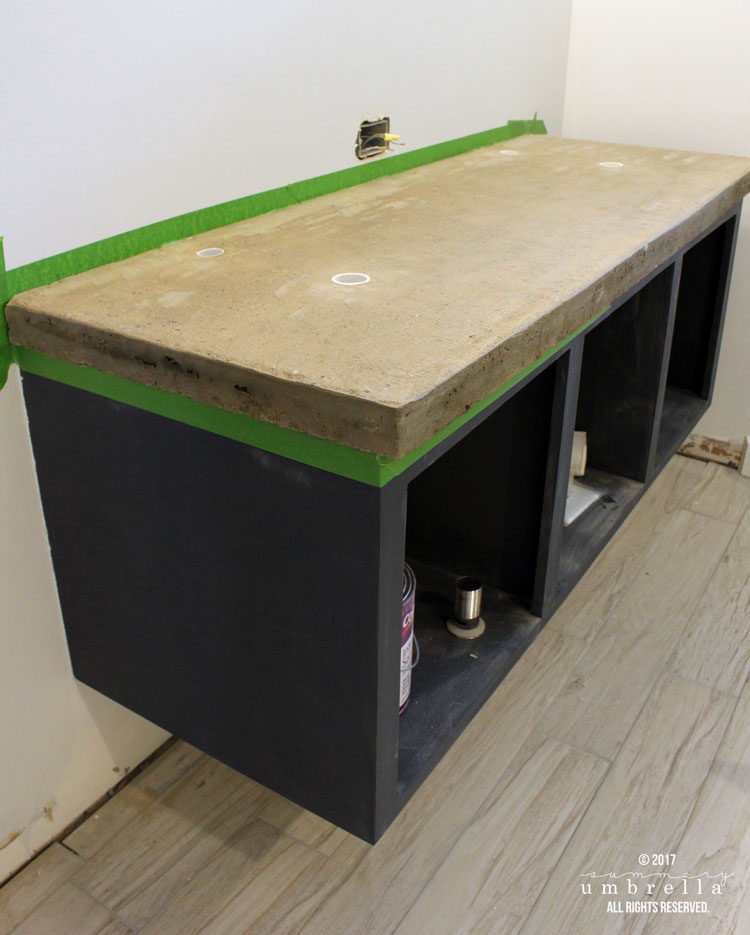 Needless to say, the whole point of telling you about this round about way that I somehow use is that for once I actually stayed with my original idea. Woo hoo! Go me!
I made a decision, and did not veer from the plan. I wanted a concrete countertop dang it, and I made sure it happened. However, I let Mike do all the heavy lifting in this dependent. Literally. This double sink vanity concrete countertop was a whopping 150 lbs once it dried!
How we accomplished this concrete countertop:
Made a plywood form (aka. a box)
Cut a piece of rebar into four pieces (2 for the overall length and 2 for the width)
Mixed 3 bags of high strength concrete with water
Shook/stirred it all up to get all the bubbles out
Let it dry
Took off the plywood form
Grinded it down so it was nice and smooth, but didn't take away from the industrial look
Added it to our floating vanity in our master bathroom
Ok, now on to the easy part! Sealing it up.
Materials
Steps
Tape up everything around your concrete countertop that you do not want sealant to get on.
Gently poor your sealant on your concrete countertop and with your foam roller and cover roll it over the surface.
Depending on how big your countertop is you'll probably use about 1/2 of your sealant (just to give you an idea).
I put approximately four layers on mine.
Let it dry.
Looking for more inspiring DIY projects?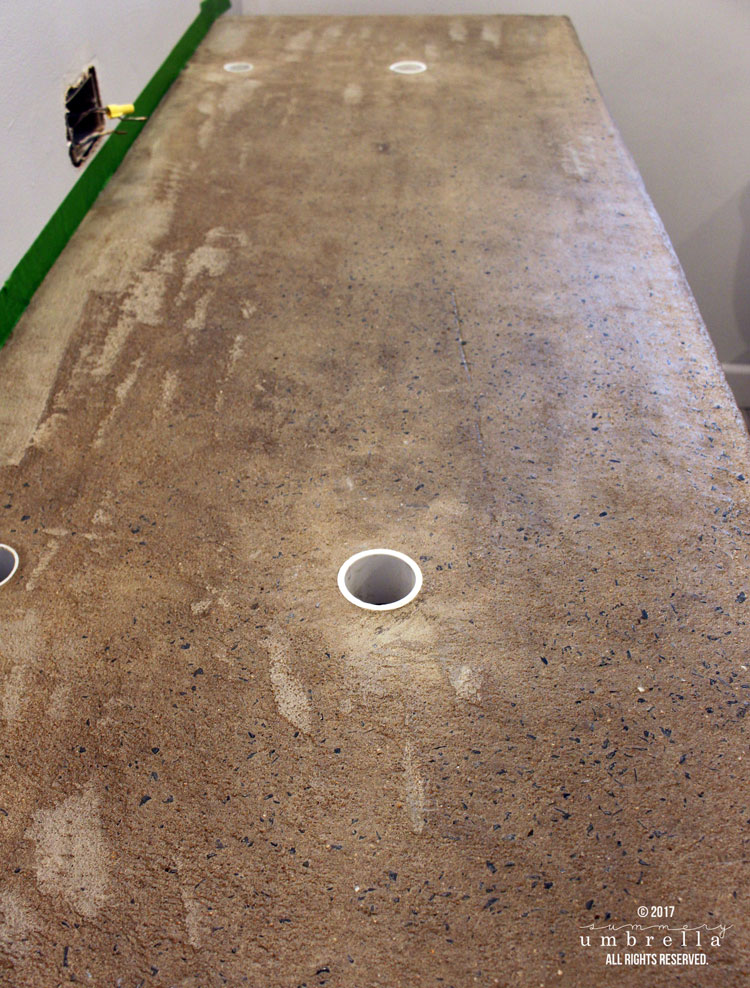 How to Quickly Seal a Concrete Countertop
See, wasn't that super simple? It's also super easy, and super quick! If you haven't checked out my video above definitely go take a look for a visual. This has got to be my favorite countertop to date for sure. What do you guys think? Gorgeous, right?!
Have a great weekend,
Pssttt….
Don't forget to check out my
DIY
projects page chocked full of DIY and decorating goodness!