How to Paint Furniture with Minimal Prep Work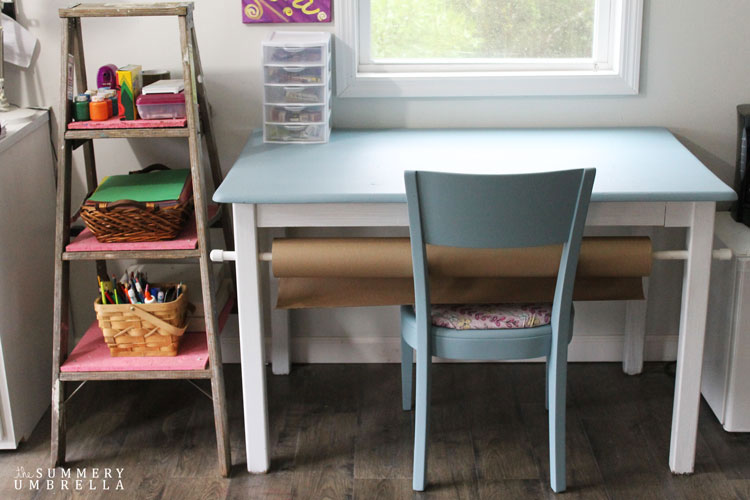 Learn how to paint furniture like a pro! It'll only take a few simple steps, and very minimal prep work. Are you in? Let me show you how!
I dare say that my daughter loves drawing, painting, and creating just as much as I do. Even when we're not in the studio she is drawing on any surface she is (or is not!) allowed to design her own little masterpieces onto. In fact, I would be quite embarrassed if you ever saw what her room actually looks like!
As an artist, I find myself pushing the buttons of what I "can" or "should" be drawing on, and that of course passed down to my darling little girl. Apparently she has the same philosophy as me when it comes to walls, furniture, and tattoos. For instance, all of her baby dolls are peppered with the most festive designs you ever did see!
Sigh. I heart her!
With that being said, I knew that I would need to create a space just for Miss Ava's creative ambitions. However, with her very colorful way of expressing herself I also knew that I should not invest in a brand new desk and chair either.
So, I decided to just repaint an old table and chair that we had around the house with Fusion Mineral Based Furniture Paint to create not only a beautiful set, but also something that could keep up with her daily aspirations.
How to Paint Furniture with Minimal Prep Work
Originally I painted this table a seafoam color, and honestly I really liked this shade and did not want to venture to far from it. However, as you can see, it has been through a lot!
You're probably thinking… oh my gosh, that girl has a lot sanding and prepping to do with a table that looks THAT bad. But you know what? I barely touched this surface!
Seriously. I did wipe down the top of this table with a damp cloth. Just to get rid of any "extras" that were on it, but that's it!
Also, the chair that goes along with it was once painted white and distressed. However, I didn't even bother sanding this baby. I lightly wiped it down to remove any dust and debris, but that's it.
Need more painting inspiration?
So, what allowed me to create such a beautiful piece of work with nearly NO prep work? Well, my friends, this amazing little pint in this dazzling shade of blue is by Fusion Mineral Paint in Champness.
I'm not sure if you know this, but I paint a lot. As in… every single day (check out my portfolio for a better idea of my creations ;), and I'm not even kidding when I say that this paint is probably one of my all time favorites… EVER.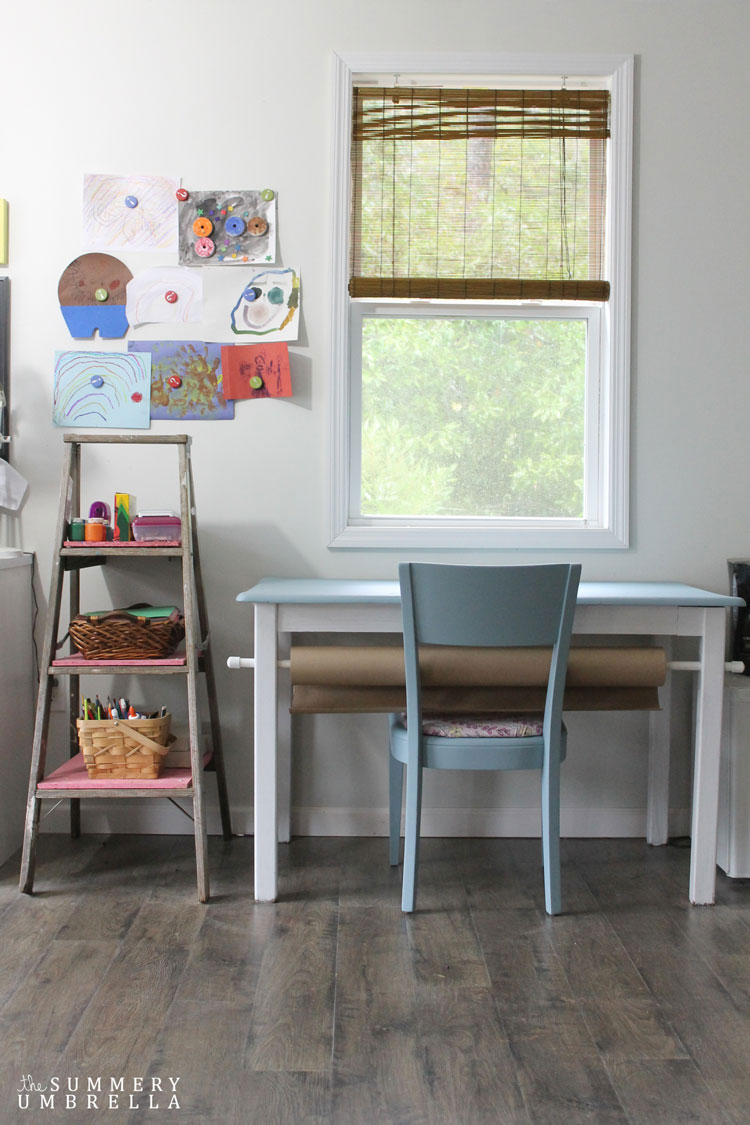 Not only is this paint absolutely STUNNING, but it also covers like a champ!
With one coat I was able to cover all of the imperfections on this table and chairs… with a normal paint brush that I had on hand (something like this Brush Set with Wood Handles).
Not to mention, how amazing does it look next to my DIY Kids Storage Ladder?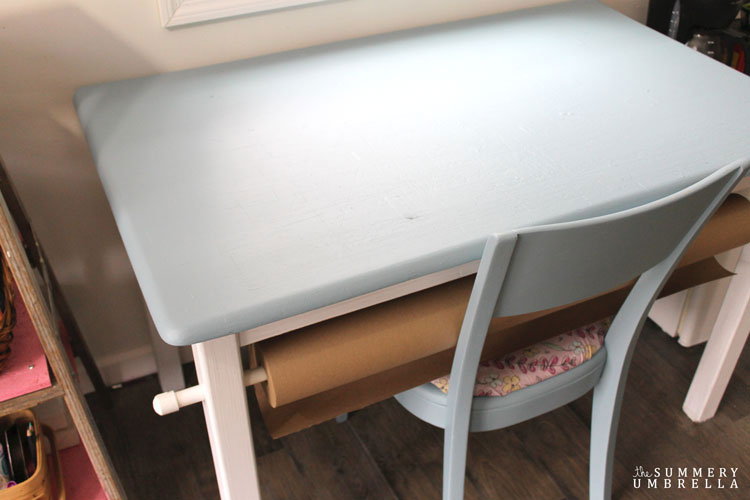 How to Paint Furniture with Minimal Prep Work
It is recommended that you use two coats, and it graciously filled in any spots that I missed.
I am still baffled at how well it turned this horrendous table and chairs into a work of art! Now, not only can it be enjoyed as a functional creative space for Ava, but also aesthetically for me in the studio as well.
Psttt… what do you think of that chair cover? Oh yea. I designed that on Spoonflower. Pretty cool, right?
Are you drooling yet?
I just can't seem to stop!
So, how do you find Fusion Mineral Based Furniture Paint? Hop on over to their Where to Buy tab and just enter your location information to find a store near you!
Happy painting 🙂
Follow me on: