Learn how to create your very own upcycled lamp shade pendant light with items you already have! Not only is it super simple, but incredibly gorgeous too!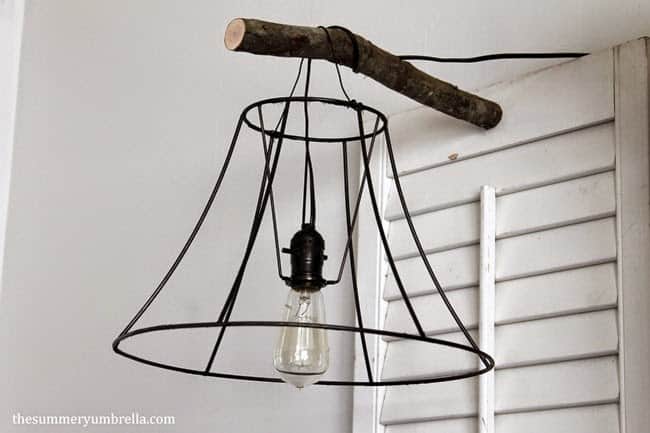 Have you ever had a project that you were dying to create, but just couldn't figure out how to do it? Well, I feel your pain! I have been wanting to create some sort of upcycled lamp shade pendant light for literally MONTHS. No joke. I started off thinking that I was going to do huge tree stump floor lights, but since we have carpet (grrrr @my husband) in our bedroom that wasn't going to work. Then, I thought I'd make light stands on these small benches that we had on hand, but I realized that they would take away from the shutters that I already had up.
So, finally the idea was to make hanging mason jar lights, but once again I ran into some issues so I ended up just using the electrical bits.
Here's the list of materials and tools that I used:
2 old lamp shades
2 plastic shutters
2 small branches
4 screws
wire
drill and drill bit
Just to give you an idea of what our bedroom currently looks like here are a few pics: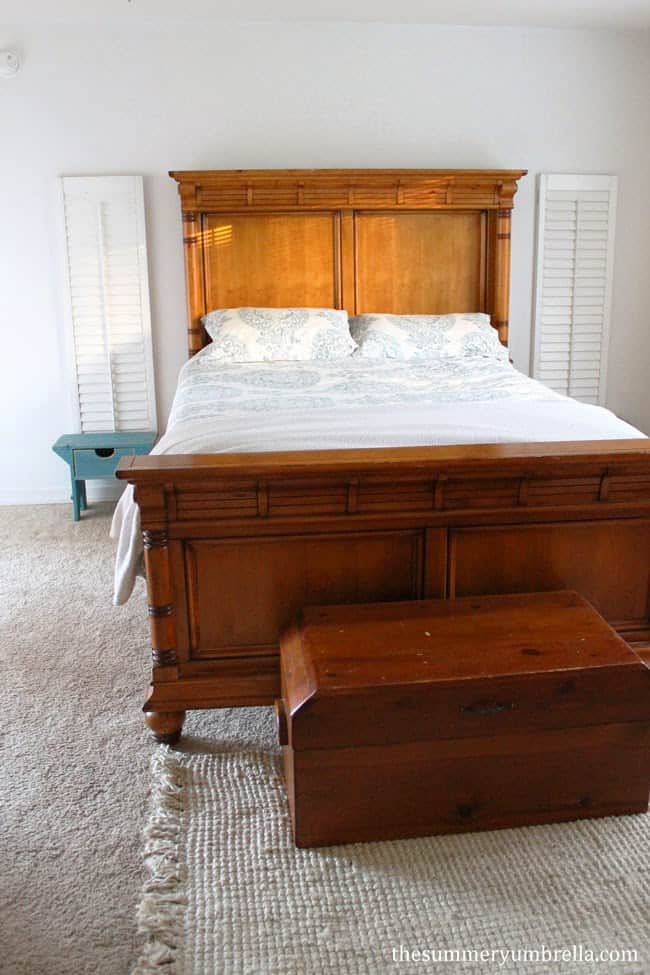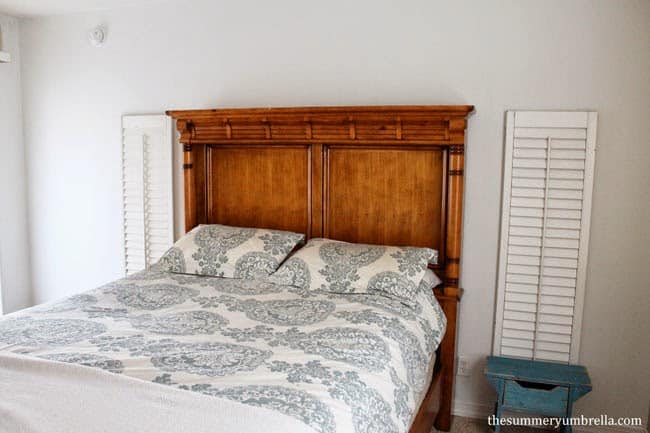 Our bedroom needs a lot of work, but I figured these upcycled lamp shade pendant light will be a good starting point!
First, I took down my window shutters from the wall, and pre-drilled two holes into my branch pieces and the middle on the top of the shutter. These branch pieces are approximately 18″ in length, but this measurement will ultimately depend on how large your lamp shades are.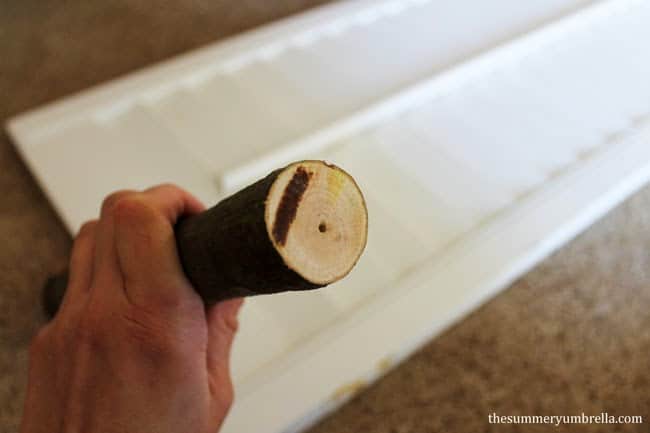 In the below picture I'm illustrating how this branch will look when it is attached.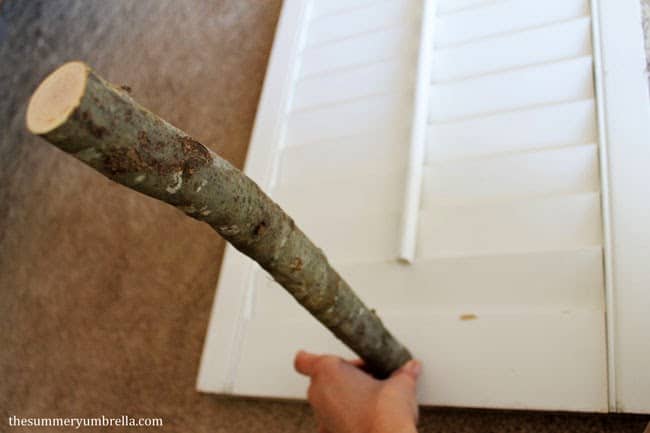 I cannot emphasize how important it is to pre-drill your holes! This will make screwing your branch into the shutter a million times easier.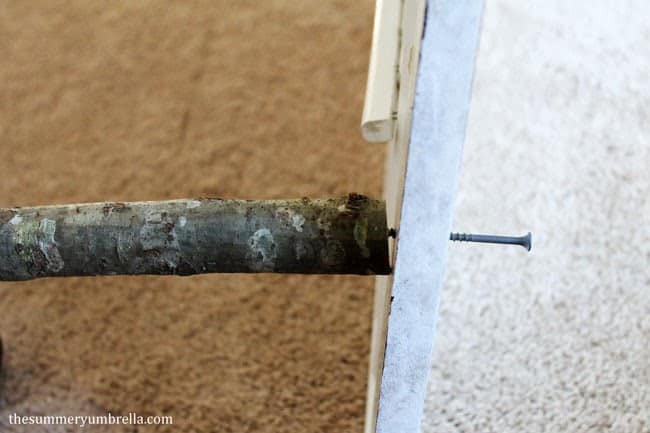 Next, I hung my shutters back onto the wall.
NOTE
: If you're wondering how to attach your shutters to the wall the easiest way I would recommend is with two
D-ring hangers
. Attach your hangers to the shutter, and then put your screws in the wall for easy attachment. If your shutters are significantly heavy make sure to use dry wall hangers with your screws.
Looking for more DIY light projects?
Don't have any lamp shades on hand? No worries! I bought these two beauties for a whopping $2 at our local thrift shop.
Now, I have to be honest, these lamp shades were hell on wheels. It took a lot of cutting and pulling to get all of the fabric off, and still there were bits that were hot glued on that were being rather feisty!
This next step is by no means required with this project, but if you just so happen to have the same hot glue problem as I did and you just so happen to have a blow torch on hand….  :)
All I'm going to say is……. GET IT GIRL!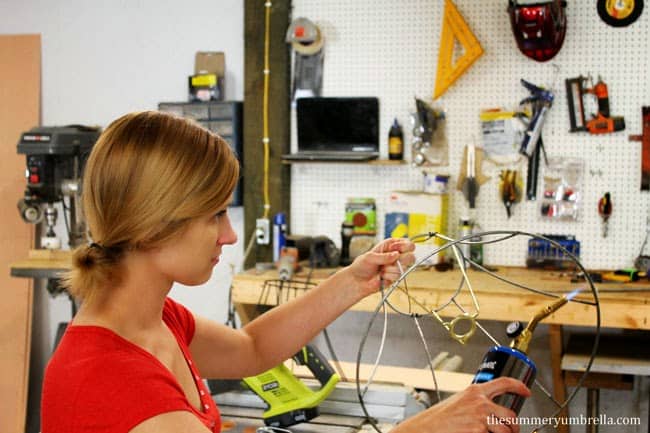 Also, depending on if you like the color of your lamp shade frame you might be able to skip painting it altogether, but these particular lamp shades were two toned. Not a fan. So, I once again pulled out my favorite Rust-oleum spray paint color 'Oil Rubbed Bronze'.
Not only did I spray paint the lamp shade frames, but also the lamp kits since they came in a goldish color.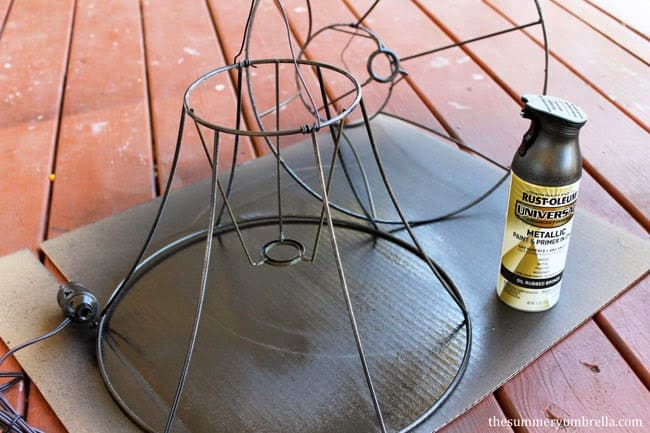 So, this is what the shutters looked like when there were only branches attached to them: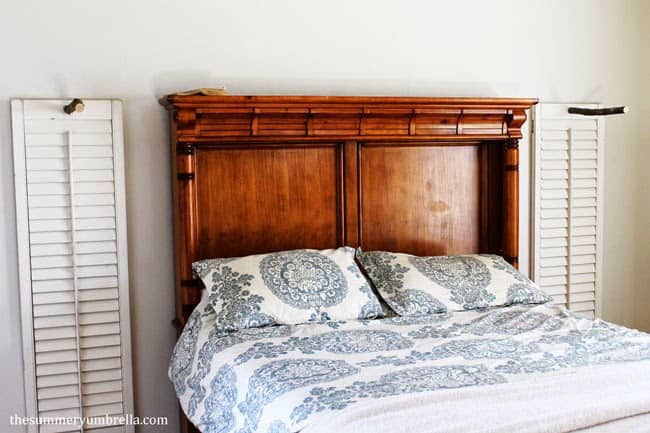 And below are just the lamp shades attached. Wow! Already they look amazing! I found that the easiest way to "attach" the lamp shades is simply by twisting a little bit of wire onto each side of the frame, and just allow it to hang off of the branch.
Upcycled Lamp Shade Pendant Light
The mason jar lamp kit that I used is super straightforward. Since I wasn't using the mason jar bits it was even easier! I simply slipped the light and light base through the top of the frame, and then twisted the cord a few times around the branch.
TIP: Before you buy any sort of lamp kit make sure you are buying something compatible for your lamp shade frame. I learned this the hard way, and had to do a lot of improvising.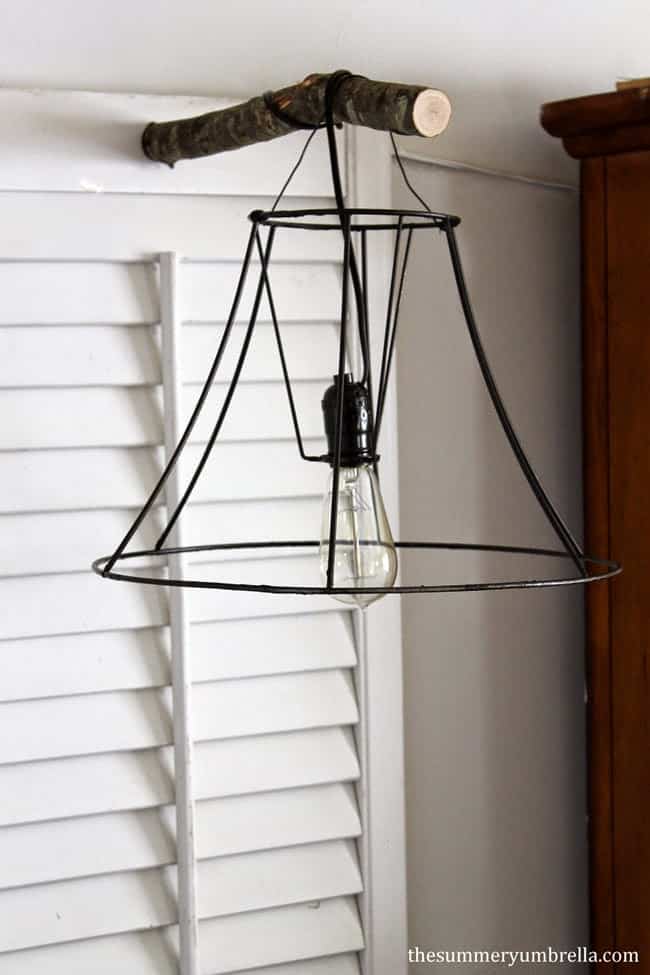 And Voi-LAAAA! I seriously heart my new upcycled lamp shade pendant light.
P.S. I did paint the electrical cord from the shutters to my bed. I can still see it, but I think it helps visually.
You don't have to use these Edison bulbs, but… don't they look so pretty?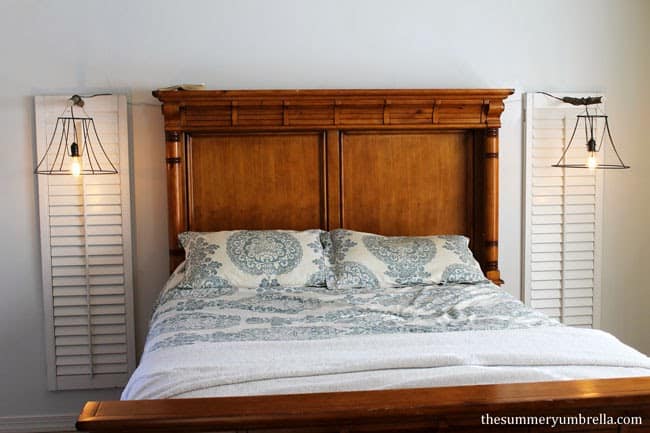 They even look fabulous at night!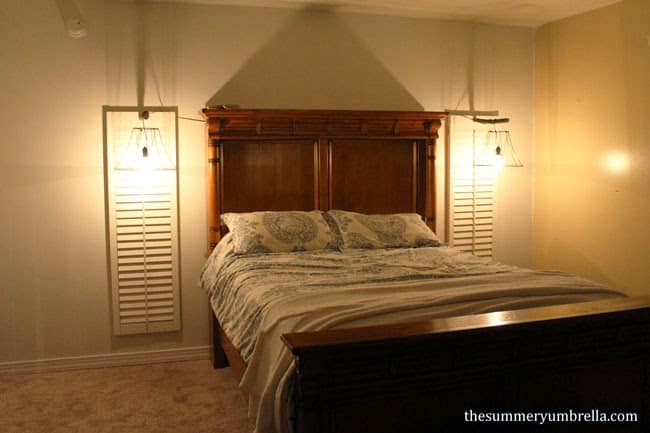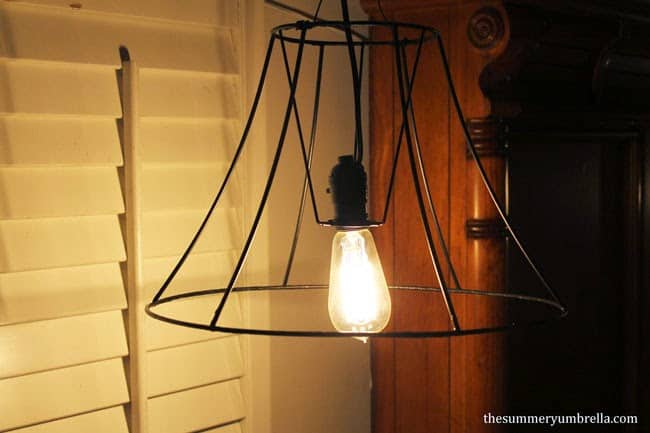 Happy Friday everybody, and until next week! :)
Pssttt….
Don't forget to check out my
DIY
projects page chocked full of DIY and decorating goodness!