Vintage and Rustic Inspired Navy Blue Dining Room Update
Slowly but surely I've been revamping the whole house, and I'm really excited to show you the results of my Rustic Dining Room Update today!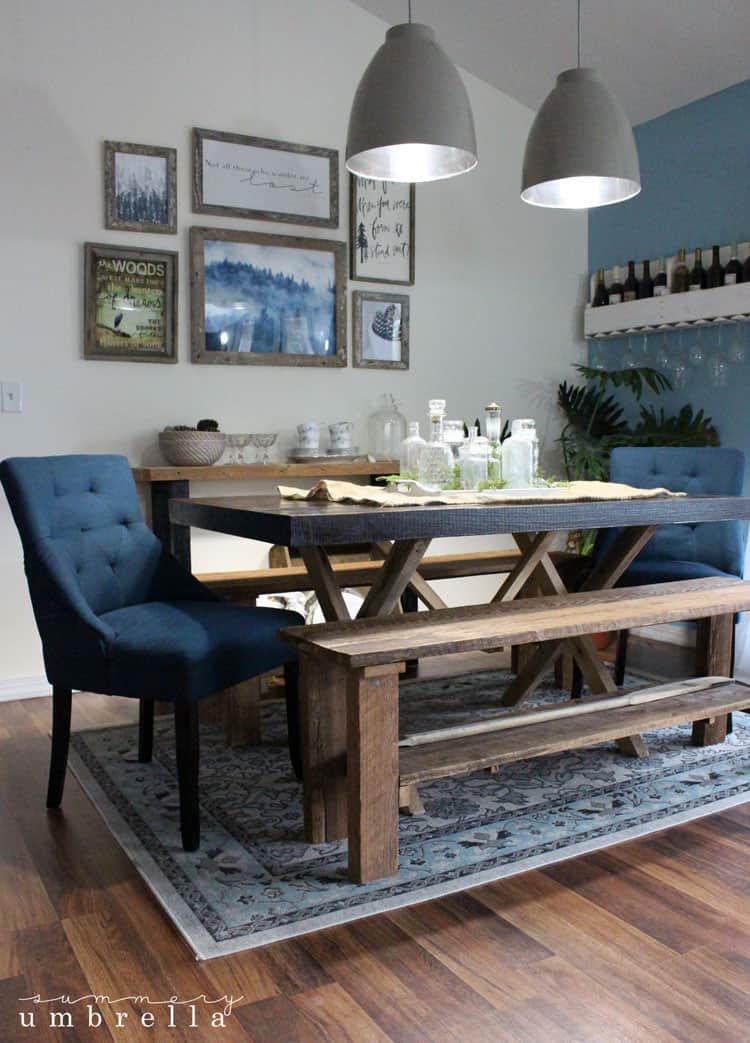 I have been wanting to update my dining room for awhile now. Well, let's be honest, shall we?
I've been wanting to update my entire house (again) for awhile now. It's not that I did such a horrible job putting it semi-together when we first moved in, but over the last year or so I've found that my own personal style has started to come around and get a little more refined.
This post is sponsored by Kohl's. I was paid for this post and received the included furniture and home decor as compensation.
However, I will still be providing my amazing readers with opinions that are 100% my own, and based on my personal experience using their AWESOME products.
For instance, I absolutely LOVE everything rustic and natural.
However, there has to be a happy medium when it comes to decorating with it. Personally, I find that there is a such thing as too much of a good thing.
Moderation is key.
I know I've used this example before, but it's definitely worth repeating!
Here's another illustration.
I absolutely adore a good cup of coffee.
Ok, ok.
That's a complete lie.
I know this. You know this.
I absolutely LOVE quite a few cups of coffee. However, if I have more than three in one day I'm going to be severely regretting it.
I'm going to get shaky and paranoid, and that will just flat out ruin my day.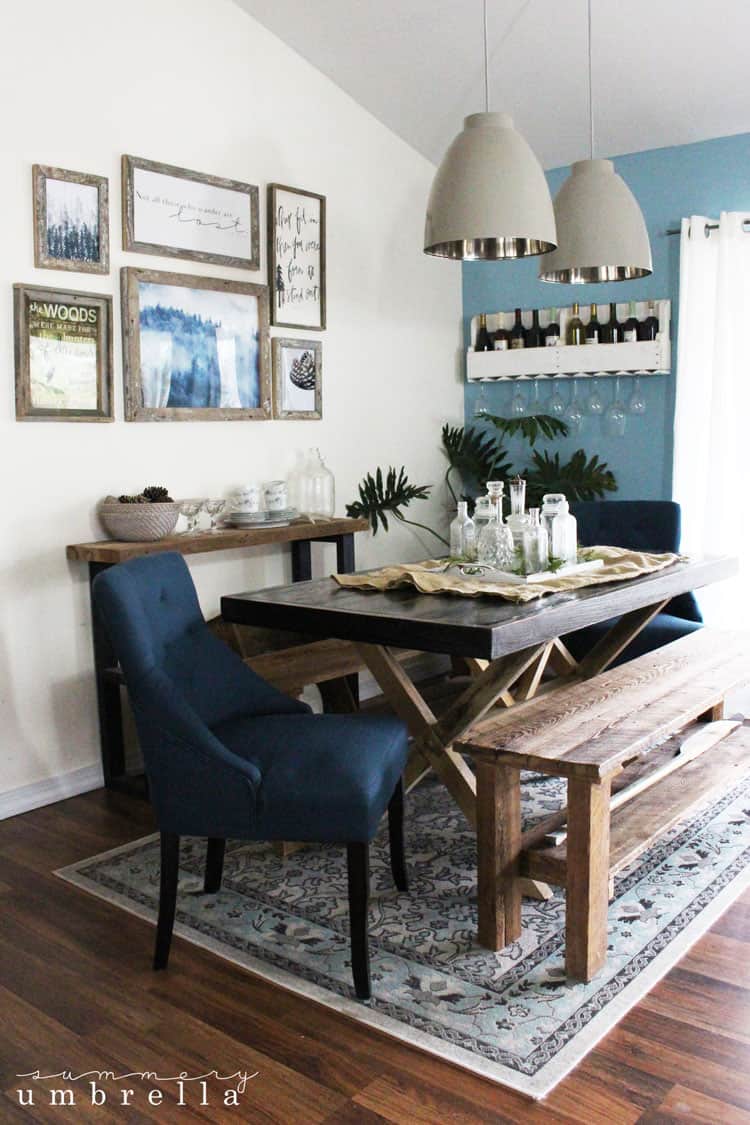 That's kind of like using too much of a certain element when it comes to decorating.
Yes, it is important to follow a color palette of your liking throughout your home, but don't forget to add a little bit of personality (frames/photos/artwork), color (accent chairs/pillows/throws/rugs), and also some gorgeous textures (industrial/reclaimed wood/sculptures).
Sometimes all you need to do is change out one piece of furniture in your home to make all of the difference.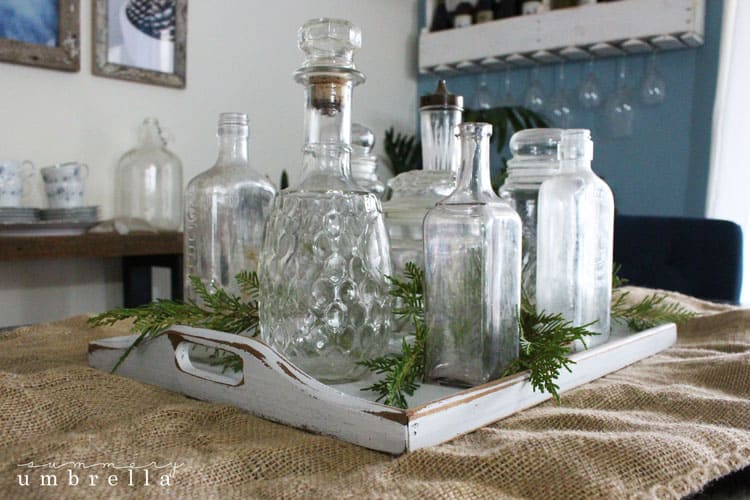 So, how did I update my dining room and follow my own advice?
Easier said than done sometimes, right?!
Well, first things first, I started will updating my wall behind my dining room table. I turned it into a gorgeous and Rustic Woodland Wall Gallery that incorporates not only the natural beauty that I love, but also quite a few inspiring quotes that I adore.
Pssttt… one of those beauties is even in my new Spring Sign Collection! 😉
Next, I took down my much-loved DIY Mason Jar Pendant Light, and replaced it with two HUGE industrial style pendant lights.
Then, I switched out my repurposed, repainted, and very outdated dining room chairs with these Juliette Dining Chairs in Azure.
I'm going to be honest. I was a little nervous selecting this particular color since I purchased them prior to seeing them in person, but was super impressed with how accurate the color online reflected their actual color in person.
Aren't they gorgeous?!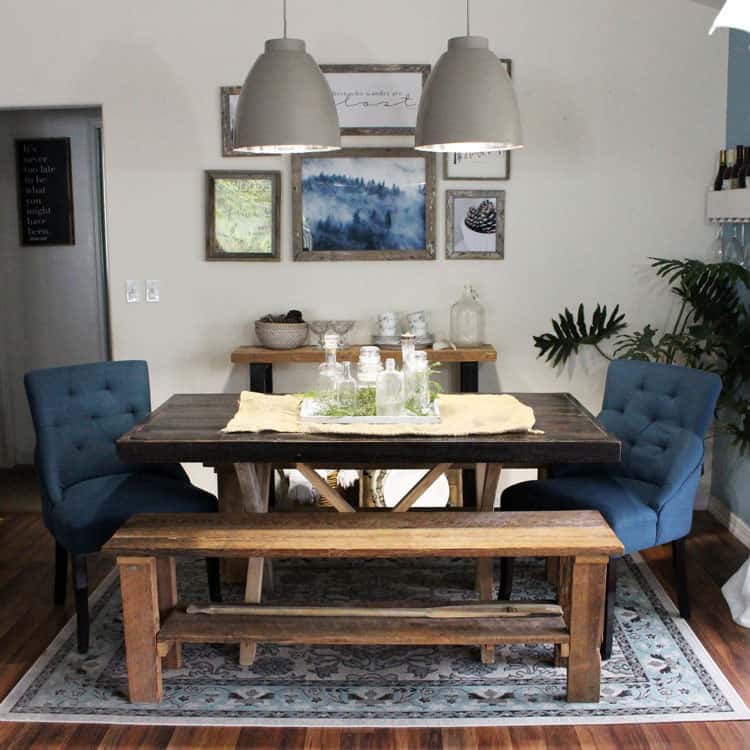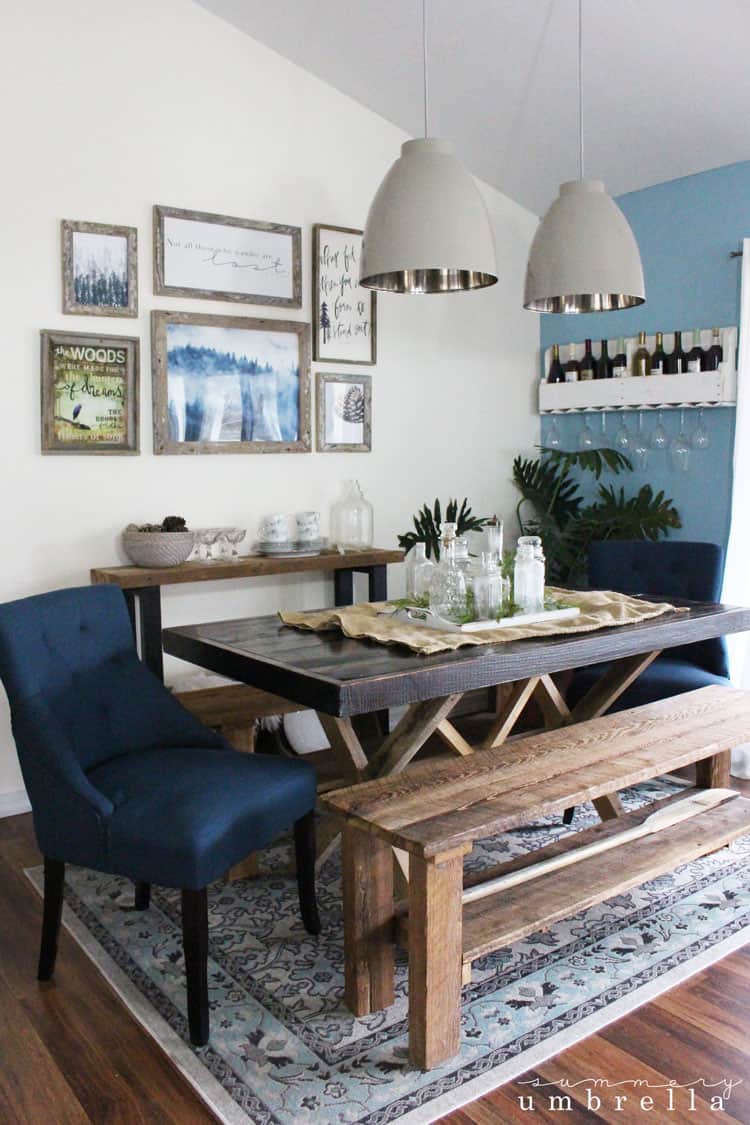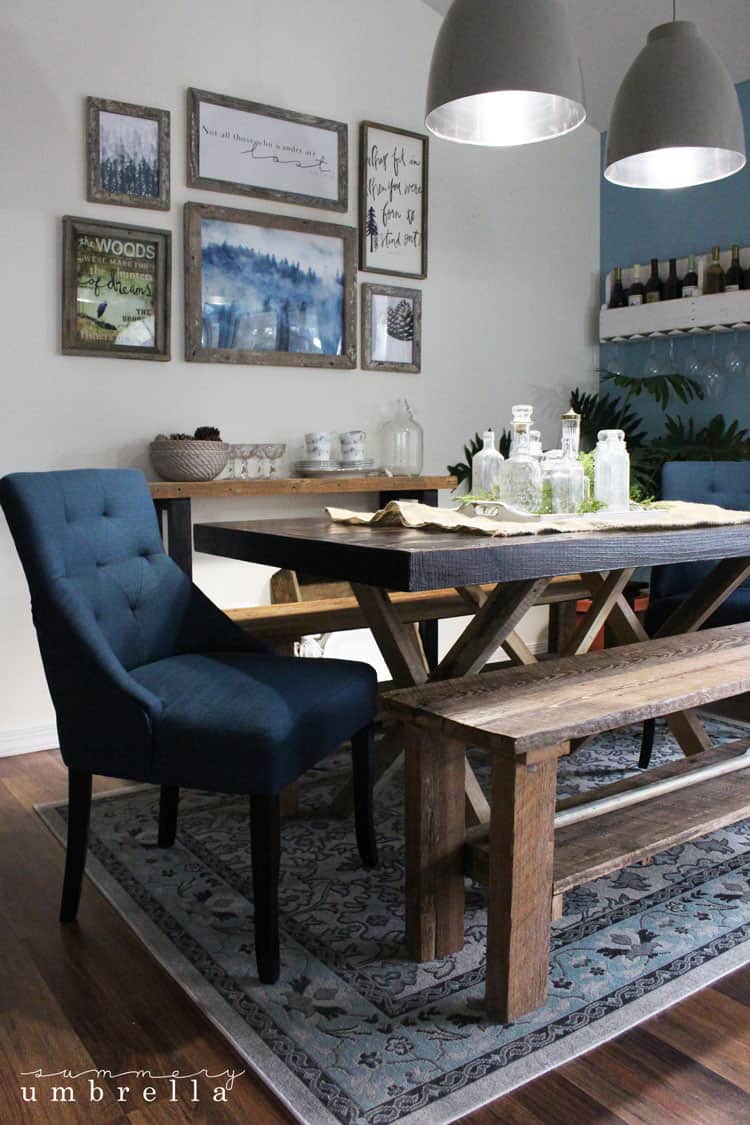 Rustic Dining Room Update
Next, I'm going to be updating that back wall with a little bit of texture.
I know, I know. A little out of order, BUT the idea just occurred to me. Trust me. It's super easy, and is going to change this space forever.
Stay tuned! I'll be showing the full tutorial next time.
Have a great week 🙂
Wait, wait, wait! Before you go! Check out and use these amazing offers from Kohl's on your next trip to their store:
Home Sale – $10 off $50 home purchase with promo code HOME10 (1/27 – 2/5/2017)
Kohl's Charge holders – 15% off (1/29 – 2/1/2017)
General Public offer – 20% off $75, 15% off all purchases (2/2 – 2/5/2017)

My blog may contain links to other websites. I am not responsible for the privacy policies of those other websites. When you click on a link, your information may be collected by those websites so I encourage you to read their privacy policies.
These affiliate links are not associated with Kohl's.