Hi! My name is LZ Cathcart, and I am a designer who creates illustrations and patterns for gifts, home decor, fabric, and wallpaper.
You'll most likely see my work on items like vintage-inspired signs, sturdy coffee mugs and cards with eclectic quotes, curtains and bedding that bring the vibrant outdoors inside, and whimsical nursery decor to make every expectant mom swoon.
I'm known for my use of texture and the ability to "see" the layers of my work, even when it's used on a flat surface.
I design exclusively for major brands, gift shops, and professional crafters.
Click here to check out my portfolio.
Through my popular blog at The Summery Umbrella, I also share my favorite home decor and design ideas—often sponsored by major brands like Kohl's, Lamps Plus, and Silhouette CAMEO®.
In addition, I teach sign-making through a multimedia course I designed and produced. Click here to see a video tutorial from my course.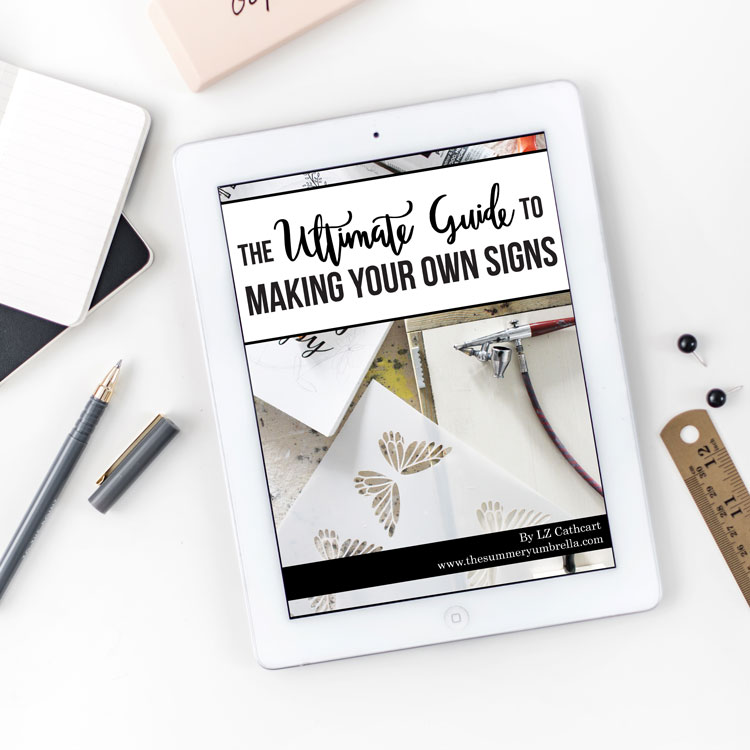 It might also surprise you to learn I spent 8 years in the U.S. Air Force. Though after you've seen my pristine studio and the large body of work that came from it, you'll see how my military discipline and structure enhances the creative process.
If you ever have the chance to meet my husband and daughter, they'll also tell you I never "just veg" when I'm done in the studio. I'm never without my tablet to sketch designs when ideas strike!
When I'm not working, you'll find me buying and fixing up houses, traveling through these great United States in a RV with my family and two dogs, or searching for the perfect cup (or two) of coffee.
Want to collaborate or hire me for a design project? Click here.