NEW Monday Freebie: Let's Stay in Bed Printable and SVG
Add an unique touch to your home decor with this Let's Stay in Bed Printable and SVG. Use it on bags, cards, invitations, and more. Enjoy this free download (for a limited time) so grab it now!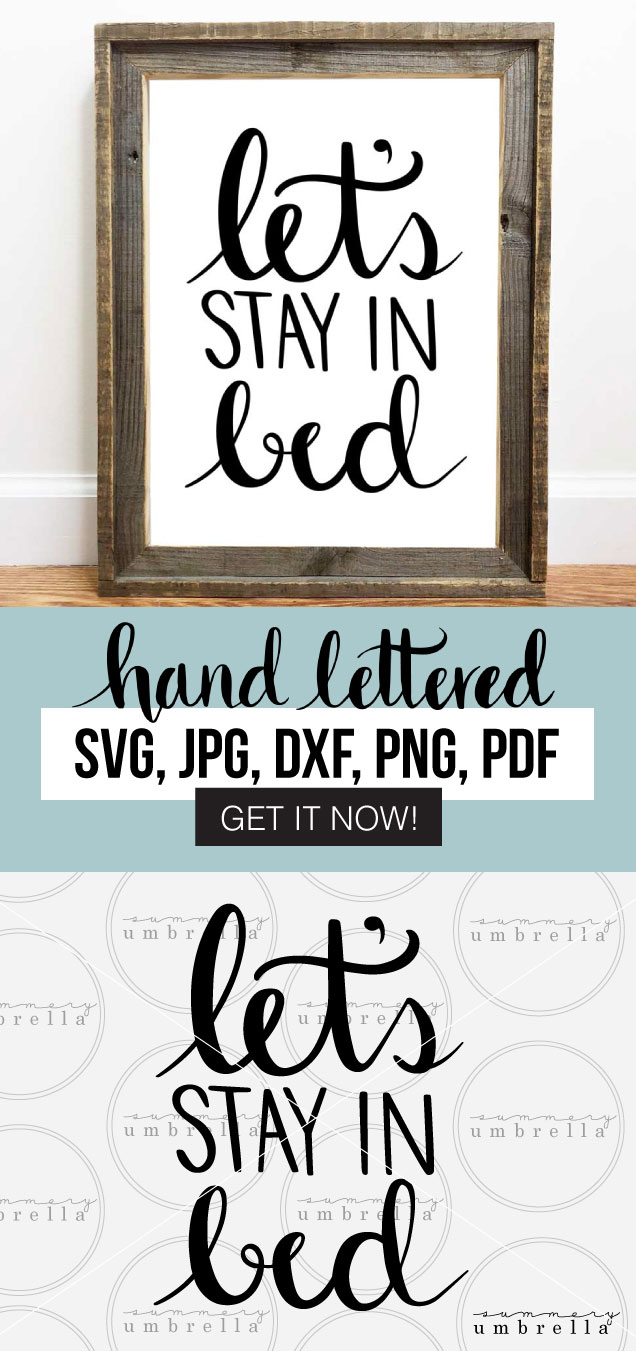 It's kind of ironic that as I'm writing this post for you I literally just want to hop in bed and snuggle in with my honey! I feel like this last month has just been mass amounts of chaos, and I do not foresee anything slowing down in the future. I seriously could benefit from any extra 10 hours of sleep. Sigh. Anybody else feeling me?
If so, then I just know you're looking at this Let's Stay in Bed Printable and SVG, and thinking how great it would look as a sign directly across from your bed. Now, I can't make any promises that you'll get any extra Zzzzzz's, but wouldn't it make you grin on those special days that you actually could and will stay in bed just a few more minutes?! 🙂
NOW, for the fun stuff!! Just in case you're new around these parts, here are a few ground rules. Nothing fancy, but just for your own FYI.
Here's how it works:
Every week I'll be creating a NEW, hand lettered, and beautiful design that will be shared with you for FREE.
This new design will be available for download every Monday through a new blog post.
However, this free download expires at 11:59 p.m. EST on Wednesday of that week.
In other words, if you have not signed up via email (see box below) before Thursday that design will only be available to you in the shop.
This week's beauty, Let's Stay in Bed Printable and SVG is most definitely inspired by those few blissful extra moments that we all sooooo look forward to spending in bed. Now, go ahead. Sign up below, and get your freebie!
This design has expired as a free download and can now be found in the shop. Don't forget to check out next week's freebie that will become available on Monday. See ya then!
Plus, I'd thought you get a kick out of this video that shows you how I add a little bit of detail to my artwork. Enjoy!
Love SVG projects and need some inspiration?
Let's Stay in Bed Printable and SVG
Did you arrive a little late? Don't be sad if you've missed out on any of these past freebies! If you would like instant access to my ENTIRE library of hand lettered designs you can read more about how to subscribe to the Studio Pass here!
You know you're ready for the Studio Pass if you…
Want to stop wasting hours searching for quality vector files—and put that time back into crafting
Wish you had a selection for your projects that didn't look like everyone else's
Wonder what the pros are doing with vector art that you don't know—yet
Take a look inside.

Linda Zahora-Cathcart

Guess what? Today's design is 1 of 5+ designs that I've added to the The Summery Umbrella Shop this month, and I just know you'll want to check out these new beauties in the shop too!
Please remember: All designs, images, patterns, and calendars (but are not limited to) are © The Summery Umbrella, LLC. These items are for personal use only. You may not reproduce, recreate, or sell in any way. However, please feel free to download for your own personal uses. Also, this is exclusive content so you may not share these downloads with anyone, BUT I'd be most delighted if you directed your family and friends to my page. In fact, I'd be honored and thrilled. Thanks in advance for understanding!​​​ Read more about personal and single-business commercial use rights over on my Shop Policies page.