Let's get your home ready for fall with this gorgeous and easy DIY Fall Tea Towel with Video Tutorial! Not only will it help you dry your hands off while you're cooking up a storm, but it will provide a little festive character as well.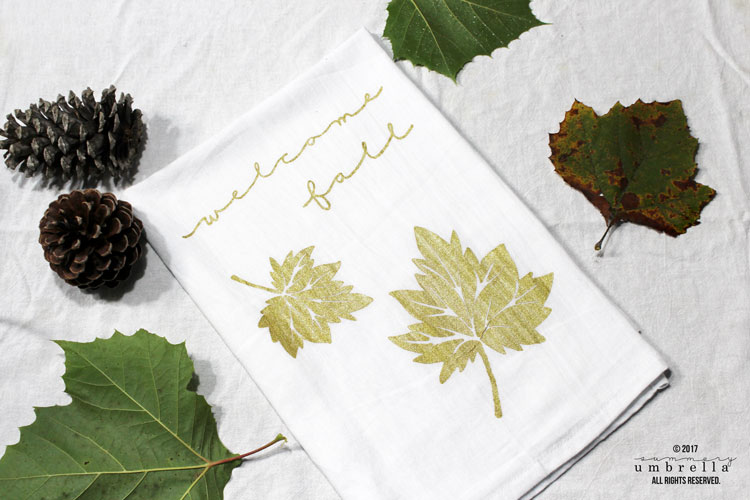 Ever since I've discovered how easy it is to make your own kitchen tea towels I've been pretty obsessed with doing just that! There's just something wonderful knowing that what's in your home has been created with your hands, isn't there? It makes it feel warm and cozy, personal, and just always makes me smile whenever I pass on by.
Plus, once you figure out how to do it the first time it just becomes so much easier the following times afterwards. For instance, this DIY fall tea towel was a piece cake for me, and it used one of my all-time favorite machines, my Silhouette CAMEO. But, enough about me, let's get back to you! Let me show you just how easy it is to make this beauty.
Here's what you'll need to get started:
SUPPLIES and TOOLS
Transfer Tape
Print Screen (this kit includes: screen, squeegee, and the ink)
Squeegee
Foam Brush
STEPS
Cut out your design on your Silhouette CAMEO (or Cricut if you prefer–this tutorial works with either or). Need help cutting out this file? Check out this tutorial for further assistance!
Apply your transfer tape to your vinyl, and then pick out all of the pieces of your vinyl that you want to be painted.
Attach your vinyl stencil to your print screen with your squeegee and remove your transfer tape.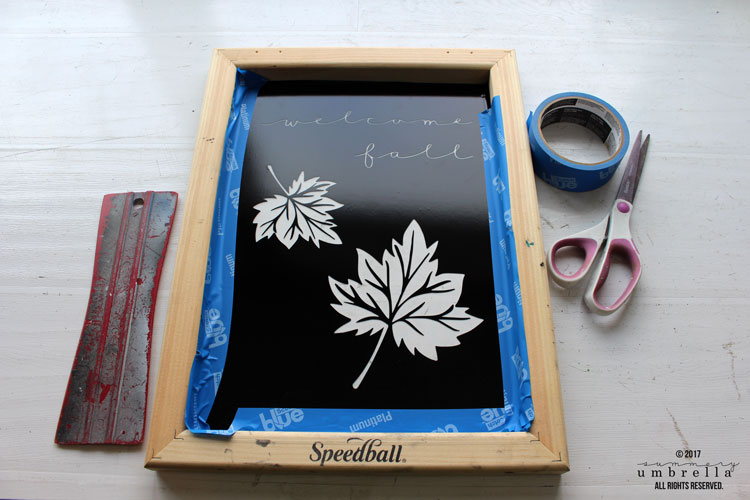 Next, open up your flour sack and place a piece of cardboard in between your bottom and top layer. This will prevent the ink from soaking into the bottom layer of your flour sack. NOTE: I also like to put a piece of cardboard underneath my bottom layer and my table just in case my table surface is less than desirable.
Need a better visual? Check out the video below!
Place your print screen on top of your flour sack where you would like the design to appear.
With your foam brush lightly dap ink right above your design. It doesn't have to be a huge amount. I like to add more as I go.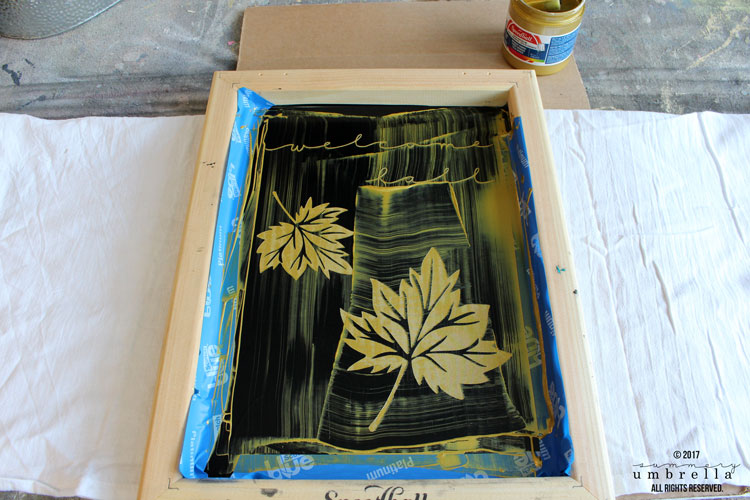 Take your squeegee and run it back and forth over your design several times.
Then, slowly lift your print screen off of your flour sack.
2nd NOTE: I don't think I realized how wrinkled my flour sack was while I was doing this tutorial. The photos definitely reveal a lot! However, as you can see, you can do this project with or without the wrinkles. Your choice!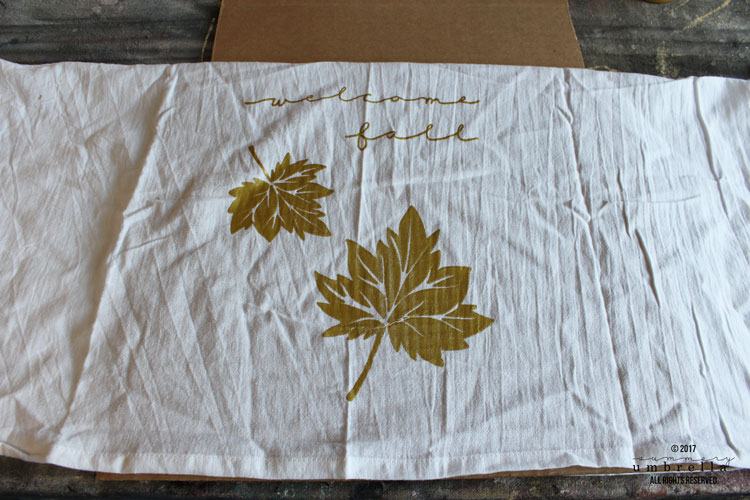 I still can't get over how easy this was to make!!
Then, let your design and ink dry.
Looking for more Fall inspired DIY projects?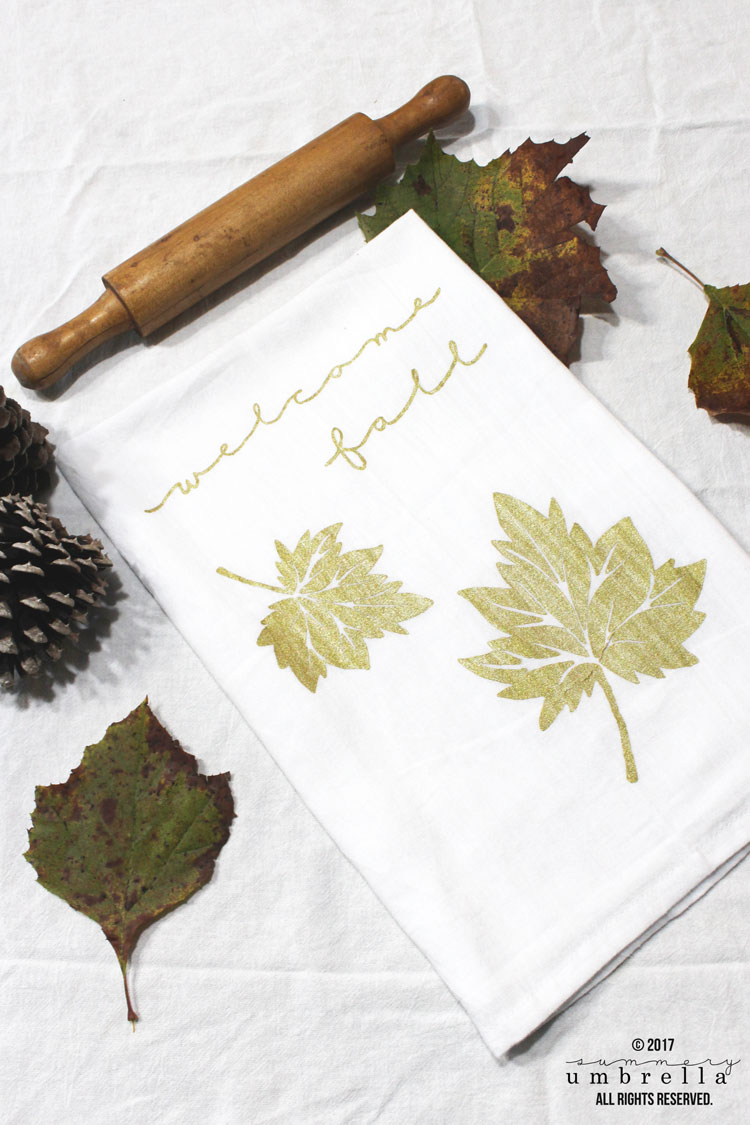 DIY Fall Tea Towel with Video Tutorial
I'm not sure about you, but this gold screen printing ink was key on this project. I'm already brainstorming how I can use it again! I hope you enjoyed and if you end up creating your own send it my way. I'd love to see your own in action 🙂
Happy Decorating for Fall,

You're an original. So why use generic vectors in your crafts?
Fresh vector files + tutorials every month with the Studio Pass.
Pssttt…. Don't forget to check out my DIY Projects page chocked full of DIY and decorating goodness!