NEW DOWNLOAD: Vintage Brown Jar with Flowers Printable
Add an unique twist of something rustic combined with a modern flair to your home decor with this gorgeous Vintage Brown Jar with Flowers Printable! Enjoy this free printable download (for a limited time). Grab it now!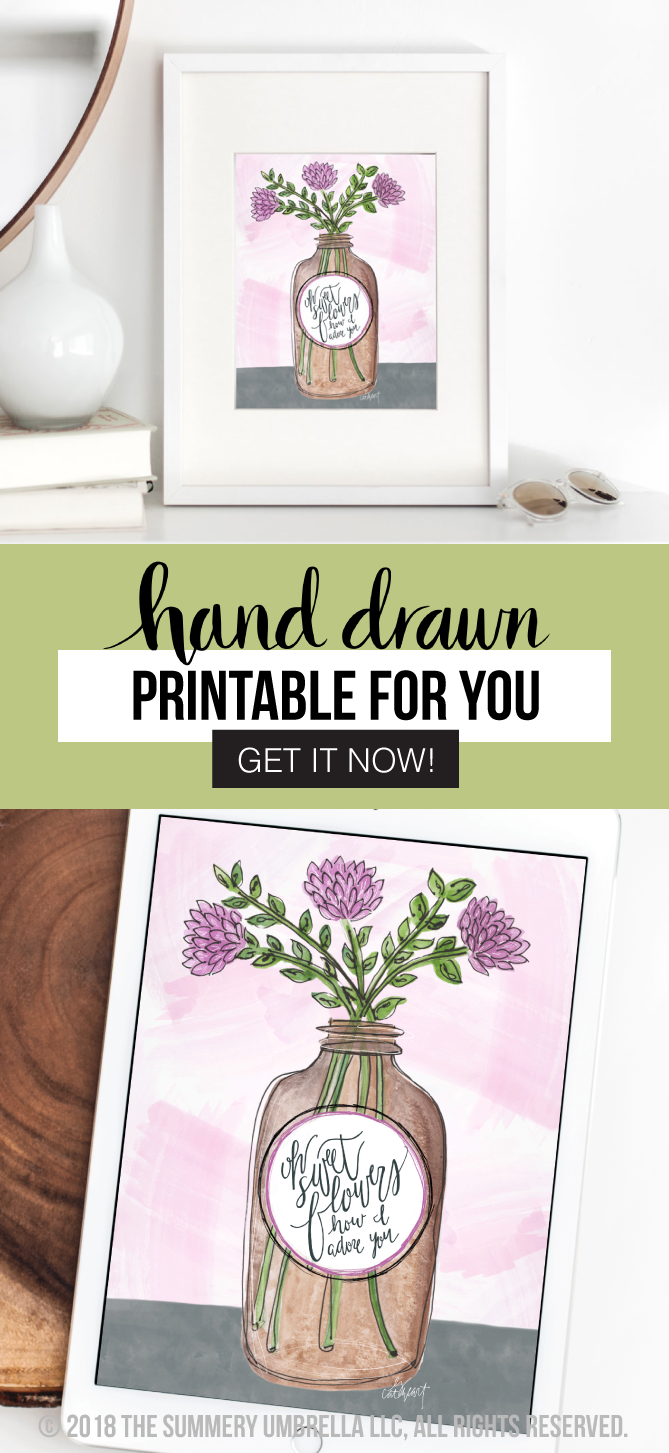 It's so amazing to see how far I've come as an artist even in a short span of time like this past year.
Not only have my drawings and paintings improved, but I've ventured out of my comfort zone on many occasions to try new materials. For instance, with this particular piece I dabbled in watercolor, markers, typography, and also with my all-time favorite method of digital media, my trusty ol' iPad and Apple pencil.
The entire process of this learning experience kind of reminds me of life.
Yes, you can most definitely glide through your days on Earth doing the same thing day after day without changing a thing. However, wouldn't it be more interesting if you changed it up every now and again? Maybe try a new restaurant, take a walk with your daughter through the park, or even take a vacation to a faraway land you've never visited.
Each day that we are granted to wake up is such a blessing and should never be wasted. So, go on. Tackle your dreams with passion, live your life to the fullest, and enjoy even the littlest joys that you have been given.
NOW, for the fun stuff!! Just in case you're new around these parts, here are a few ground rules. Nothing fancy, but just for your own FYI.
Here's how it works:
Every week I'll be creating a NEW, hand lettered, and beautiful design that will be shared with you for FREE.
This new design will be available for download every Monday through a new blog post.
However, this free download expires at 11:59 p.m. EST on Wednesday of that week.
In other words, if you have not signed up via email (see box below) before Thursday that design will only be available to you in the shop.
This week's beauty, Vintage Brown Jar with Flowers Printable is most definitely inspired by the ending of summer and then the beginning of cool winds of autumn that I just know we all look forward to every year. So, go ahead. Sign up below and get your 8″ x 10″ hi-res jpg freebie!
This design has expired as a free download and can now be found in the shop. Don't forget to check out next week's freebie that will become available on Monday. See ya then!
Plus, I'd thought you get a kick out of this video that shows you how I add a little bit of detail to my artwork. Enjoy!

Love SVG projects and need some inspiration?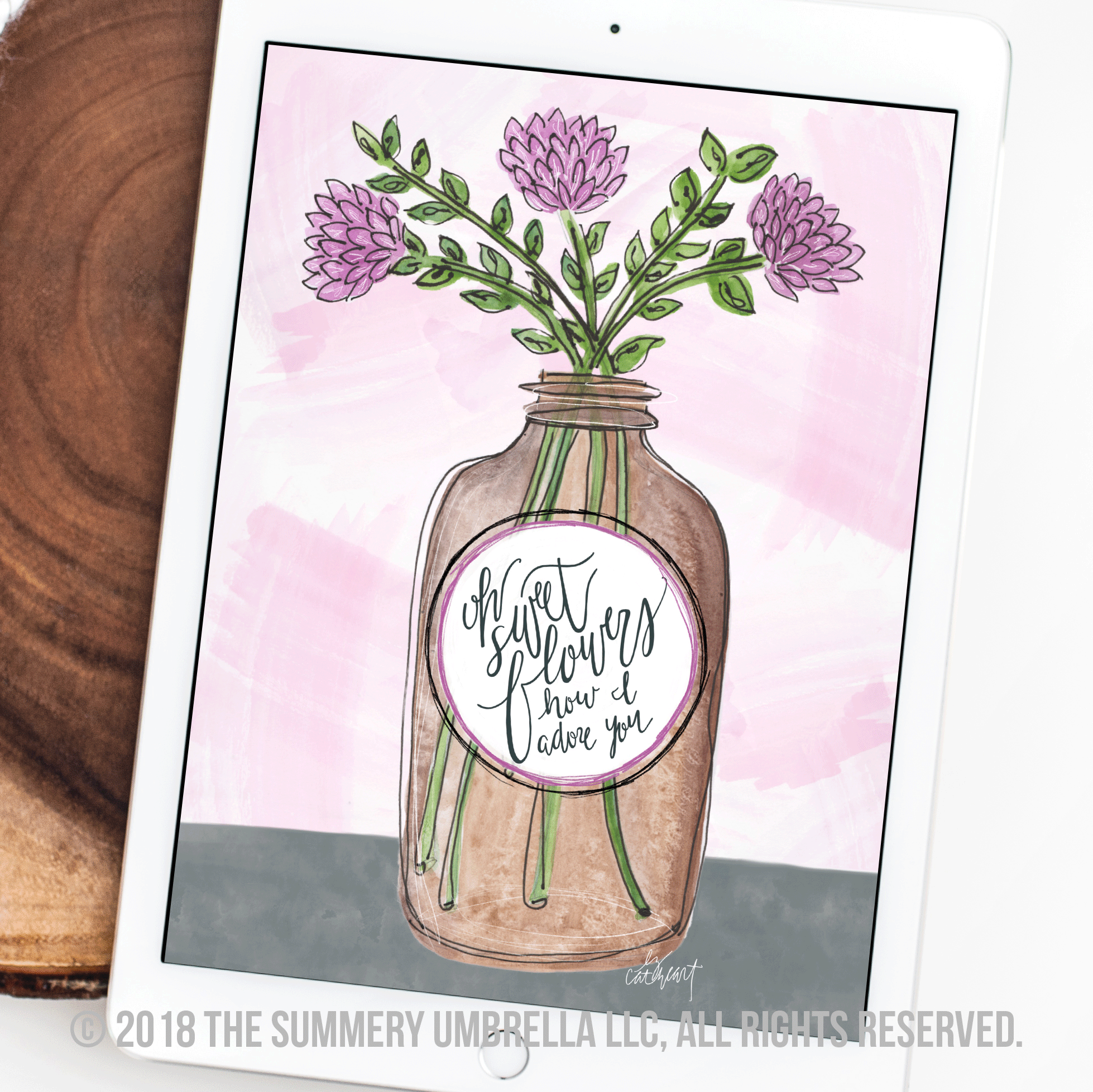 Vintage Brown Jar with Flowers Printable
Did you arrive a little late? Don't be sad if you've missed out on any of these past freebies! If you would like instant access to my ENTIRE library of hand lettered designs you can read more about how to subscribe to the Studio Pass here!
You know you're ready for the Studio Pass if you…
Want to stop wasting hours searching for quality vector files—and put that time back into crafting
Wish you had a selection for your projects that didn't look like everyone else's
Wonder what the pros are doing with vector art that you don't know—yet
Take a look inside.

Linda Zahora-Cathcart

Guess what? Today's design is 1 of 5+ designs that I've added to the The Summery Umbrella Shop this month, and I just know you'll want to check out these new beauties in the shop too!
[recent_products per_page="12″ columns="4″]
Please remember: All designs, images, patterns, and calendars (but are not limited to) are © The Summery Umbrella, LLC. These items are for personal use only. You may not reproduce, recreate, or sell in any way. However, please feel free to download for your own personal uses. Also, this is exclusive content so you may not share these downloads with anyone, BUT I'd be most delighted if you directed your family and friends to my page. In fact, I'd be honored and thrilled. Thanks in advance for understanding!​​​ Read more about personal and single-business commercial use rights over on my Shop Policies page.