Favorite Freebie Friday: DIY Wood Sign PLUS Trust Your Heart SVG File
Create your very own motivational and inspiration DIY Wood Sign that includes a FREE Trust Your Heart SVG File PLUS a video tutorial as well!
Hello friends, and welcome to another Favorite Freebie Friday! Today I am writing this post to you from the depths of the countless blankets I am buried underneath.
That's right. I am just a little warmer than death, and then a few moments later I feel like hell on wheels. My throat is on fire, my nose has run away, and I'm pretty sure I grew a tail. Just kidding. I am not a dragon. Just a little under the weather.
I thought about pushing this DIY Wood Sign PLUS Trust Your Heart SVG File post out until next week, but you know what? I couldn't do that to my favorite people–YOU!
Want this freebie? Sign up for access to my resource library below.
DIY Wood Sign PLUS Trust Your Heart SVG File
If you haven't noticed, The Summery Umbrella and I have been going through a lot of trials and tribulations in the last few years. I've changed a lot about how I run my blog, the products that I'm selling, and overall made a lot of mistakes. It sucks. There is no other way to describe the turmoil that has been building up in the pit of my stomach.
I've always known what I want, but never knew exactly how to get there.
Just in case you're wondering…. it's to be a designer. Your go-to gal for unique and interesting designs for everything from signs to wallpaper to patterns to fabric and letterheads.
However, I'm really horrible about spilling out my heart and showing you the real me, and what drives me to push forward every day. I'm afraid that if I share too much I'll look weak, and on the complete opposite hand I'm afraid if you really knew how much of a mess I am on the inside you'll doubt my strength.
This brings me back to the design for today! Always, always, alwayssss Trust Your Heart. It knows who you are, and will help you bring that gorgeous dream of yours into a reality.
So, with that being said, let's get this party started so you can have a little bit of inspiration and motivation in your home too!
DIY Wood Sign PLUS Trust Your Heart SVG File
First things first, I have skipped over a few parts. However, please check out the following posts that will provide you with all of the details that you will need:
1.) How to download, input, and cut out your stencil
2.) How to frame your sign
SUPPLIES
1 – sign (to repurpose OR a pre-painted 1/2″ cabinet grade plywood (12"x12")

Frame Wood (I typically use 1"x material, then ripped or 1"X2" furring strips)
Silhouette CAMEO (or favorite cutting machine) and mat
Trust Your Heart SVG File Project Template
Squeegee (or even a credit card)
RustOleum Metallic Copper Spray Paint (or Airbrush and Lacquer Paint)
STEPS
1.) The video below is a quick tutorial that will show you the basic steps on how to create a sign with a vinyl stencil. I love visual representations, and I figured you would agree too!
2.) The key to using any stencil is all about the application. It's extremely important that you do not apply too much paint, or it will go underneath your stencil creating a less than perfect design. Remember, always use several, light layers.
3.) Download the FREE template by signing up above to my resource library (aka. freebies galore!!).
4.) Using your Silhouette CAMEO cut out the project templates from above with the vinyl on your mat.
5.) Remove the vinyl from your mat, and apply your transfer tape.
Now, remove the backing from your vinyl, and carefully take out the vinyl pieces of your design that you will be painting.
6.) Once you have removed all of your vinyl pieces it is now time to apply to your prepped signboard. Line up your vinyl with your board so it will be applied evenly, and using your squeegee firmly push it down.
Remove your transfer tape so that your vinyl is only left on your board.
7.) In a ventilated area, apply a light coat of spray paint (or lacquer paint and your airbrush) to your vinyl. Allow it to dry and then apply your next layer. Repeat until you have reached your desired color.
DIY Wood Sign PLUS Trust Your Heart SVG File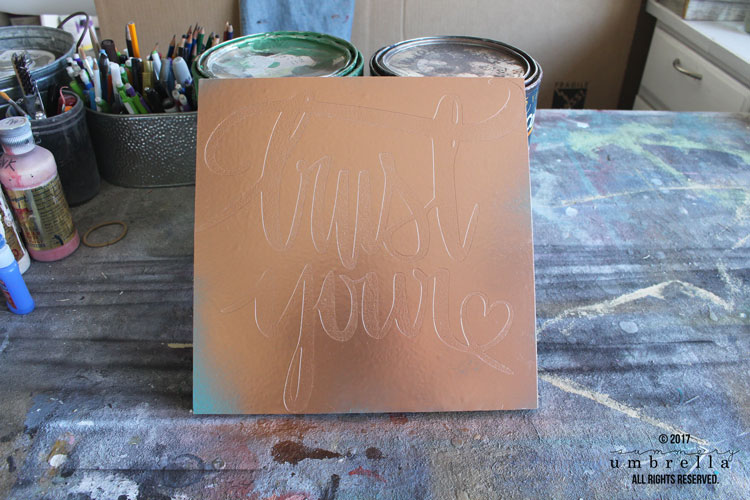 8.) Let your paint dry and then remove your vinyl. TIP: If you're having a hard time pulling up small pieces of the vinyl Silhouette offers a great tool kit for removing them.
9.) Touch up any areas with paint that need your attention.
With this particular sign I painted my frame wood white, let it dry, and then using a butt joint I framed it up.
10.) Last, I distressed the edges using my detail sander to give it an authentic and rustic look.
Favorite Freebie Friday: DIY Wood Sign PLUS Trust Your Heart SVG File
If you've read my eBook, or any of my other DIY sign tutorials you'll know that I prefer using my airbrush to paint. However, sometimes it can be hard to find certain colors (or even to create them!) so when I do use spray paint I have to be extremely patient with the amount of paint that can be added to each layer.
It is always better to do "not enough" for each layer than wayyyyy too much.
And this is the point where I would say something like… BYE! See ya next week! -LZ
Don't forget to download this free SVG file by signing up for my resource library above!
Pssttt…. want to learn PRO SECRETS on how to make your own home decor signs? Check out my new eBook, The Ultimate Guide to Making Your Own Signs, which includes 170 pages, 27 techniques, 35 projects, and 46 video tutorials (which is over 2+ hours of instructions)!
Let's be Social
This post was originally created in April 2017 but was updated in January 2021.