How to Make a DIY Reclaimed Wood Fresh Cut Christmas Trees Sign
Learn how to make a DIY reclaimed wood fresh cut Christmas trees sign with just a few basic supplies and for practically free. This holiday sign is so charming and would also make a great gift or decor piece for your home!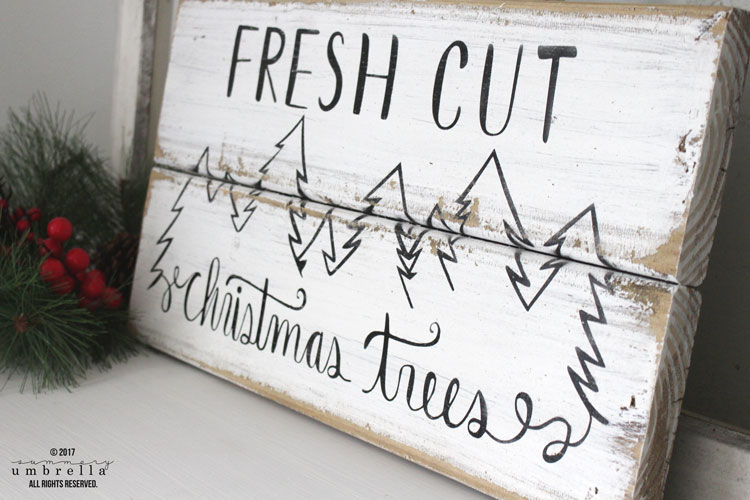 Recently I've made the decision to no longer carry signs in my shop. I know, I know. The signmaker no longer making signs?! Unheard of. Absolute craziness! However, it's been a dilemma that I've been dealing with for the past few years, and as much as I LOVE signs I've been wanting to design more. AKA… less repetition/mass production, and more creativity.
Unfortunately when you're making signs day in and day out it doesn't leave you a lot of time to create new designs. So, needless to say I'm definitely not going to stop making signs, but I will no longer be making them as a product to be sold.
I'm merely going to be making them to continue to show you how to create your very own! Still a win-win situation, right!?
For instance, today's Fresh Cut Christmas Trees Sign design is one of my most popular holiday designs, and I want to share how to make this beauty. So, grab something yummy and warm, and don't forget to check out the video below either!
SUPPLIES
2 – Pieces of

Reclaimed Wood

(24"L x 6"W each)
2 – Wood Pieces (2″W x 8-10″L for back support)
1-3/16″ Brad Nails (or finish nails)
Brad Nail Gun (or hammer)
White Latex Paint and Paint Brush
STEPS
First, clean off your boards (if needed) with a sander or stiff brush.

Line up your two boards on a flat surface so they sit evenly next to each other.
Next, take your two back support pieces and place them evenly away from each other on the backside. Nail into place.

Flip your sign over, and paint it white. Your paint job doesn't need to be perfect since you'll be sanding it down to distress anyways.
Let your paint dry before you move onto the next step. I'd recommend a minimum of 5 hours.
Using your Silhouette CAMEO

cut out the

Fresh Cut Christmas Trees SVG Cut File with the vinyl on your mat.
Remove the vinyl from your mat, and apply your transfer tape.
Now, remove the backing from your vinyl, and carefully take out the vinyl pieces of your design that you will be painting.
Once you have removed all of your vinyl pieces it is now time to apply to your sign board. Line up your vinyl with your board so it will be applied evenly, and using your squeegee firmly push it down.
Next, slowly remove your transfer tape so that only your vinyl is left on your board.
In a ventilated area, evenly apply a light coat of spray paint (or use your airbrush) to your vinyl. Allow it to dry and then apply your next coat. Repeat this step until your desired color has been achieved.
Once your paint has completely dried remove your vinyl. TIP: If you're having a hard time pulling up small pieces of the vinyl this

weeder tool

is very handy for removing vinyl.
Using your sander lightly distress the edges, and all over the entire sign to give it even more of an aged look to it.
Last, add a light layer of your top coat spray paint for protection and let it dry.

Last, add hangers such as these to this beauty and hang it up!
Need help making your own signs? Visit these tutorials too!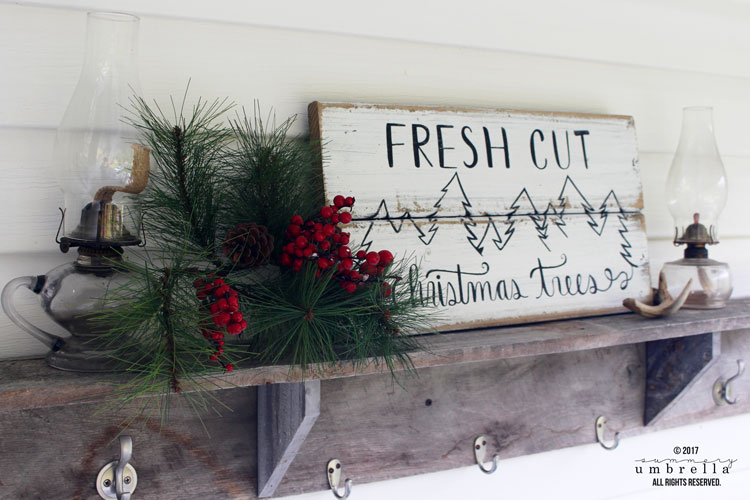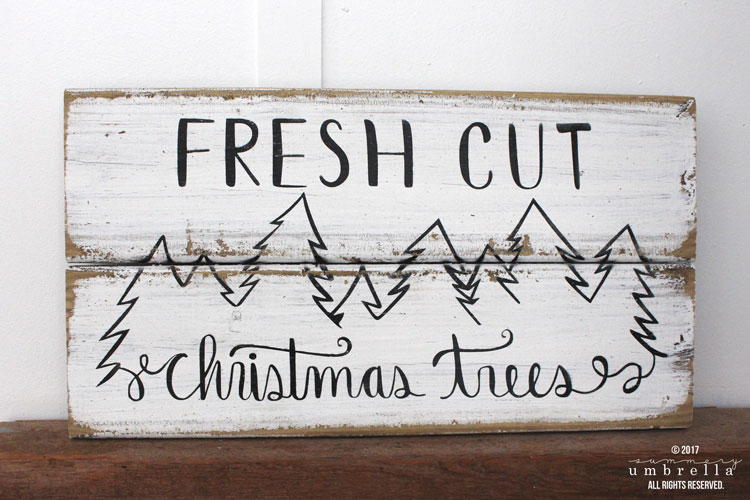 How to Make a DIY Reclaimed Wood Fresh Cut Christmas Trees Sign
Now it's your turn to make your own Fresh Cut Christmas Trees Sign! Please feel free to be creative and add a little bit of color to the evergreens, or even try using a green or red background with white letters. Those options are quite beautiful too! Enjoy, and see you again next week.
You're an original. So why use generic vector files in your crafts?
Fresh vector files + tutorials every month with the Studio Pass.
Pssttt….
Don't forget to check out my
DIY Signs
projects page chocked full of DIY and decorating goodness!