FREE Winter Art Prints Just For YOU
You saw the title correctly. Get your very own FREE Winter Art Prints Just For YOU on the blog. All you need is a printer and a few frames!
Hello friends!
As you already know, I absolutely LOVE designing, creating, drawing, painting… and whatever other words you would like to use to describe this lovely little process of mine. Every time (which is pretty much every day) that I get to design I thank my lucky stars that I am able to do exactly what I've always dreamed of doing since I was a young child.
Did you know that at one point in my life I actually aspired to be a Walt Disney cartoon artist? Oh yeaaaaaa… I was pretty specific at the ripe ol' age of seven. Blame it on Aladdin, Ariel, and Aurora. They were my heroes!
FREE Winter Art Prints
With that being said, when my friend Carrie from Kenarry Ideas for the Home asked me to create a few custom designs for her home I was definitely very excited! She explained to me that during the holiday and winter season her and her family predominantly use penguins to get into the swing of things, and you know that I was on board!
While I've never met a penguin in "real life" (as Miss Ava always says) they always look so darn cuddly and likable. Don't they seem like they would be hilarious to have as pets?!
Anyways, moving on…
So, after I designed this penguin and let it snow sign set for her we both knew that there was absolutely NO WAY we couldn't share this little cutie pie with our favorite people.
Obviously, duh, I'm talking about you 😉 Our all-time favorite friends!
Now, I just have one itty-bitty little favor to ask of you before I send this gorgeous, and also FREE printable your way. I just need you to head on over to Carrie's blog Kenarry.com and sign up as a subscriber. You'll then be automatically sent the free printable files and also added to my own list (if you haven't signed up yet).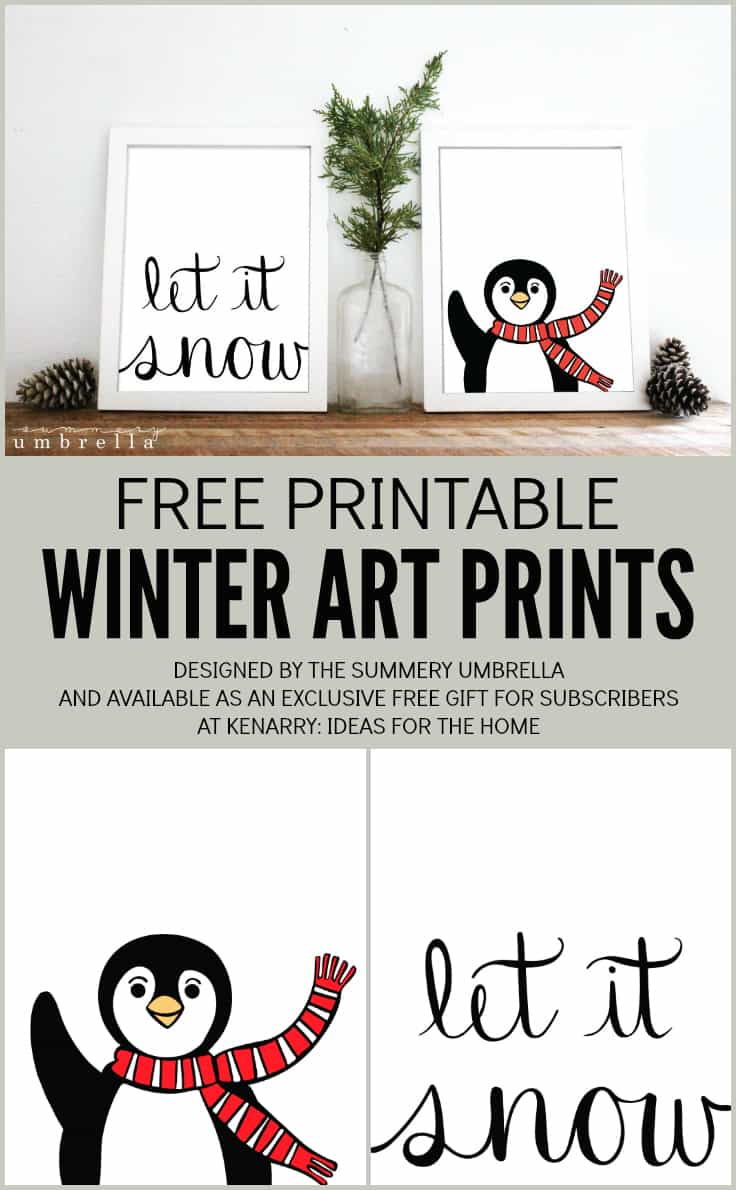 FREE Winter Art Prints
AMAZINGGGGG, right!?
I love free stuff! Plus, all you'll need is a printer to print these beauties out, and two 8×10 frames of your choice.
Anddd…. these are coming to you just in time before the snow actually does start falling. Yay!
Hope you enjoy, and don't forget to stop on by Kenarry for this freebie!