This yummy Taco Soup Recipe will have your family begging for more! All you need is a few basic ingredients and a little bit of time. Must see now!
Happy September!!
Wait, it's September? As much as you all know I love Summer, I also love Fall. Living in the south, it's still really warm here, so it doesn't feel like Fall yet, but this time of year reminds me of growing up in Indiana and the leaves turning beautiful orange, yellow, and red. I think of football games, wearing sweatshirts, the smell of bonfires, and visiting the Apple Orchard for apple cider slushies. What I love most about this time of year is all of the warm soups, chili, dips, and all around comfort food that everyone makes! So, today I am giving you my taco soup recipe!
There are a million versions of this soup, but I have found what I love best and what my family loves. Later, I will tell you different ways you can change up this recipe to make it your own. Also, you get an extra recipe for corn casserole! Yay for freebies!
Ingredients:
1/2 lb of mild sausage
1 lb of ground chicken
2 cans corn
2 cans of diced tomatoes (I use one with green chilies for a little kick)
1 small can of tomato sauce (pictured is a 15 oz can, I usually use a 10 oz can)
2 chicken bouillon cubes
2 cups water
1 pkg ranch dressing mix
1 pkg of taco seasoning
sour cream, shredded cheese, and chips for topping and dipping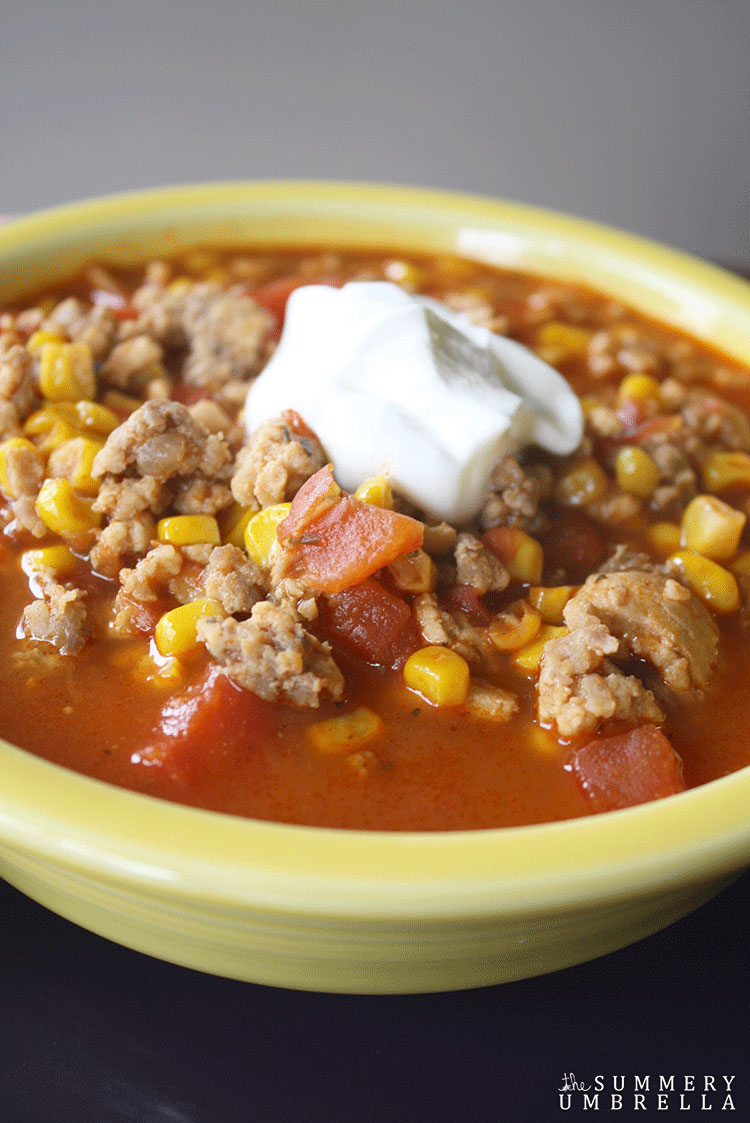 This has to be one of the easiest soup recipes I have ever made! First, I add the water and chicken bouillon cubes to the stock pot and turn the heat on medium-low. Next, I open all of the cans and just dump everything in to the pot and stir. Last, I add the ranch dip mix and the taco seasoning. Make sure you stir the seasonings in well until they dissolve. I let the soup start to warm up while I am browning the meat.
All you need to do is brown the meat in a skillet. With the ground chicken, I add salt and pepper to add more flavor. If you don't like chicken or sausage you can also use ground beef. Don't like meat at all? You can omit it completely. The first time I ever had this soup, it had three different kinds of beans. THREE. Ok, you can probably tell beans are not my favorite, but if you like them, add them! Remember, cooking is about making you and your family happy with food you all enjoy!
Once the meat is browned and cooked through, add it to the pot of soup. At this point, turn up the heat to medium and let is simmer, stirring occasionally, for at least 15-20 minutes. The longer you let it simmer, the more the flavors will meld together and taste super yummy in this taco soup recipe!
Looking for more yummy recipes?
Ohhh is that corn casserole I see? Ok, I have a confession. I made this meal for my family that came to visit over the weekend and decided to take the pictures and make this post for y'all 🙂 So, you get an extra recipe! Yay!
Corn Casserole Recipe:
2 pkgs Jiffy Mix
2 eggs
2 cans cream corn
1 can kernel corn
1 stick melted butter
8 oz sour cream
salt and pepper (do not forget)
350-375 degrees for 30-45 minutes (depends on your oven)
Corn Casserole is a great addition to this Taco Soup or any meal really. I can definitely eat it all by itself. No shame.
Simple and Spicy Taco Soup Recipe Your Family Will Love
My favorite way to eat this taco soup recipe is with sour cream on top and use my tortilla chips to dip. I don't use a spoon, but I know others like to use utensils, so feel free to use a spoon! Also, don't forget to offer shredded cheese as a topping.
Hope you enjoyed both recipes I shared today, cuddle up with a bowl of Taco Soup and watch some football!
BON APPETIT!
PS: If you're totally loving the bowl and plate in this post, they are Fiestaware. They are so fun and colorful!
Keep Calm and Cook On,

Pssttt…. Don't forget to check out my Recipes page chocked full of DIY and decorating goodness!