Absolutely Delicious Chicken Avocado Pizza
Looking for a fresh, light way to eat pizza? Then you'll want to check out this super yummy chicken avocado pizza recipe that is amazing!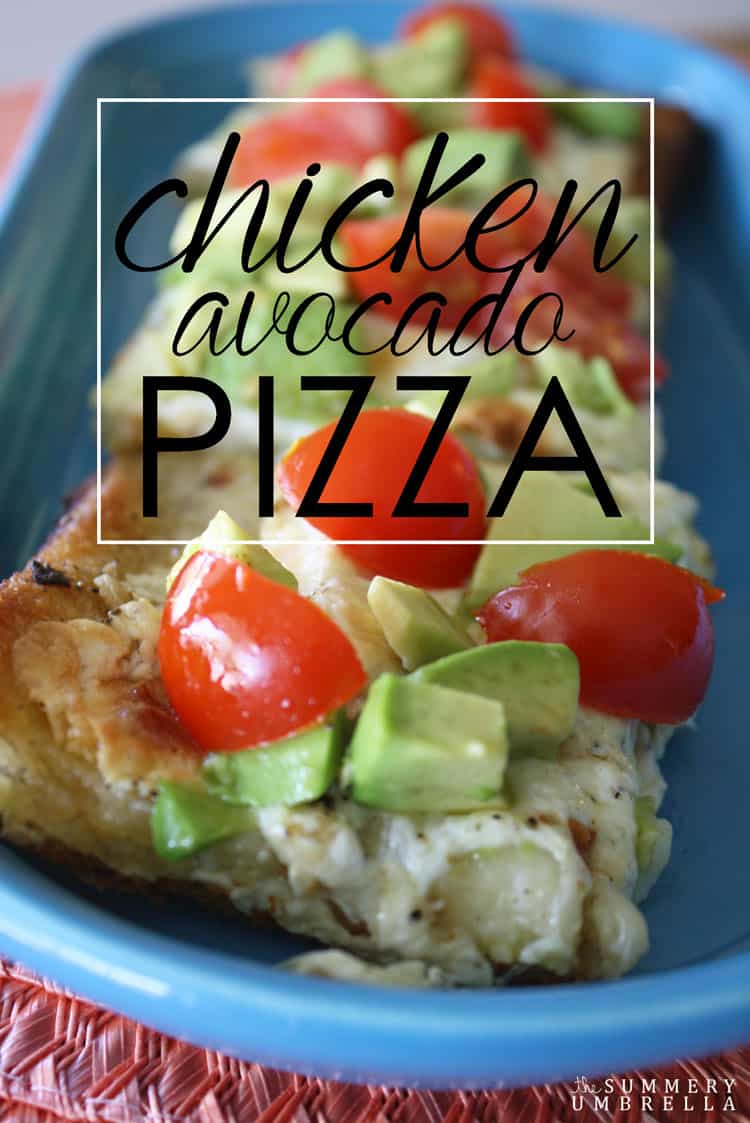 Hey ya'll … I'm bacckkkk!!! Did you miss me? I took an extended break from the blogging world and I am so happy to be back because I sure missed sharing super simple, yummy recipes with you! I know we are all always looking for a fresh, light way to eat pizza, right?! I'll admit, I am normally a pepperoni only pizza kind of gal, but this recipe is to die for! So today, I am going to share with you how to make this scrumptious Chicken Avocado Pizza. 🙂
Absolutely Delicious Chicken Avocado Pizza
Ingredients:
pizza dough
2 cups sliced chicken
fresh mozzarella cheese (about 12 oz)
2 avocados
cherry or grape tomatoes
1/2 cup olive oil
1 tsp Italian seasoning or oregano
1 tsp crushed red pepper
3-4 garlic cloves (or garlic powder)
1 tsp salt
1 tsp pepper
First, you want to preheat your oven to 425 degrees and roll out your pizza dough onto the baking sheet. If you remember, I always use baking stones because they bake things evenly and the bottom doesn't get burned. When I say "roll out your pizza dough", I mean take it out of the package and put it on the sheet 🙂 I pulled the edges of my dough to make it fit onto my baking sheet and I pushed it up all the way around the edges to form a thicker crust, but it was really simple and no need for flour or anything else.
Next, mix together all the spices and olive oil. You won't need the entire amount, but I made sure to get plenty of the spices on to my dough for extra flavor! Any left over oil/spice mix can be kept in a sealed container in the fridge for up to 1 week. I realized (too late) that most of my garlic cloves had gone bad and I only had 1 to use … so … I added about 1 tbsp of garlic powder as well as the 1 garlic clove. Garlic is one of those flavors that you may or may not like fresh, so do what you know you like!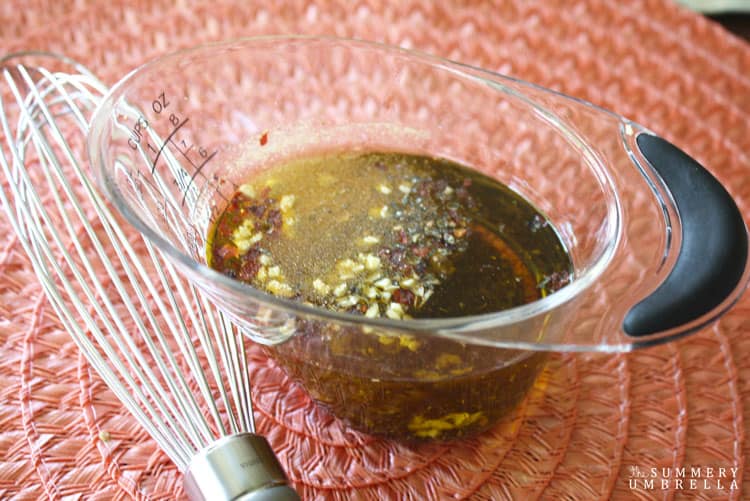 Brush your oil and spice mixture all over your dough. I probably used more than necessary, but it had an amazing flavor, so I will continue doing it this way.
Ok, so now all you have to do is add the toppings. I bought a package of chicken that was already sliced up just as you see it pictured below. If you prefer to cook your own chicken and slice it, go ahead, but I like to make things as simple and quick as I can!
Absolutely Delicious Chicken Avocado Pizza
Cheese is something I NEVER skimp on. I sliced up about 3/4 of the package and laid it nicely next to the chicken and then thought "oh to heck with it!" and diced up the rest into small chunks and sprinkled it all over the pizza. You can never have too much fresh mozzarella in my world!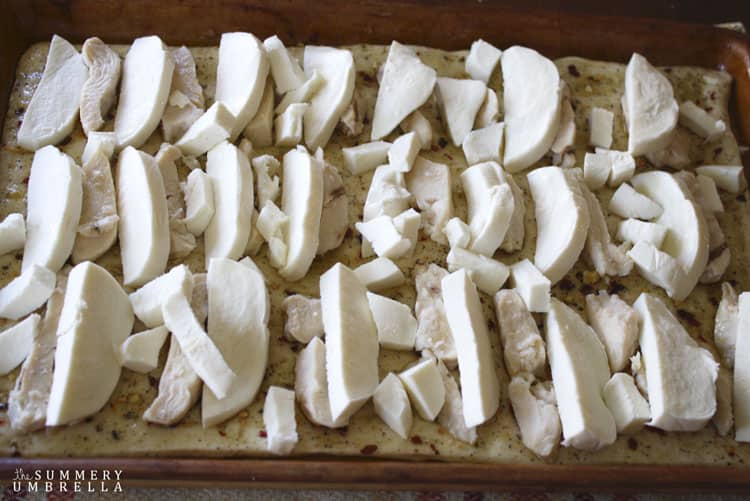 Bake at 425 degrees for 25 minutes or until the cheese is bubbly and slightly turning a golden brown. Doesn't this make your mouth water? I could eat it just like this!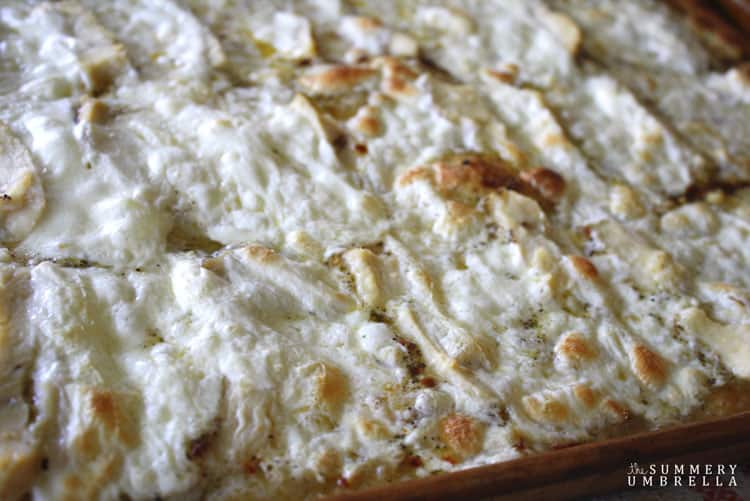 The last thing you need to do is slice up the avocados and tomatoes and add them on top of the pizza and you're done! It's that simple!
You could make this for dinner for your family or for entertaining. One thing I did not do, but will probably try next time is adding lemon or lime juice to the avocados. All of us avocado lovers know that they turn brown really fast, but I was concerned about the flavor not being cohesive with the rest of the pizza so I didn't add any. What I did do is take all of the leftovers the next day to work and gave my co-workers lunch! They loved it so much!!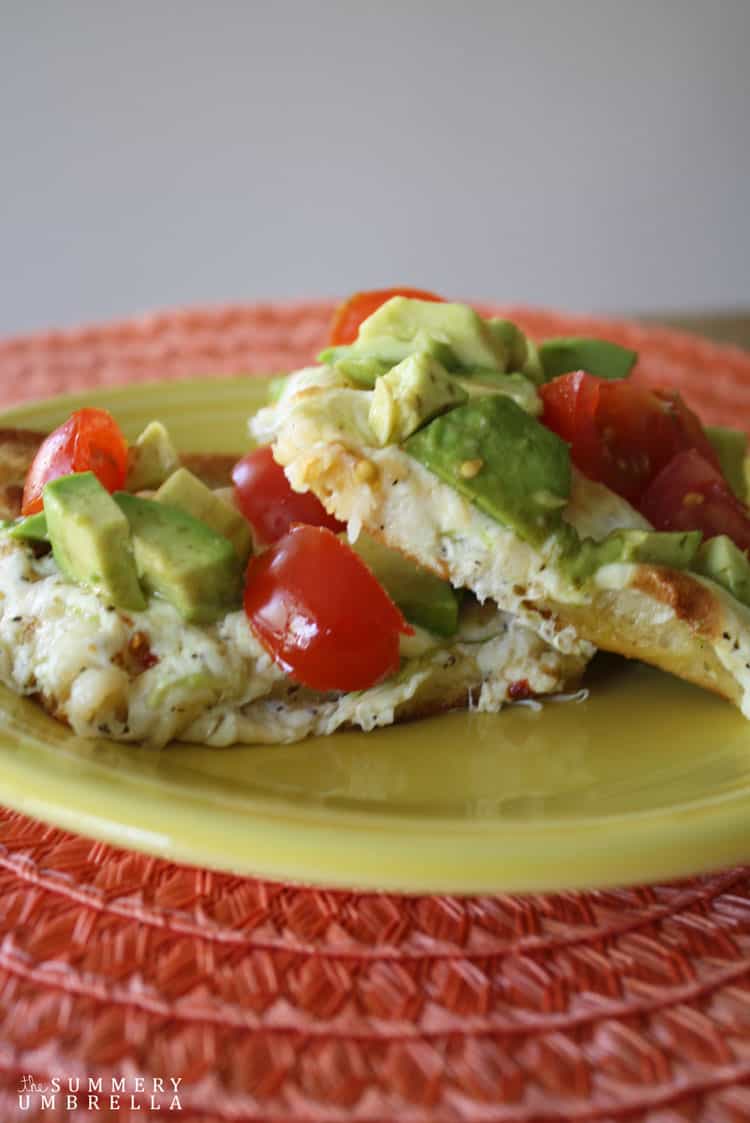 Let me know if you have any fresh pizza ideas and how you like this recipe once you try it 🙂
Keep Calm and Cook On,

Pssttt… are you looking for other super-yummy recipes for lunch or dinner? Then you'll definitely LOVE my Easy Caprese Salad or even this Chicken with Strawberry Avocado Salsa recipe. Soooo good!!