Easy and Quick Chopped Caprese Salad
Caprese Salad is not only incredibly easy to make but also super delicious. Let me show you how to create in just a few simple steps!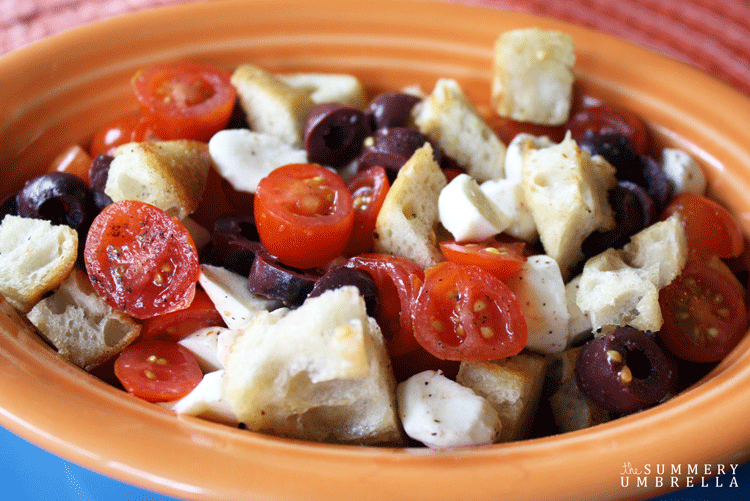 Hey Friends!
Today I am going to show you how I make easy Caprese Salad, My Way. I have watched Food Network (like it is my job) for years and have tried many, many recipes from television and cookbooks. What I have found is that, while I like most of them, I usually end up taking away or adding other ingredients to make it the way I really love!
Traditional Caprese Salad is made with fresh mozzarella cheese, tomatoes, basil, and balsamic vinaigrette. It is very good this way, but I added a few things to make it extra special!
Easy and Quick Chopped Caprese Salad
Ingredients you need:
French or Italian loaf bread
Olive Oil/Garlic Olive Oil
Fresh Mozzarella Cheese
Cherry or Grape Tomatoes
Kalamata Olives
McCormick's Garlic Pepper (not pictured)
First, you are going to make homemade croutons; it's very simple, don't worry! You can buy a loaf of Italian or French bread pre-sliced, it makes life easier. If yours is not pre-sliced, that is ok, just use your serrated knife to slice it into about ½ inch slices. Then, cut the slices into cubes.
Do you ever waste the rest of a loaf of bread because you have to buy a huge loaf, but you don't need it all? I do! Well, I used to. What I do now is cut the entire loaf into cubes and freeze what I don't need that day. That way, I always have croutons ready to be made on hand and I don't waste!
Next, heat your pan to medium and add a couple of tablespoons of olive oil. Add the bread cubes and grind the McCormick's garlic pepper onto the bread. This spice is my absolute favorite and I use it in many recipes!! It is a must have and is inexpensive (about $2.50). Keep an eye on the croutons because they burn easily. I cook mine so they are slightly crunchy on the outside and still soft and chewy on the inside.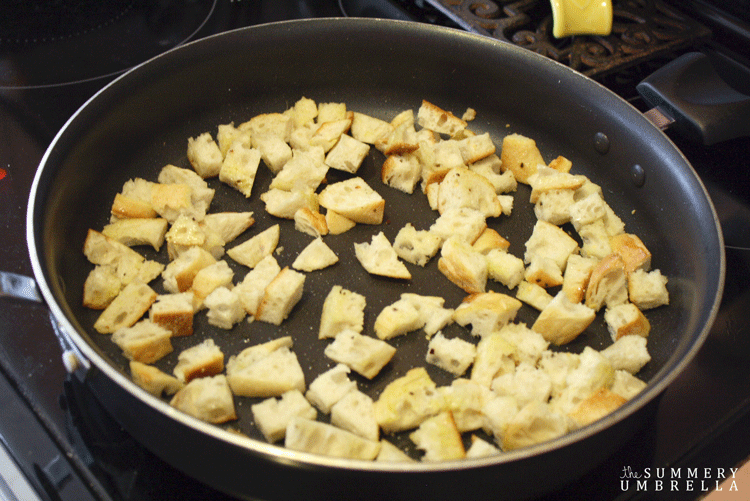 All that is left to do is slice the fresh mozzarella cheese, tomatoes, and Kalamata olives into bite size pieces. You can buy Kalamata olives pre-sliced, but I have found that they are significantly more expensive, so I just slice them myself. There is no need to add salt to the tomatoes because the olives add all the salt you need.

Easy and Quick Chopped Caprese Salad
Mix it all together; add a little black pepper and olive oil and presto! You're done! I hope you enjoy this very easy way to make a new version of Caprese Salad! ENJOY!!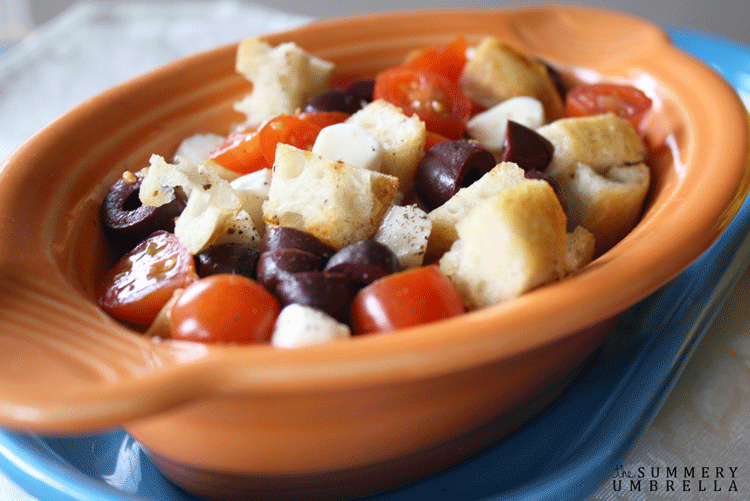 Keep Calm and Cook On,

Looking for more yummy recipes? We got your back! Check these babies out: