4 Things I Learned From My Better Homes and Gardens Photo Shoot
I learned so much from my recent Better Homes and Gardens Photo Shoot. Read about my amazing adventure and tips for your future one too!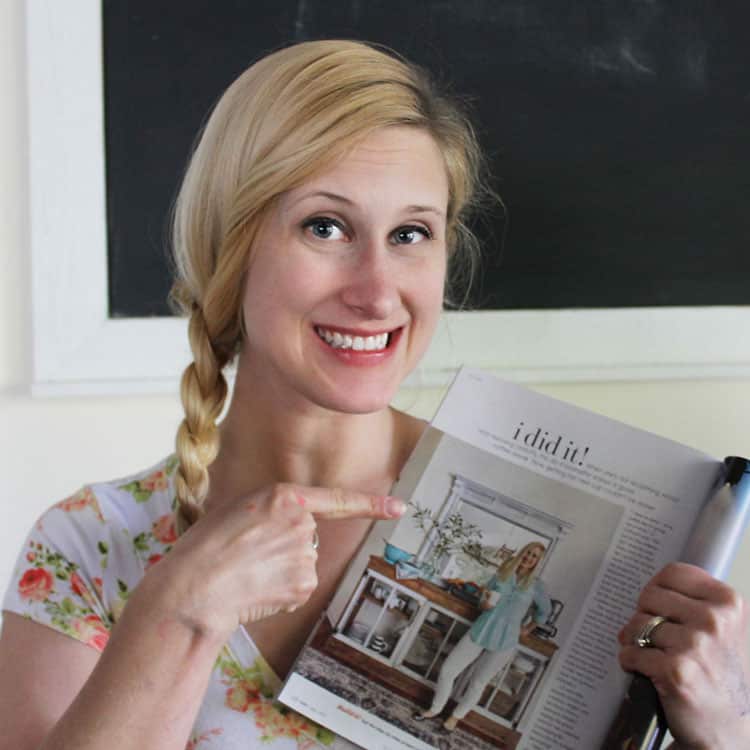 Just in case you don't follow me on Instagram or Facebook (P.S. I share a lot of exciting updates and fun facts on both of them… you probably want to. Just saying 😉 I recently revealed that I was featured in this month's edition of Better Homes and Gardens magazine!!
Yes.. I am on Cloud 9!
No.. it hasn't exactly sunk in yet either.
It's one of those weird things where I see my photo in one of my all-time favorite magazines… EVER… but I still don't quite believe it.
But you know what? It was one of the best experiences of my life. The team that I worked with was absolutely amazing! Honestly, I'm not even saying it to just be nice. They really were awesome!
Kit Selzer (editor), Michael Walters (stylist), and Brie Williams (photographer) were so sweet and so nice that it made me feel incredibly at home … at home. But seriously, I was very nervous and scared! I'm so thankful that the process was as wonderful as it was.
4 Things I Learned From My Better Homes and Gardens Photo Shoot
This post does include some affiliate links, but they are for your convenience. I promise! Please click here to read my full disclosure policy.
1.) I am not a fashionista.
How do I explain? I like clothes, I guess.
However, if I have to choose between spending 2 hours creating a project out of nothing or go to the mall–I will ALWAYS stay and create.
With that being said, I didn't have a lot of "quality" clothes to select from for the shoot (aka. I live in boots, jeans, and shirts covered head to toe in paint) so a trip to the mall was in order. Twice actually. Clothes are definitely not my forte!
Poor Kit. She was probably thinking… holy cow… this crazy lady has been out in the country for wayyyy too long?!
Whereas I was thinking… why can't I just wear a table centerpiece? I know I can create an AMAZING centerpiece! Lol.
2.) My house is anti-clean.
I won't even begin to tell you long my husband and I fixed and cleaned our home. We repainted the entire living room and kitchen, put in a new front door, and also scrubbed on our hands and knees in places we didn't even know existed!
However, the day before we looked around and wondered how in the world our house had gotten so dirty again?!
I'm telling you. I think our ghost friends have a hand in the mess every once awhile. It's just too convenient.
My Better Homes and Gardens Photo Shoot
3.) Emergen-C Super Orange is your friend. The pineapple is pretty good too!
Fact: Both my daughter and husband got a cold about a week prior to the shoot. The absolute last thing I needed was to be sick when there was obviously just so much to do!
You know what I did? Not only did I drink a TON of water and ate healthy, but I also started taking Emergen-C Super Orange to ensure my body was getting all of the right vitamins. In fact, I concocted a little Energizing Citrus Smoothie recipe that you MUST try. It's amazing, and completely addicting! Plus, it kept/keeps me healthy, happy, and full of my usual spunk!
4.) Brie took a lot of photos–I did not.
Ugh. There is nothing worse than realizing after the fact that you didn't take enough photos. I'm not even sure why I didn't! I had my camera out, I picked Brie's brain on how to improve my photography skills in my living room, and yet, I took a whooping 5 photos!
Note to self: You can never have enough photos.
See Below: One of the five photos I took.
At least I have priorities… You know, like food!
Don't forget to pick up your own edition the next time you stop at the grocery or book store! 🙂