Sautéed Chicken with Strawberry Avocado Salsa
You're never going to look at dinner the same way after you've enjoyed this yummy chicken with strawberry avocado salsa dish. It is truly delicious!
Summer is winding down, school is back in session, but I am just not ready for summer to be over … are you?! I am still enjoying the fresh fruits and vegetables of the season, using produce and herbs from my garden and loving every bite 🙂
I want to share with you this super simple and absolutely delicious recipe that only takes about 15 minutes! So when you come home after a long day of work (or are at home working all day), you can whip this meal up for yourself, your better half, your children, or even share with your pups (like I do).
Some of you know that I don't like measurements (unless I just have to use them), so I am going to give you estimates on how much to use … you make it your own!
Sautéed Chicken with Strawberry Avocado Salsa
Ingredients:
Chicken cutlets (I used 4)
Strawberries (10-12)
1 Avocado
1/2 Jalapeno (or use it all if you like it real spicy!)
Limes (juice of 1/2 lime for salsa, extra lime wedges for chicken)
Fresh cilantro (2 tbsp chopped)
Salt and pepper
Always Use A Separate Cutting Board For Chicken
You can see that my produce and my chicken are on separate cutting boards. Never ever allow raw chicken to touch any of your other food! If you use a specific utensil on the raw chicken (knife, tongs, etc) make sure you wash it with hot and soapy water before using it with any other food you are preparing. Also, wash your hands and under your fingernails with hot and soapy water after handling raw chicken. Ok, enough with the food safety, right?!
First, preheat your skillet to medium (depending on how hot your stove top gets) and add a couple of tablespoons of olive oil. Salt and pepper both sides of the chicken.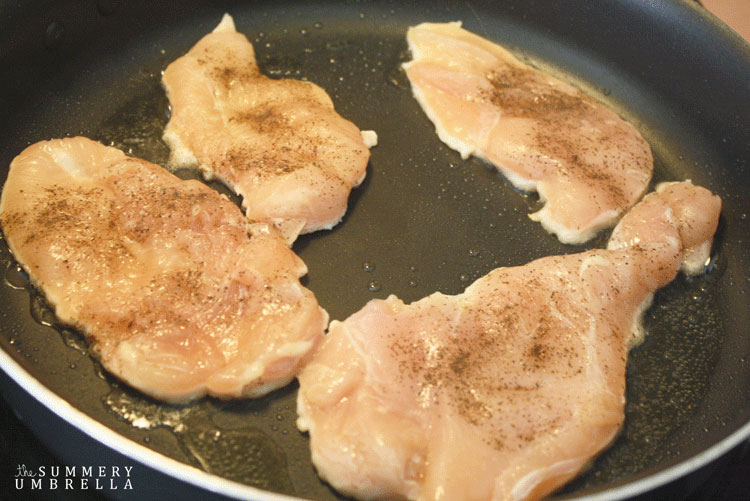 Once the skillet is heated and the olive oil is sizzling, add the chicken to the pan. Depending on the thickness of your chicken cutlets, this should only take about 6-9 minutes. *Note: chicken cutlets are much thinner than whole chicken breasts.
While your chicken is cooking, use this time to dice/chop your strawberries, avocado, cilantro, jalapeno, and limes.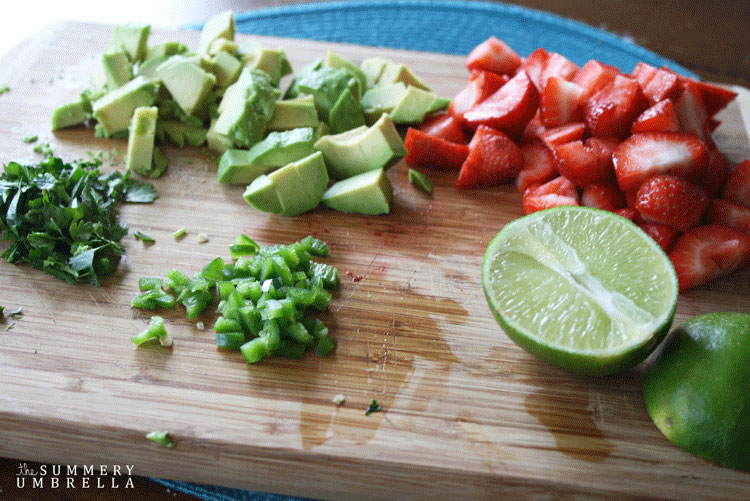 In a bowl, mix together the diced strawberries, avocado, cilantro, jalapeno, juice of 1/2 lime, and a pinch of salt. Your chicken should be done cooking by now! Yay, it's time to put it all together!
Doesn't this make your mouth water?? Squeeze some fresh lime juice on the chicken to add some more flavor. I absolutely love that this dish is easy, it tastes so fresh and clean, and is healthy for you too! Next time, I am going to mix it up a little and try it with lemon instead of lime and omit the cilantro. Cilantro is not my favorite, but I was surprised that I really did like it in this dish! You can always add or subtract any ingredients that I suggest, cooking is all about what you and your family likes and making your loved ones happy by filling their tummies with awesome food 🙂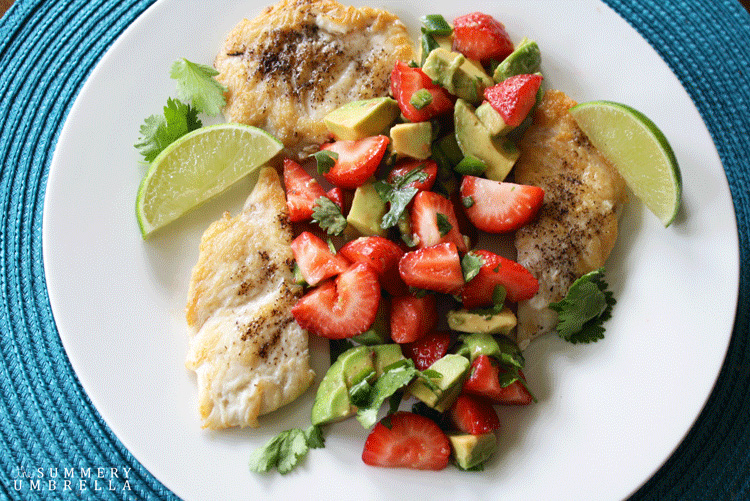 Bon Appetit!
Keep Calm and Cook On,

Looking for more yummy recipes?
Pssttt….
Don't forget to check out my
Recipes
page chocked full of yummy recipes!