DIY Tutorial: How to Create a Stenciled French Flower Market Bucket
Learn how to stencil a French flower market galvanized bucket using paint, an SVG file, and a cutting machine with ideas on how to use it in your home decor.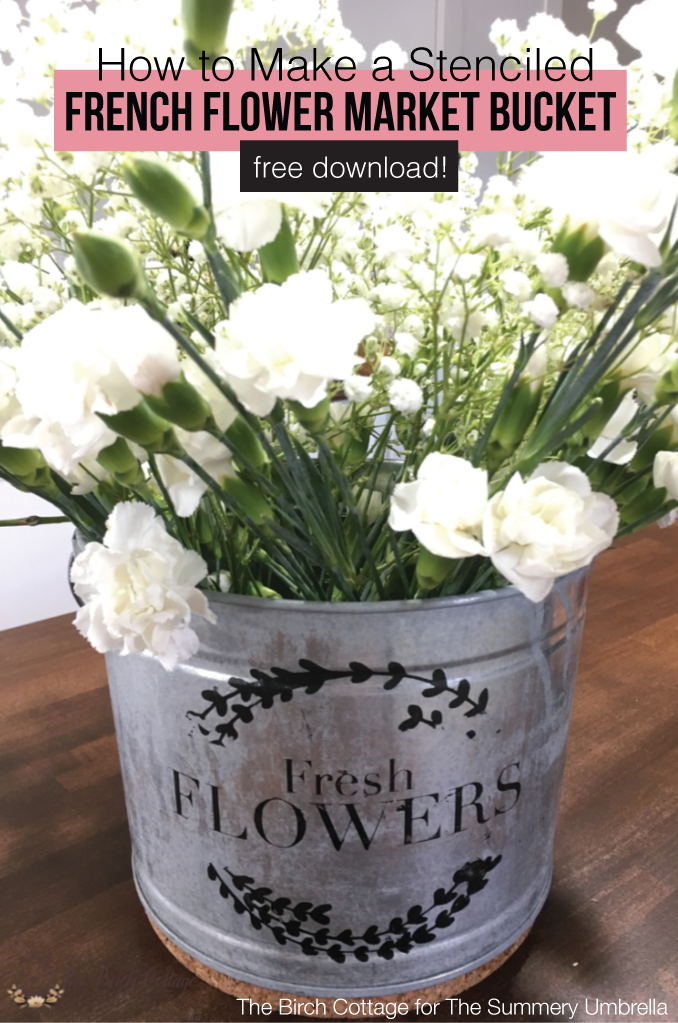 Hello, Summery Umbrella readers! I'm Pam from The Birch Cottage and I'm back this month to share another easy DIY project with you. This project, of course, incorporates the use of one of LZ's beautiful SVG files and an inexpensive galvanized pail to make this French flower market bucket.
Ways to Use Your French Flower Market Bucket
I first made one of these French Flower Market Inspired DIY Stenciled Galvanized Pails a few years ago when I was looking for a way to disguise an unsightly outdoor smoking receptacle. We were hosting a large outdoor barbecue at our home and I knew there would be people in attendance who smoked. I wanted to provide them with some sort of ashtray that didn't scream "ashtray."
So, I picked up one of these galvanized buckets, stenciled a flower design on the outside of the pail, filled it partially with sand, and hung it on a shepherd's hook in our backyard. Now our smoking guests would have someplace to snuff their butts that weren't an eyesore.
Want this freebie? Sign up for access to my resource library below.
But (pun intended), there are so many more uses for these French Flower Market DIY Stenciled Galvanized Buckets, like:
Now that I've given you some ideas and so many possible uses, let's take a look at how to stencil a French flower market-inspired galvanized pail.
How to Make a DIY Stenciled French Flower Market Galvanized Bucket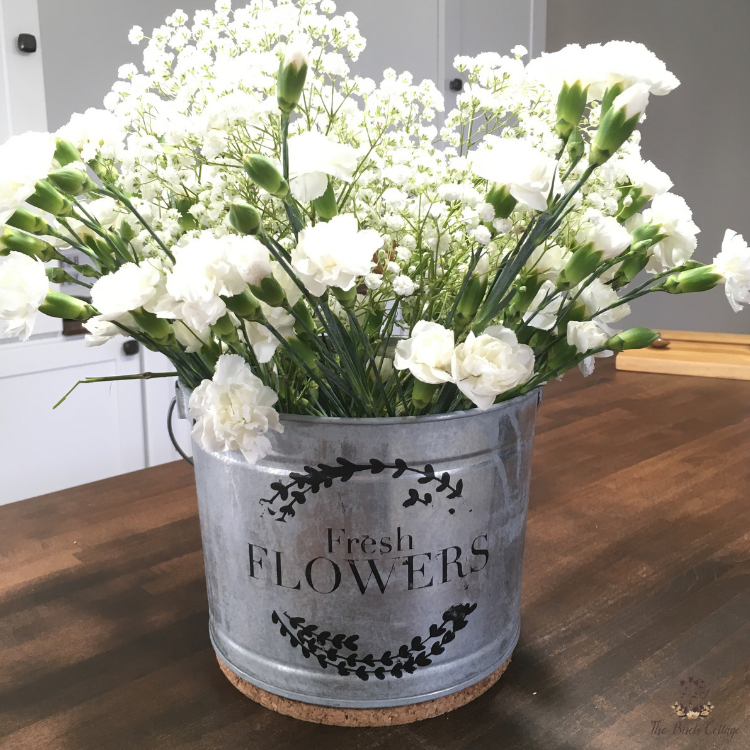 This project can be completed using the paint of your choice: spray paint, latex paint, outdoor paint, acrylic paint, or even chalk paint. Keep in mind how you're going to use your stenciled pail and select the paint that best suits your needs.
Supplies and Tools Needed for the Stenciled Galvanized Pail:
Instructions To Make Your Flower Market Bucket:
Step 1: Prepare the Galvanized Bucket
Before you paint the galvanized pail, make sure it is clean, free of debris, and completely dry. If your pail is shiny, you may want to use a steel wool pad on it to reduce the shine and prepare the surface for better adhesion of the paint. Simply lightly scrub the pail with the steel wool, then wipe off any residue.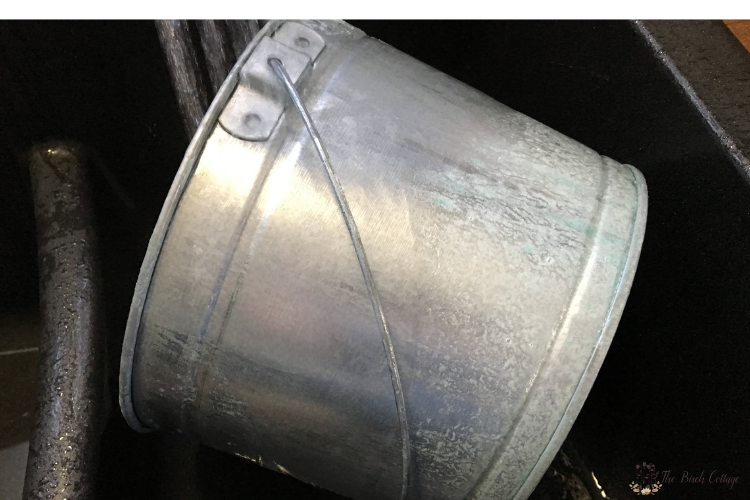 Step 2: Apply the Stencil
With your Fresh Flowers design already cut and weeded (get the freebie by signing up for LZ's resource library above), use your transfer tape to adhere the design to the front of the pail. (remember you are using your design as a stencil, so you'll want to weed away the design and text.)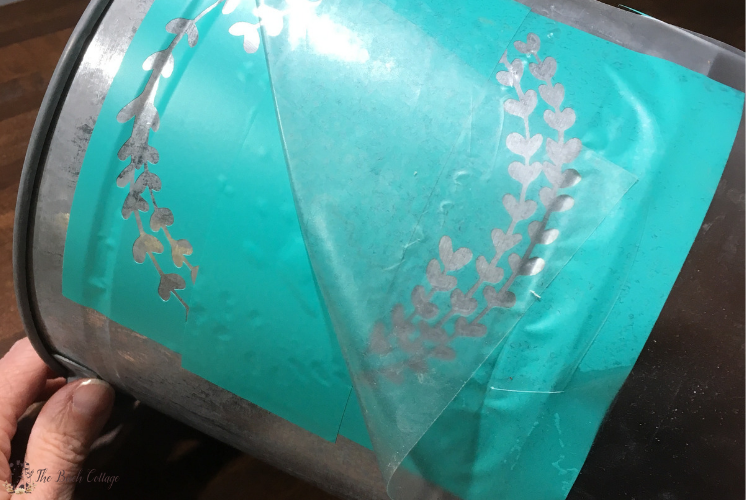 Step 3: Paint the Design
Using your foam brush, apply paint to the stenciled area. You may need to apply multiple coats. Allow the paint to dry slightly, then gently remove the vinyl stencil.
I painted my design in two steps because I knew I wanted it to look a little more distressed. So I cut out the wreath, painted it, waited for it to dry, then cut and applied the stencil for the "Fresh Flowers" text and painted it.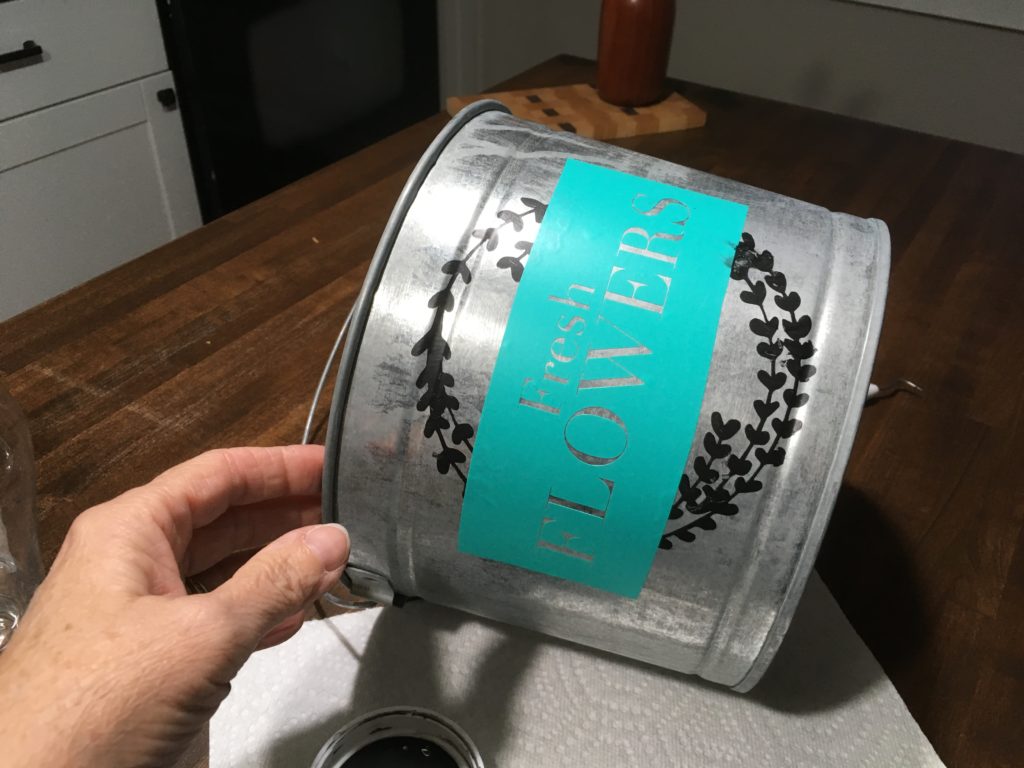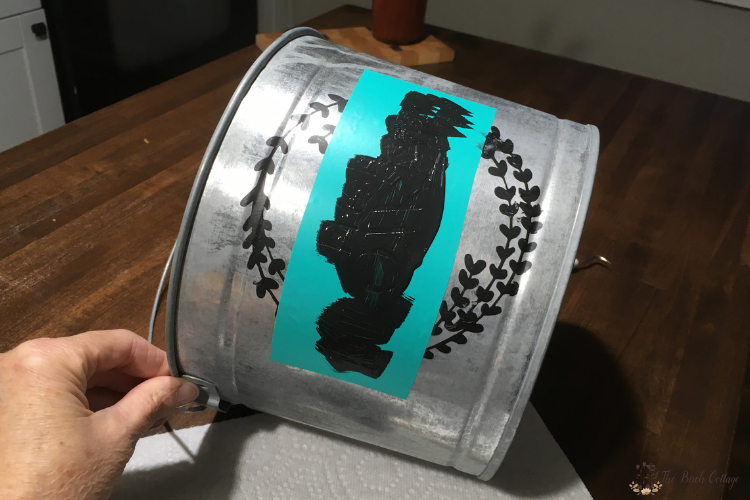 Step 4: Distress the Painted Design
Totally optional, but if you want a more distressed look to your stenciled flower market bucket, you can lightly sand over the painted area with fine sandpaper. You can see in the picture that I lightly sanded over areas to make it look more worn and used.
Your stenciled French market-inspired galvanized pail is now ready for use! Now, wasn't that easy! You could totally use spray paint on this project. Just be sure the areas where you don't want paint are completely covered. I usually tape off areas with old newspaper or plastic shopping bags and tape.
What's Next?
If you enjoyed today's easy DIY stenciled French flower market-inspired galvanized bucket, you might also like these ideas from The Birch Cottage blog:
Although I used the Fresh Flowers cut file for my stenciled galvanized pail, you could certainly use any design you like. These SVG designs from LZ would look beautiful painted on a galvanized pail: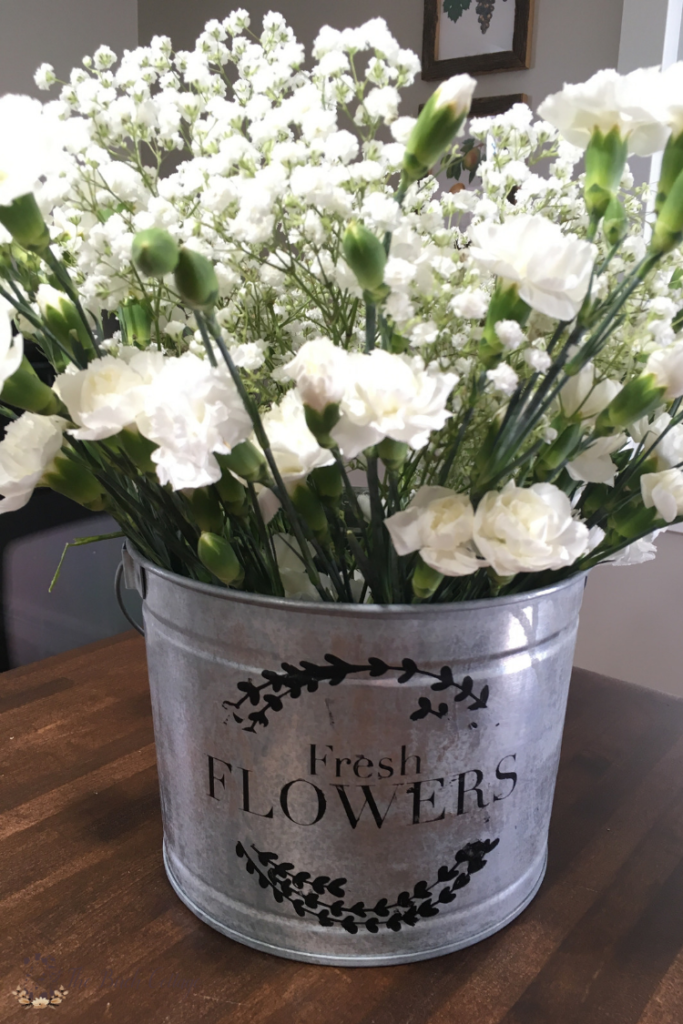 I hope you enjoyed learning how to stencil a galvanized bucket. I have to warn you though, once you stencil just one pail, you'll want to do it again and again…
Till next time…

This post was updated in April 2022.