DIY Woodworking: Crafting a Stunning Wood Slice Clock for Your Home
Have you been looking for an easy and rustic way to bring a clock to your home? Learn how with this amazing DIY wood slice clock in a few simple steps!
DIY Wood Clock
Hello friends! I have to admit that today's DIY Wood Slice Clock project absolutely tickled me pink to create. You already know that my favorite creations are out of natural items, but this little sweetheart brought together a few different elements that are near and dear to my heart.
Mike (aka. super talented hubby) and I purchased our current home almost a year ago (jeez time flies!), and not only were we very fortunate to find a fixer-upper home at a reasonable price but it also included five acres.
Mike would like to have many, many, many, manyyyy more acres than this, but for now, it is perfect for achieving our goals.
With that being said, with many acres included also means a lot of outdoor work! Our home is surrounded by plenty of trees so we have a lot to take care of on both the outside as well as the inside.
DIY Projects Out of Wood
Thankfully for me (aka. frugal-nature-girl) I am in a wonderland of creative DIY projects and events, to say the least! For instance, do you remember when I did my DIY branch curtain rod or even the tree stump table? They were so much fun to make!
How To Make a DIY Wood Slice Clock
Above is the current clock that I have been using in the studio. Honestly, I don't really mind it. It has a clean, simple, and modern style. However, heaven forbid I leave well enough alone!
Here are step-by-step directions for how to make a DIY wood clock of your own.
1.) Take A Working Clock Apart
The first step is to find a clock that works and take it apart. Just lay out all the pieces on the table.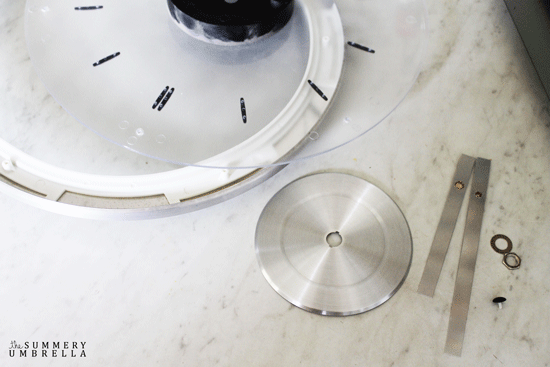 2.) Find a Wood Slice
Next, I grabbed one of the wood slices from the tree that Mike had cut down for the studio. P.S. Did you see the last studio update? We're making progress!!
3.) Cut a Hole in the Middle of the Wood Slice
Then, cut through the middle of the wood slice in order to put the battery-operated clock mechanism into it. I wanted to be able to easily change the battery so having the backside open was a must!
NOTE: Please remember that whenever you use wood or bring anything into your home from outdoors you must always thoroughly clean and disinfect.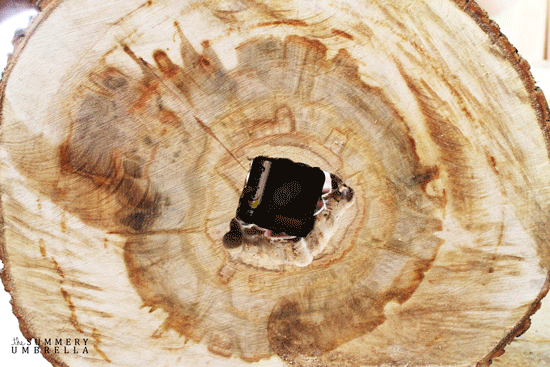 4.) Tape or Glue the Clock Mechanism In Place
The wood slice is obviously very heavy and extremely strong so cutting this hole was a chore, and furthermore was not exactly a piece of cake getting it to be a perfect size for the clock mechanism part. So, in order to get it to stay, I taped it into place on one side and then turned it over to insert the hot glue.
After the hot glue had dried I turned it back over and then inserted hot glue into any holes that it did not reach.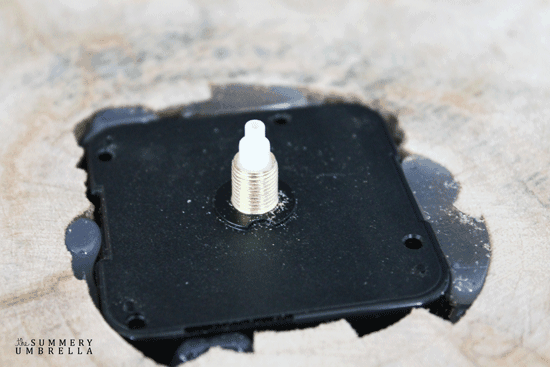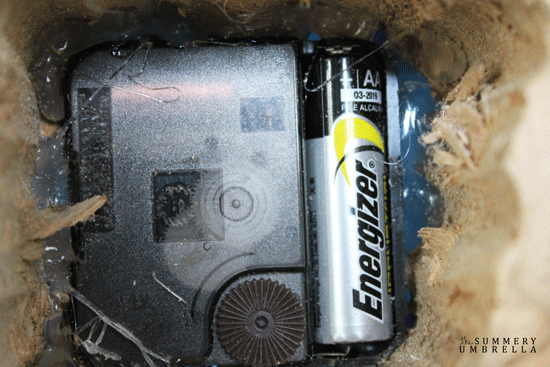 The backside isn't the prettiest thing I've ever seen, but it is functional and allows me access to the battery.
5.) Create the Numbers on the Clock's Face
Finally, the fun part! I got to use my handy dandy Silhouette CAMEO to add the Roman numerals around the wood slice.
When making a clock, do the numbers have to be perfectly centered?
You might notice that a few of my numerals are a little off-center. Since my wood slice was not a perfect circle/oval/whatever it was a little bit of a challenge getting everything to line up. In the end, I gave it my best and then decided to embrace the imperfections. Nothing in nature is absolutely symmetrical or perfect so why should this clock be?
6.) Attach the Clock's Hands
Last, but not least… I was able to enjoy the end results. Yay!
In case you were wondering, I did use my favorite spray paint again. Rust-Oleum Oil Rubbed Bronze.
Have a wonderful weekend, and see ya next week!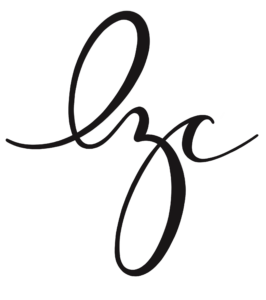 Pssttt…. Don't forget to check out my DIY projects page chocked full of DIY and decorating goodness!
Looking for more reclaimed wood-inspired DIY projects?
Let's be Social
This post was updated in August 2022.