How I Paint My Walls the Easy Way
Painting your walls is pretty basic, but let me show you how I paint my walls in just a knick of time. All you need is a few supplies and you'll be on your way!
I know, I know, I know. I know exactly what you're thinking. How hard can it be to paint your walls?
You're right. It's not hard–at all. BUT, having the right tools and using the correct paint is always a plus.
I'm not sure if you know this, but I just so happen to be a paint-aholic. I have a problem. Maybe even a serious one, but I won't admit how bad it really is. Here's just a little taste of what kind of a person I really am… Prepare yourselves. This might be scary for some.
Picture this: You're walking down the various aisles in your favorite home improvement store one day enjoying the marvelous splendor of home decor items, gardening tools, and laminate flooring samples when all of sudden (dum, dum, dum) you see a female in the paint section with a crazed look in her eyes. She's grabbing sample books in every shade possible, skipping around the counter, and rambling off exciting ideas of how she's going to revamp her kitchen for the third this year.
Ok. So, I may have exaggerated a little bit.
Just a tad, but this is definitely how I feel when I'm in the paint aisle. Ridiculously excited. Every. Single. Time.
Anyways, back to the main event!
How I Paint My Walls – A Beginner's Guide to Painting A Room
This particular room used to be my studio. As you can see… it's a hot mess! So, this is How I Paint My Walls. This post does include some affiliate links, but they are for your convenience. Please click here to read my full disclosure policy.
Step 1.) Remove everything from the room
If at all possible, remove all of the furniture and wall hangings out of the room. Since this room is turning into Ava's this was a piece of cake for us anyways.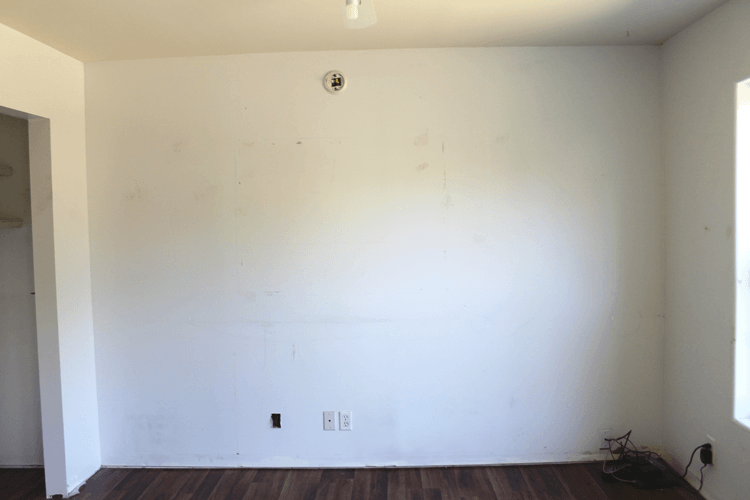 Step 2.) Take off the outlet covers
Remove all electrical outlet covers. Trust me on this one. It'll make your job a hundred and one times easier!
Step 3.) Add painter's tape
Tape off your ceilings, moldings, the floor, or whatever else you need to keep paint off of.
I'm sure you're looking at my pictures, rubbing your chin, and thinking… um… where is your tape?! Well, for this particular project I did not use tape because the entire room was going to be repainted with a satin, interior white paint, and don't look down but the floors are already covered in paint from my previous days splattering paint everywhere. Oops!
Step 4.) Paint the room
It's time to paint! Remember when I said it's essential to use good products to assist with a good paint job? What do I recommend?
Products I recommend for painting
a.) PURDY 2.5-Inch Clear Cut Glide Brush
b.) Purdy White Dove Multi-Packs 9-Inch x 1/2-Inch Nap Roller Cover, 3-Pack
c.) PURDY Roller Frame
d.) Purdy Power Lock Professional Grade Extension Pole
Step 5.) Paint, dry, repeat
Paint your first layer. Let it dry, and repeat.
Step 6.) Enjoy!
And that's all folks! Now all you need to do is enjoy a beautifully painted room, and decorate it with a little bling! 😉

Pssttt…. Don't forget to check out my DIY projects page chocked full of DIY and decorating goodness!