The Creation Station (aka. My Studio)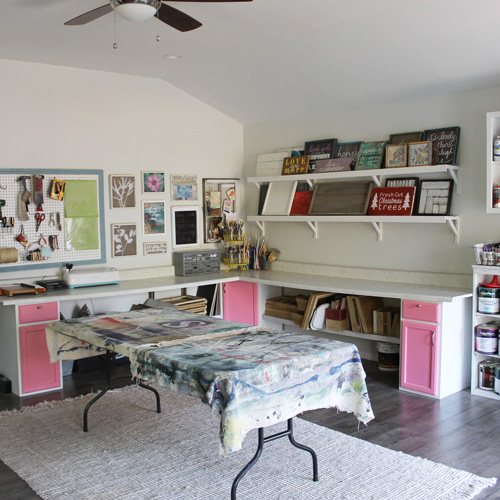 One more step in the right direction finishing up The Creation Station in the studio! Check out the progress so far in today's post.

Hello again! Do you follow me on Pinterest or Instagram? If not, I highly recommend doing so for all of my sneak peaks and special announcements. I wouldn't want you to miss anything! 😉
Oh yea, and Happy Friday! Isn't it an awesome feeling to know that the weekend is almost upon you, and relaxation is just a few hours away? Plus, tomorrow is Halloween! Do you have any big plans? Miss Ava's is going as Mavis (aka. Dracula's daughter from the movie, Hotel Transylvania), but other than that I plan on playing my favorite game–catch up.
The Creation Station (aka. My Studio)
So, I realized just recently that I have not shown you a lot of the great additions to my section of my studio that I have dubbed "The Creation Station".
In case you're not familiar with this term it is essentially a corner in my studio that I have designated for painting, sanding, packaging, and basically everything else that causes a crazy amount of chaos.
This little area of my studio is by no means complete, but with the added shelving for my artwork and also for a little bit of inventory it has completely transformed this space!
Can you believe that Christmas is just around the corner? I have to admit that one of my favorite signs for this holiday season is my newest addition to the shop "Fresh Cut Christmas Trees". I just love the simplicity of it!
By the way, did you see this gorgeous stool below?! O.M.G., right? This little beauty can be found over at the Antique Farmhouse along with a hundred other items that I'm drooling over. I seriously need to win the lotto.
With that being said, I cannot A.) stop staring at this amazing stool when I'm not sitting my hiney on top of it and B.) get over how easy it was to put together! Definitely by far my all-time favorite chair. Ever.
Side note. Please, please, please, pleaseeee do NOT think my studio ever stays this clean. Yes, I do vacuum it about 3x a day, but it rarely stays this organized. It's just too hard to keep that aspect under control more than once a week.
Slowly, but surely it is all coming together! A little bit of progress in the right direction is always better than no progress, right?
Pssttt…. Don't forget to check out my DIY projects page chocked full of DIY and decorating goodness!