Stunning DIY Vintage Dresser Makeover Before and After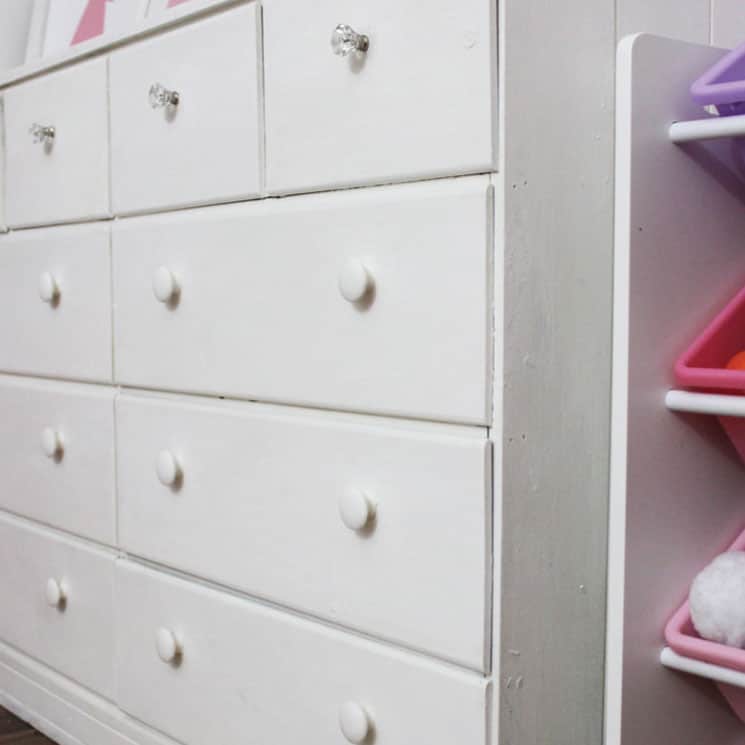 Do you have a dresser that desperately needs a little TLC? Then you'll definitely want to stop on by to see my tutorial for this Vintage Dresser Makeover that is super easy!
There aren't too many rooms in my home that I dislike cleaning up.
I take that back. I'm not too thrilled about cleaning up the laundry room (where the dogs are kept at night), but the real challenge (and patience-getter) is in Miss Ava's room.
Holy cow.
I used to be an absolute clean freak way back in the day. You know, like BM&A (aka. before marriage/Mike and Ava).
For instance, when I lived in Tampa (during my active duty days) my apartment was darn near perfection. Every dish had it's special spot in the cabinet, every pillow was fluffed on the couch, and even my puppy Kyler, always minded his manners. HAH!
Ok, ok, so maybe I wasn't that clean, but it was definitely a huge difference than my current living situation.
Don't get me wrong. I love every single thing about my roommates. I wouldn't trade them in even if I could.
However, Miss Ava's room can bring me to tears sometimes.
Riddle me this.
How does a four year manage to pull out every single piece of clothing out of her drawers, all the dresses off the hangers in the closet, cram play dough into her rug, and also move an entire Barbie doll collection into the living room within minutes.
Vintage Dresser Makeover
Yes. ALL of this in just a few mere minutes.
It must be magic.
Shame on me for letting her watch those Harry Potter marathons….
But in all seriousness, it can be extremely hard to keep her room clean, and I'm sure a lot of you reading today are also nodding your head in agreement!
So, this is what I decided to do.
Ava's room is always a work in progress, and if you remember from last month we moved her into the old studio (since it's a little bit bigger), and created a Princess Loft Bed to help with space. Plus, it's too cute!!
So, this is what we did to clean it up, and hopefully to keep in clean in the future:
she picked out this rainbow rug (doesn't she have good taste?!)
found this amazing girly kids toy organizer
added this tv wall mount so her tv can swivel up and down and side to side (best investment EVER!)
Now all I need to do is hide those ugly wires! I see a DIY post in the future for this problem 😉
As well as threw out (and gave away) a TON of stuff she was no longer using.
That was probably the best thing I've ever done in her room so far!
Need more painting inspiration?
And at long last… I repainted her dresser with Fusion Mineral Paint in Lamp White so it sang like the true beauty it is.
A few years back I had painted this vintage dresser with a satin interior latex white paint, and this is what happened to it:
it started peeling (part my fault, part Ava picking at it, and part… it flat out just didn't work!)
Ava was drawing, painting, and placing stickers all over it
and it just got …. well, yucky.
So, learn from me. Please, please, please, PLEASE use a good quality paint (like Fusion Mineral Paint when painting your furniture).
You can distress it like chalk paint, but it not only allows your furniture to last longer but the paint itself lasts forever. Honestly!
I've used the same pint of paint for several projects.
It has a built in top coat so it takes less coats of paint to achieve this gorgeous vintage dresser makeover, and will definitely keep you much, much, much happier!
Happy DIY'ing!
Follow me on:
Pssttt….
Don't forget to check out my
DIY
projects page chocked full of DIY and decorating goodness!