NEW Download: Always Stay Humble and Kind Printable and SVG
Inspirational quotes not only make great reminders for art in our own home, but also as beautiful gifts as well! Enjoy this free download (for a limited time!) Always Stay Humble and Kind printable and SVG that includes: SVG, JPG, PNG, DXF, and PDF files.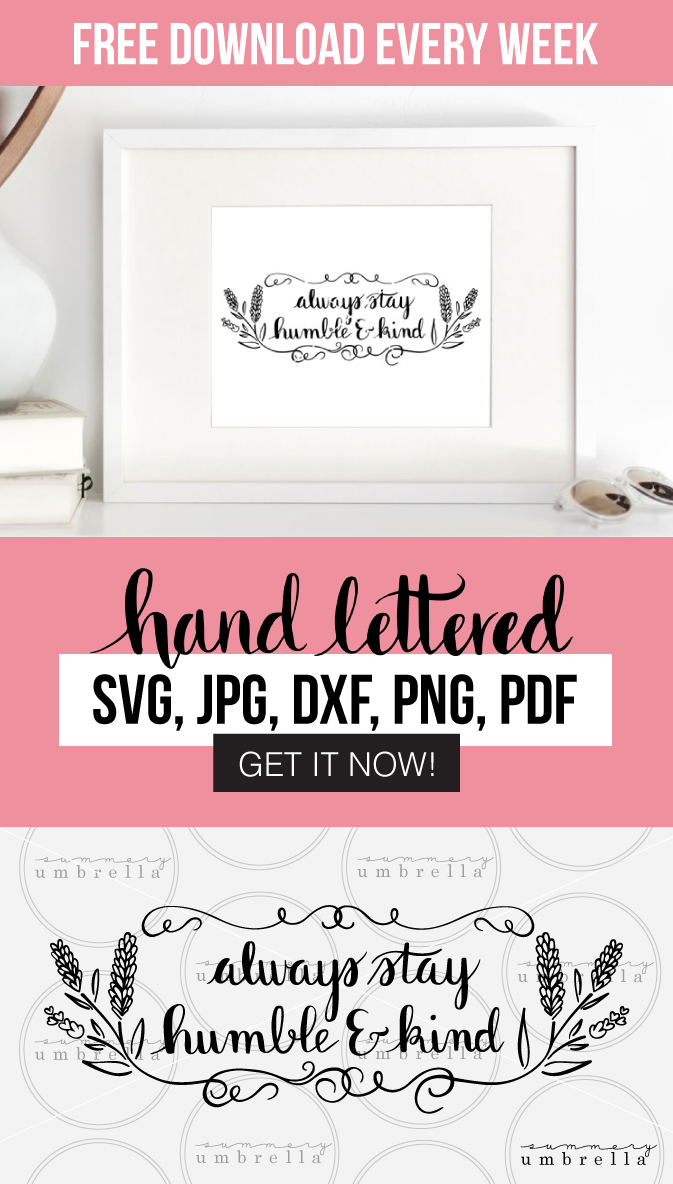 Oh yea. I'm bringing FREEBIES back…. YEA! And all the girls don't know how to act… YEA!
You heard me right. Freebies galore are coming back, and they're all just waiting to be downloaded by you!
I took a short break to figure out what YOU, my wonderful friends, wanted and I am so pleased to announce that weekly freebies are here to stay!
So, I'll keep this short because I know you'll want me to get straight to the point! I have a few new "ground rules", but they're super simple and sweet.
Here's how it works:
Every week I'll be creating a NEW, hand lettered, and beautiful design that will be shared with you for FREE.
This new design will be available for download every Monday through a new blog post.
However, this free download expires at 11:59 p.m. EST on Wednesday of that week.
In other words, if you have not signed up via email (see box below) before Thursday that design will only be available to you in the shop.
This week's beauty is an all-time favorite quote: Always Stay Humble and Kind. So, go ahead. Sign up below and get your freebie!
This design has expired as a free download and can now be found in the shop. Don't forget to check out next week's freebie that will become available on Monday. See ya then!
Always Stay Humble and Kind Printable and SVG

Guess what? Today's design is 1 of the 5+ designs that I've added to the The Summery Umbrella Shop this month, and I just know you'll want to check out these new beauties in the shop too!
Please remember: All designs, images, patterns, and calendars (but are not limited to) are © The Summery Umbrella, LLC. These items are for personal use only. You may not reproduce, recreate, or sell in any way. However, please feel free to download for your own personal uses. Also, this is exclusive content so you may not share these downloads with anyone, BUT I'd be most delighted if you directed your family and friends to my page. In fact, I'd be honored and thrilled. Thanks in advance for understanding!​​​ Read more about my personal and single-business commercial use rights over my Shop Policies page.