NEW DOWNLOAD: Too Late for Coffee Printable and SVG
Embrace your love for coffee – and wine – with this fun printable design. Use this Too Late For Coffee Printable and SVG to customize your new favorite coffee tumbler or frame a print to decorate your kitchen counter.
If you asked me to tell you about my favorite drink, I'd probably start talking about coffee. I can't start my day without it. It doesn't matter if I'm at home or away, if I wake up at six in the morning or somehow snooze until noon. Hot, iced, specialty, or straight-up, I'll take my coffee any way I can get it – but I've got a soft spot for a warm cup of coffee with milk and sugar in my favorite mug, sipped from the comfort of my couch.

Savoring a warm cup of coffee as I pause and think about the day ahead is my absolute favorite morning ritual – but coffee also something I can appreciate later on, when I'm out running errands or getting ready to create something new.

So I'd tell you my favorite drink was coffee… and then I'd probably change my mind, because wine is pretty awesome, too. When it comes to drinks, there are few things as versatile as wine. You've got your reds, your whites, your rosés, your dry wines, your dessert wines… and the list goes on! You can find a wine to pair with absolutely any meal and almost any situation, from celebrating life's important moments to enjoying a night on the couch with your closest girlfriends.
Which leads me to today's printable!

Too Late for Coffee Printable and SVG
If you've ever asked yourself "Is it too late for coffee" or "Is it too early for wine?" – or if you're guilty of saying both – I've got a real treat for you! Today's printable is the perfect way to celebrate your favorite beverages, and the best part? It's free to download for a limited time!

Here's how it works:
Every week I'll be creating a NEW, hand lettered,and beautiful design that will be shared with you for FREE.
This new design will be available for download every Monday through a new blog post.
However, this free download expires at 11:59 p.m. EST on Wednesday of that week.
In other words, if you have not signed up via email (see box below) before Thursday that design will only be available to you in the shop.
So, go ahead. Sign up below and get your 8″ x 10″ hi-res jpg freebie!
This design has expired as a free download and can now be found in the shop. Don't forget to check out next week's freebie that will become available on Monday. See ya then!
Love SVG projects and need some inspiration?
5 Easy Ways to Create a Beautiful and Rustic Fall Tablescape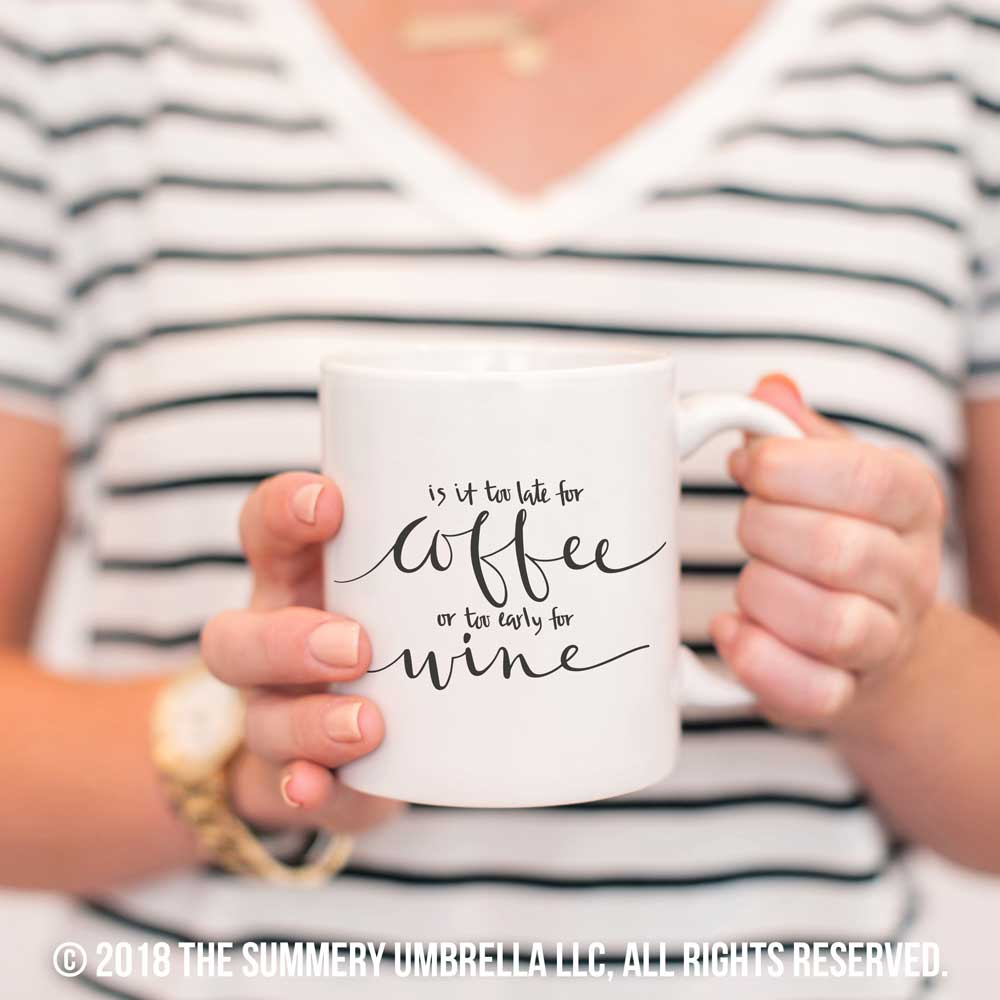 Too Late for Coffee Printable and SVG
Did you arrive a little late? Don't be sad if you've missed out on any of these past freebies! If you would like instant access to my ENTIRE library of hand lettered designs you can read more about how to subscribe to the Studio Pass here!
You know you're ready for the Studio Pass if you…
Want to stop wasting hours searching for quality vector files—and put that time back into crafting
Wish you had a selection for your projects that didn't look like everyone else's
Wonder what the pros are doing with vector art that you don't know—yet?

Take a look inside.

Linda Zahora-Cathcart

Guess what? Today's design is 1 of 5+ designs that I've added to the The Summery Umbrella Shop this month, and I just know you'll want to check out these new beauties in the shop too!
Please remember: All designs, images, patterns, and calendars (but are not limited to) are © The Summery Umbrella, LLC. These items are for personal use only. You may not reproduce, recreate, or sell in any way. However, please feel free to download for your own personal uses. Also, this is exclusive content so you may not share these downloads with anyone, BUT I'd be most delighted if you directed your family and friends to my page. In fact, I'd be honored and thrilled. Thanks in advance for understanding!​​​ Read more about personal and single-business commercial use rights over on my Shop Policies page.