Unleash Your Inner Artist: Free Father's Day Coloring Pages
Download this set of free printable Father's Day Coloring Pages and Activity Pack for the perfect handmade gift from your child to his superhero dad.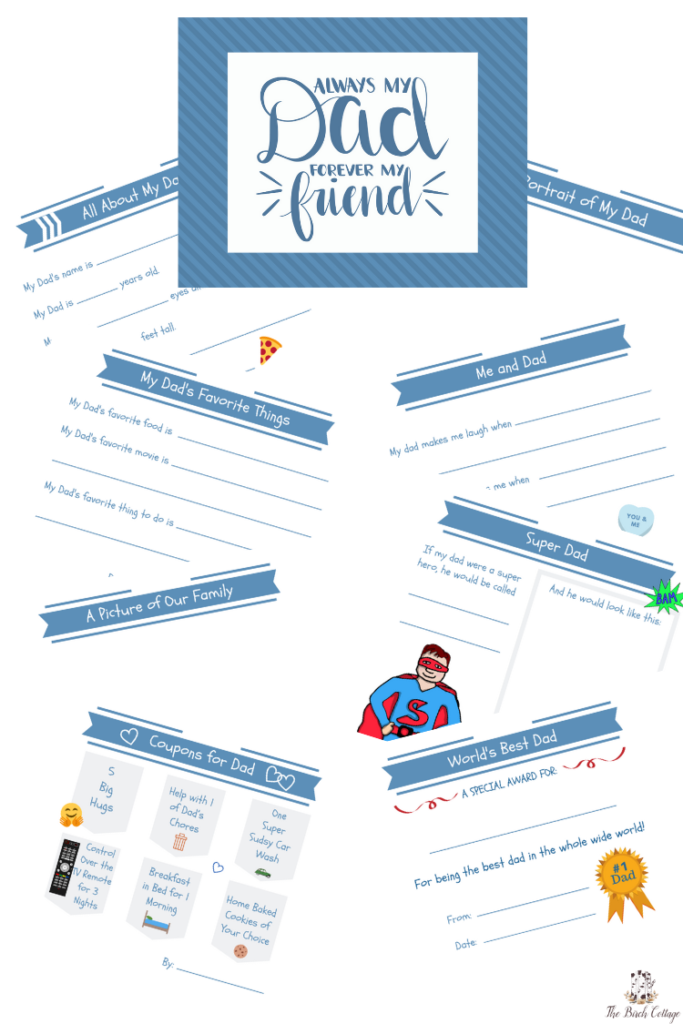 Hello, Summery Umbrella readers! I'm Pam from The Birch Cottage, and I'm back this month to share a super easy and fun Father's Day art project with you. This project, of course, incorporates the use of one of LZ's beautiful SVG files and your child's imagination!
Although I don't have any little children at home anymore, I do have young grandchildren who absolutely love craft time with their Nana. They also enjoy baking, playing piano, dancing like little ballerinas, and pretending they are princesses. Their favorite princess right now is Ariel. And, of course, every princess needs a prince, and that's exactly where Dad comes in handy as "Prince Eric."
My son, fortunately, is such a good sport, and he doesn't mind being the Prince to his little princesses. So, I thought it would be fun to sit down with the girls and have them complete this set of free printable Father's Day coloring pages. You can thank my son (and all the other Dad's out there) for this inspiration.
Want this freebie and more? Sign up for access to my resource library below.
Printable Father's Day Coloring Pages
This Father's Day coloring page project couldn't be simpler or more fun. With a little bit of help from you, your child can create a one-of-a-kind gift, especially for Dad.
What You'll Need:
Instructions:
1. Download Free Printable Father's Day Coloring Pages
Download and save the PDF file of the printable coloring pages and activity pack to your computer.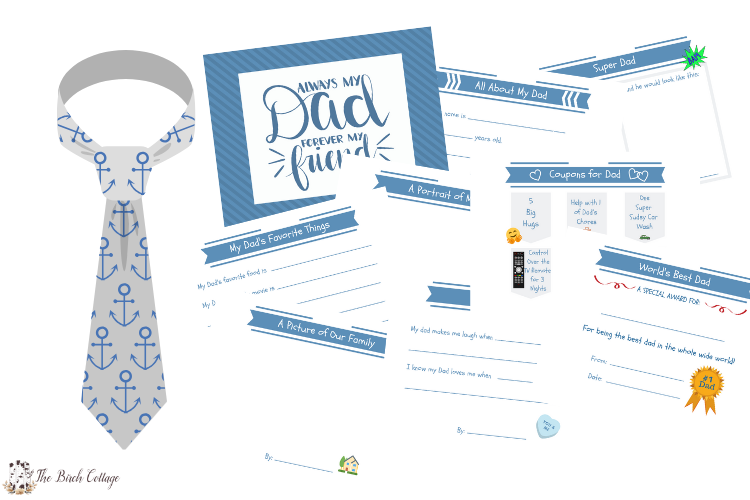 2. Print Father's Day Coloring Pages
Once you've downloaded the free printable Father's Day coloring pages and activity pack, simply open the PDF up on your computer, load your cardstock (or printer paper) in your printer and print!
Keep in mind that you can select to print only certain pages or multiple copies (if you have more than one child).
HELPFUL TIP: Be sure to print the actual size (100 %) and make sure "fit to page" is not selected on your printer settings when you print it out.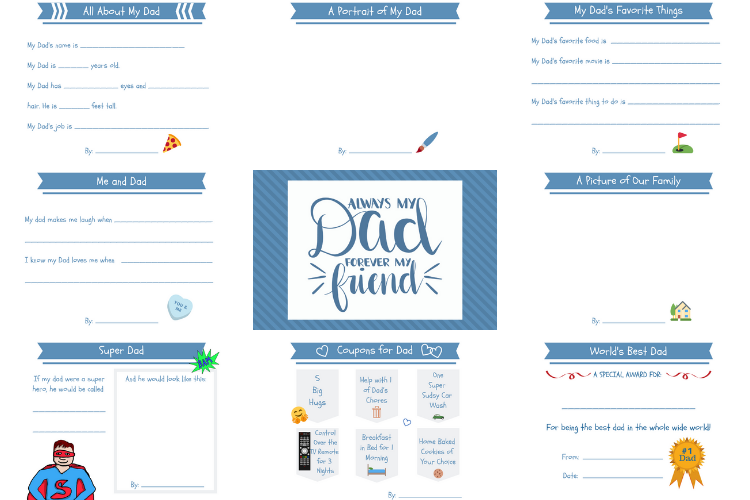 3. Color the Pages
And, now for the fun part! Simply assist your budding artist with completing and coloring the pages, as necessary.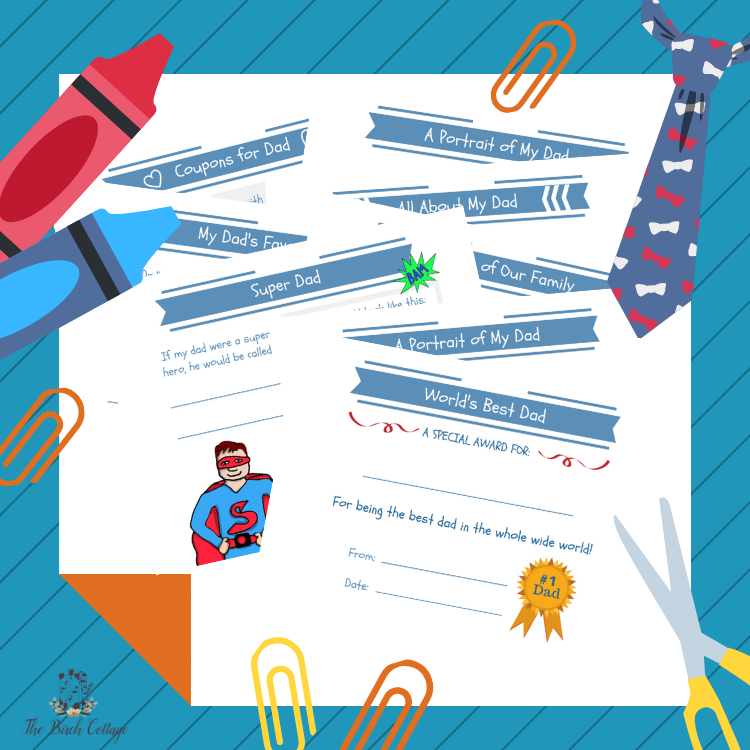 4. Assemble the Pages
Once your pages have been colored and all filled in, you're ready to assemble the pages into a nice little booklet that will be perfect for Father's Day gift-giving.
Different Ideas on How to Assemble Your Father's Day Coloring Pages and Activity Pack into a Keepsake Booklet
There are so many ways that you can bind your Father's Day booklet together but here are a few favorites.
Staple the Booklet Together and Wrap with Ribbon
You can simply staple the booklet together in the top left corner. Then, wrap and tie a pretty ribbon around the package.
Punch Holes and Tie with Twine
Use a 3-hole punch to punch holes in the top of the booklet. Then cut 3 pieces of 6″ ribbon or twine and string through each of the holes, tying them into place. Just keep your tying loose so Dad can easily turn the pages without ripping.
This is a great tutorial on how to bind your coloring pages with ribbon. Just keep in mind that you will not have to fold your pages in half first.
Use Washi Tape to Bind Your Pages Into a Booklet
Cut a piece of washi tape 11″ long. Lay your booklet with all the pages stacked on top of one another, centered along the long strip of tape. Then fold the tape over the top of the booklet and apply pressure to seal. This will create a sort of bookbinding.
To make the pages extra secure, you could also apply a little bit of glue to the top back of each page or use staples before you stack them and apply the washi tape. You can see how this method is done in this coloring book tutorial.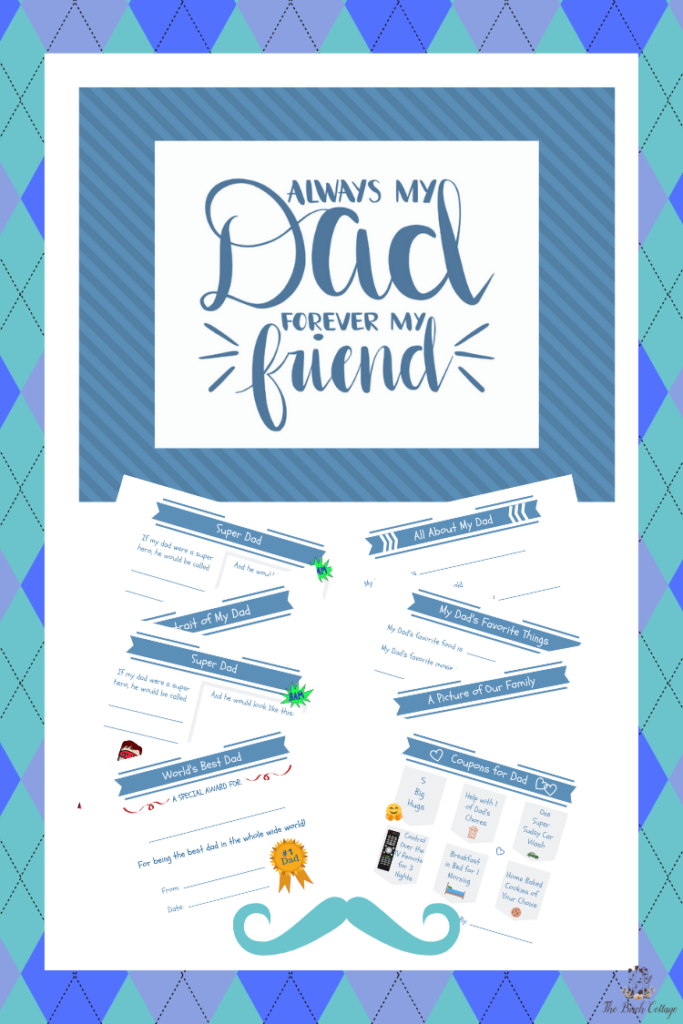 I had planned to have my little granddaughters over to fill out the Father's Day coloring pages and activity pack, but then there was an accident involving our dog Zoey, a cup of milk, and my laptop. But, this project really is simple enough that I think you can figure it out even without the help of my soon-to-be 4-year-old granddaughters!
What's Next?
Don't forget to check out a few of these ideas, too!
Till next time…

This post was updated in May 2022.