How to Create a Beautiful Chicken Coop to Enjoy for Many Years
Learn how to create a beautiful chicken coop in just a few basic steps. Rustic, modern, and pretty with a few pops of flair! Your DIY chicken coop is just a few short steps away.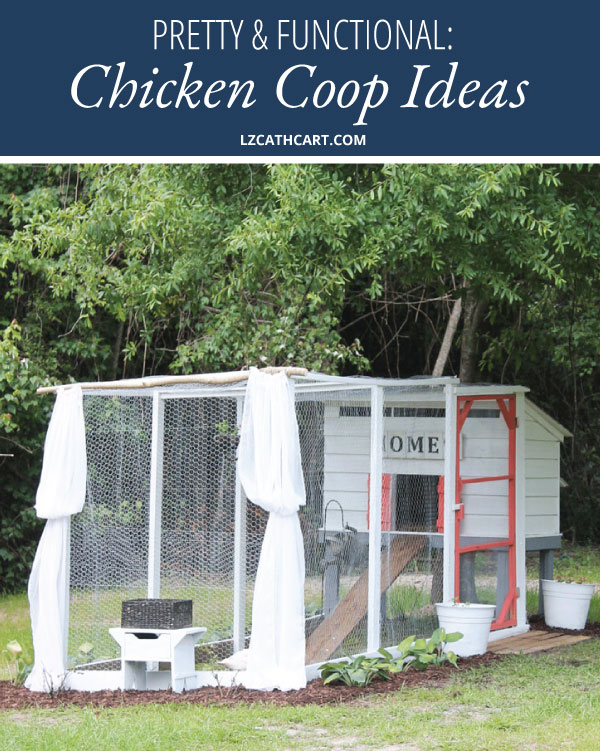 A Beautiful Chicken Coop
I am so psyched to finally be able to share with you the end result of how to create a pretty and functional chicken coop! Trust me. It's been driving me absolutely CRAZY not being able to show you these pictures all week long.
Side note and a little back story first though. Recently I shared with you my favorite 10 Pretty and Functional Chicken Coops that I found online, and I was beyond inspired to also create a gorgeous space for my future feathered friends.
Future? Yup. You heard me right. At the moment we have two little ducklings that are currently residing in the coop since they are only a few months old. We have a scary population of predators in our area so until they get a little bit bigger they'll be breaking into the new digs.
So, without further interruptions, I present to you my little, beautiful chicken coop!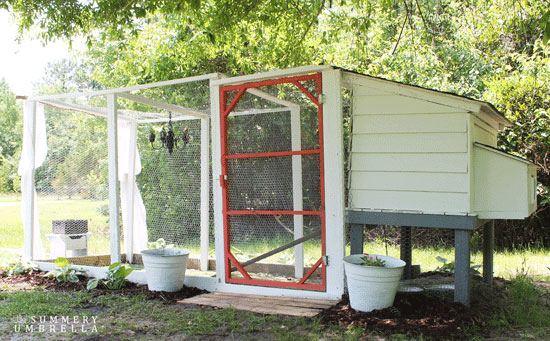 Place the Coop In the Shade
Since summers can be quite dreadful down here in the South so we tucked it in next to the woods and under a tree to provide shade and coverage against the elements.
I believe it was last fall that I removed our screen door from the front of our home, and we were originally going to use it for the coop.
However, we forgot to take into account its height when building the "coop house" and it was entirely too big! No worries though. Mike just built one to fit, and I absolutely love it! Isn't this coral color amazing?!?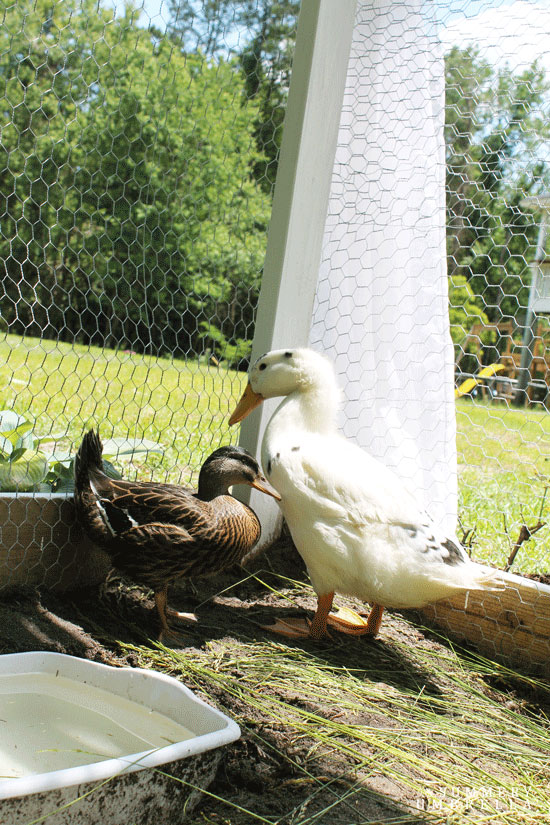 I definitely wanted to add some kind of stepping stones or a mat to the front of the door and was thrilled when I found part of this pallet still intact. It worked out so well in this spot!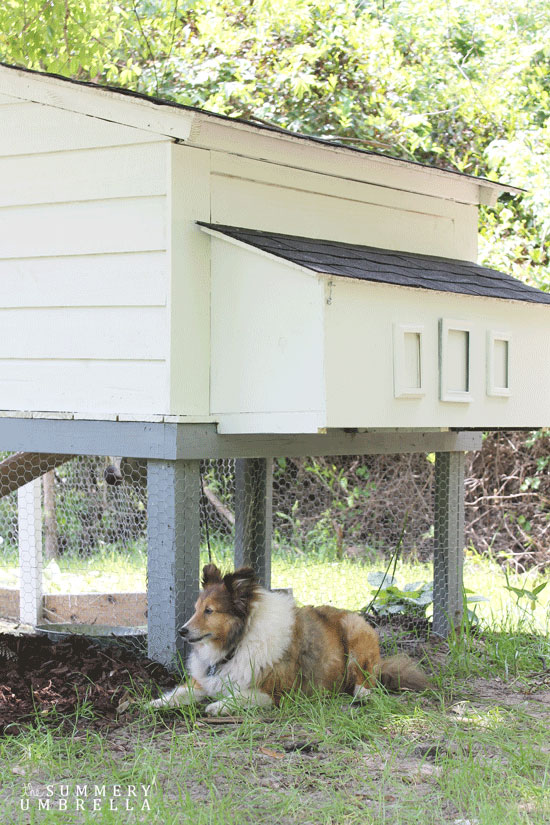 Even my fluffy puppy (aka. Kyler) loves this area. He's so funny with smaller animals. He thinks he's all big and bad!
Use Sandy Areas to Track Predators
In case you're wondering why I didn't mulch all the way around our coop (or why there are a lot of sandy areas), we actually did this on purpose.
Seriously! Remember how I said we have a thriving population of predators in the area? We actually check every morning for prints in the sand around the coop to see what we're dealing with and if we have any "leaks" for them to gain access.
So far we've confirmed a few raccoons and a fox along with a bear. Scary, right? I know there's more than just this, but hopefully, they'll stay far, far away!
Add Decorative Picture Frames
This back area was just so plain so I added a few picture frames that I had on hand and painted them white.
Also, the coop actually has three doors. One on the front, one above the picture frames (to collect eggs), and then the last is on the other side where we can scrape out the lovely doodles.
How to Create a Beautiful Chicken Coop
All of our hostas around the coop are actually transplants from underneath our front porch. They were just too pretty to be hidden away, and plus, I didn't want to spend a ridiculous amount of money buying more plant life.
DIY Chicken Coop Curtains
You know I couldn't resist adding a little bit of elegance to the front of the coop! 😉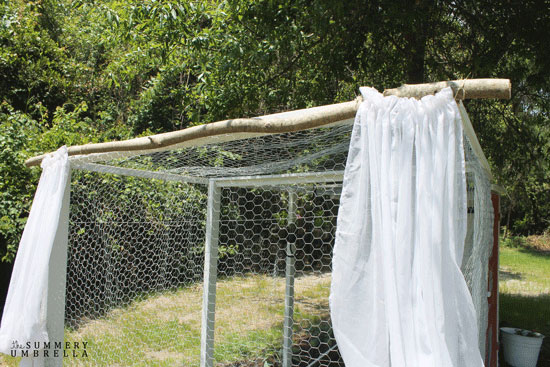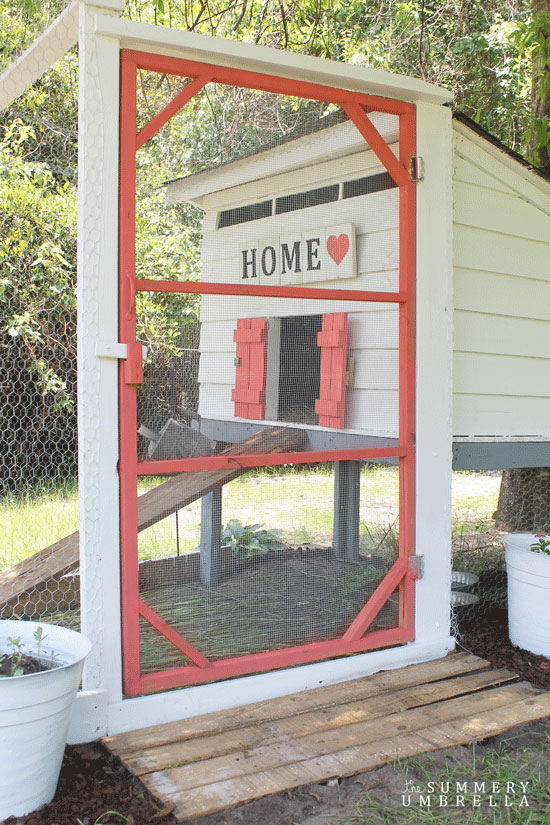 These knockout rose bushes are so pretty even without roses! They were on sale for $4.99 apiece since they were nearly dead when we got them, but we nursed them back to health and they're looking awesome now!
And here are our little duckies. Fluffy Wuffy and Poodle. Heck yea, I named them! Haha. Just kidding. These names are all Ava.
Do you remember this Upcycled Flower Planter Chandelier? I was trying to find the best place to put this beauty, and then it dawned on me how perfect it would be in the coop. Doesn't it completely make this area? Just a hint of classy and rustic charm.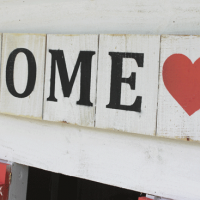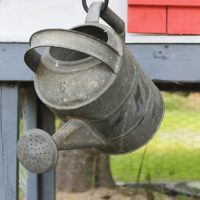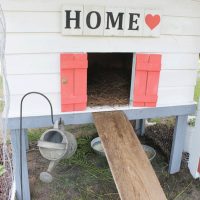 Originally I put this vintage watering can outside of the coop, but it just didn't work. Now, it's the perfect addition inside!
Did you enjoy this post? If so, please make sure to check out a few of my other gardening and outdoor living tutorials!
Can't wait to see you again!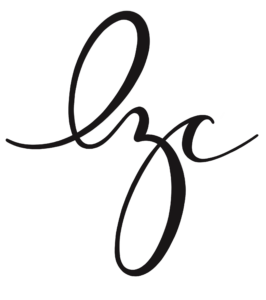 Like this post? Check out a few of these too!
Let's be Social
This post was updated in January 2023.