Discover How to Create a Rustic Fall Porch
Creating a rustic fall porch is a piece of cake! Let me show you how to transform your porch into an inviting display for fall.
Happy Monday, y'all! 🙂
I hope this weekend has treated you very well, and you feel like a spring chicken. I know I don't look like one anymore, but as long as I feel like one that's all that matters, right?! As I've told you countless times before, Fall is my season. I love all the seasons for different reasons, but Fall is the one that is closest to my heart.
It reminds me of happy moments in my life I'll never forget. You know, like the first time I met my husband (at Starbucks–I know, I know. We're fancy!) playing in big piles of leaves as a child, everything to do with pumpkins, and just overall the cooler weather that makes it bearable to actually be outside for longer periods of time.
Oh yea… I just love this time of the year.
Not to mention, there is so many amazing ways you get to decorate your home! Take for instance, my rustic fall porch that I will be sharing with you today.
Personally, I believe there is no "one size" fits all (which I love!) when it comes to porches, but there are so many gorgeous items that everyone can use to ensure they have a beautiful porch that they be enjoyed by all.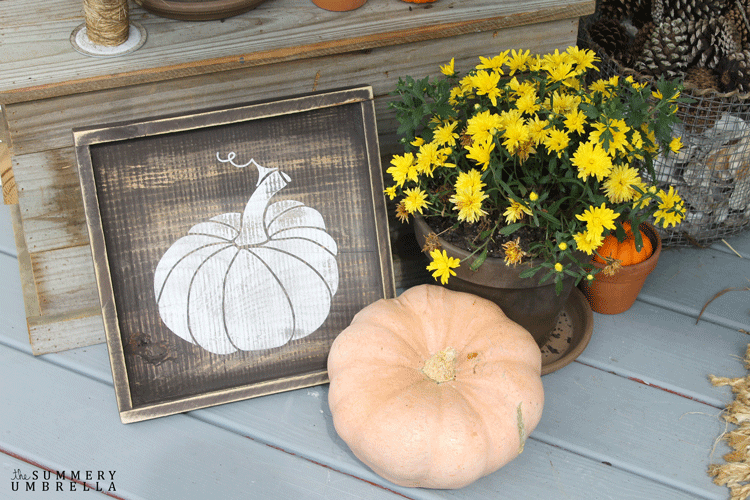 Discover How to Create a Rustic Fall Porch
Take this rustic white pumpkin wood sign that I made for the shop. While I seriously LOVE a "natural" orange pumpkin, a white pumpkin can go with anything. It can be displayed with any decor, and they are so gorgeous and refined that they make decorating easy as can be.
Add a few mums (in any color you'd like) and you are already on your way to a simple and rustic fall porch.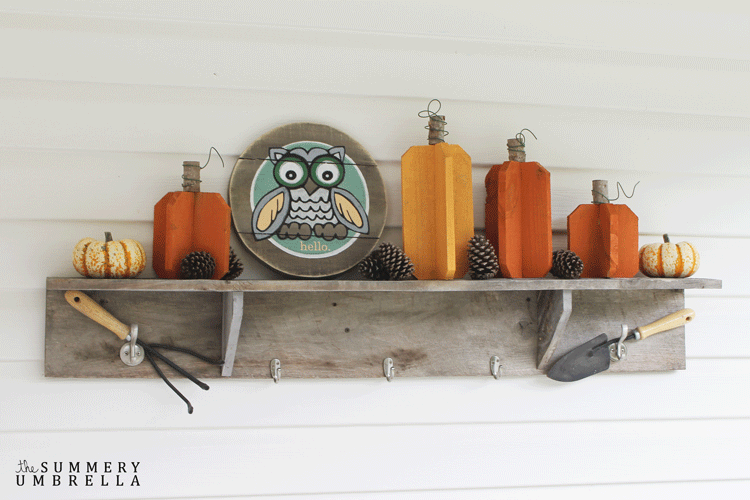 Do you remember these little cuties? Last year I made these DIY Reclaimed Wood Pumpkins, and I couldn't have been happier with their results! Not only were they easy to make, but super durable for both indoor and outdoor decorating use.
What do you think of this owl wood sign? Adorable, right?! Originally I created this cutie pie to be used in a nursery, but since my daughter is out of this phase I couldn't resist using it on my front porch instead! He's just too cute to be cooped up inside 🙂
I've tried time and time again to be a neutral girl, but I just can't do it. I love color, and find it not only refreshing but also inviting for any of our guests. I think that sometimes people shy away from color because it can be a little bit intimidating.
My suggestion (if this sounds like you) is to start off with a neutral base. White walls, light flooring, etc., and then slowly add elements to your space. You don't need to finish your room or porch all in one day. Heaven knows that I'm NEVER finished with any of my projects in just one day. And you know what? That's ok!
Slowly but surely is better than not at all.
Follow me on: