Happy Tuesday Friends!!
Have you noticed that a lot of my posts feature bread?! That's because I'm a bread junkie, I confess! I saw this apple gorgonzola crostini recipe on a Food Network show many years ago (big surprise, I know), except it was made with pears. I made it with pears initially and it was decent, but I LOVE Granny Smith apples so I decided to try it with them instead. I have to say I like it better!
Also, I make it with gorgonzola cheese, but you could use brie or goat cheese if you don't like the pungent taste of gorgonzola or blue cheeses.
Ingredients you need:
French baguette or baguette rounds
Granny smith apple or pear
Gorgonzola cheese, blue cheese, brie, or goat cheese (your choice)
Honey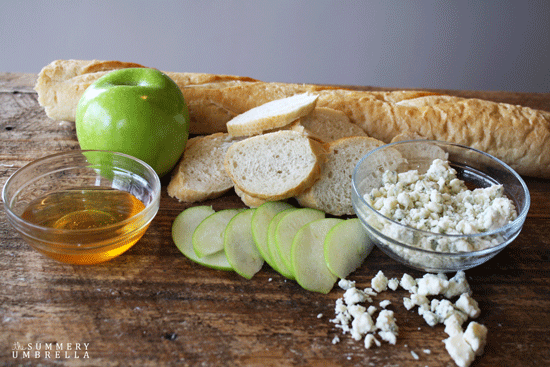 First, bake the bread by itself for 5 minutes at 350 degrees. Slice the apple into thin slices. Once the bread is out of the oven, add a slice of apple and some cheese to each piece.
Put the bread back into the oven for about 7-10 minutes; the goal is to make the cheese a little melted and warm.
Last, drizzle honey on each crostini and serve. These can be eaten warm or room temperature, but they are the best right out of the oven.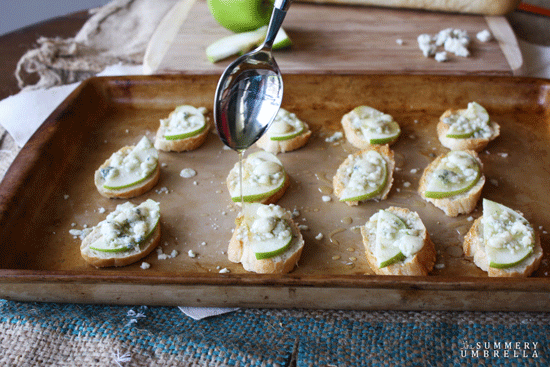 I hope I have inspired you to try something new! There a many different variations you could use for this crostini, so I encourage you to experiment and find your perfect combination :)
Keep Calm and Cook On,


If you haven't noticed, I kind of have a thing for apples! You too?
Then you'll definitely want to try out this apple pie crescent bites recipe. Yummy!