Try this Healthy, Delicious, and Simply Crowd-Pleasing Fruity Salad
Do you love eating healthy, but sometimes struggle with doing it? Create this light, fresh, and yummy fruity salad in a few simple steps.
Are y'all ready for a simple, fruity salad that is a crowd-pleaser? I have to admit that this is the first time I made this recipe and it was passed along to me through a family member.
Recipe sharing is the best, isn't it?! I didn't get the dressing quite right the first time so I tweaked the measurements a little. I advise you do the same or if you already have a lemon dressing that is your favorite, just use that!
Obviously, fruit salads are very popular once Spring comes along and everyone seems to be making their own version. I liked making this salad because I have never had this specific combination before and I love trying new recipes!
Try this Healthy, Delicious and Simply Crowd Pleasing Fruity Salad
Guess what else?!! I am very excited to announce that I have this new cool little thing that allows me to have a recipe "card" at the bottom of my post and you can print it simply by clicking on the little button that looks like a printer 🙂
Ingredients for Salad:
Romaine lettuce
Mandarin oranges (or any orange you like works)
Grapes
Almond slices
Chicken (I didn't add chicken, but I think it would be super delish!)
Ingredients for Dressing:
1/4 to 1/3 cup olive oil (I added 1/2 cup the first time and it was too much!)
1 lemon- juice and zest
1/4 tsp salt (adjust accordingly)
Freshly ground black pepper to taste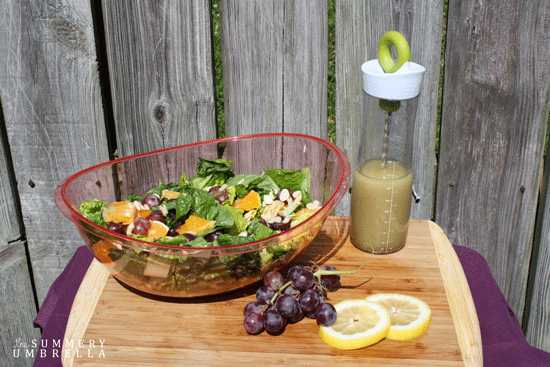 Doesn't this salad look so light and fresh and tasty? YUM! I decided to take these pictures outside because it was such a sunny, beautiful day and I am pleased with how the colors pop!
Always remember that you can add or take away any ingredients to fit your liking; that is the best thing about cooking … you get to do what makes YOU happy!! 🙂
Keep Calm and Cook On,
Danielle