DIY Rose Water: How to Make Your Own Refreshing Skin Toner
There are so many great and wonderful reasons you should use rose water. Learn the best tips and tricks to make your own now!
Hey Friends,
So happy to be back again this week to share another cool rose post with you! Do you remember my Why I Prune post? I showed you my huge rose bushes and how to prune roses to keep them in full bloom for many months. While pruning last weekend, I thought to myself that it sure is a shame all of these rose petals going into the trash!
I couldn't throw them away, so I started making a pile and I thought maybe I would make potpourri. How do I do that? Oh who knows, I'll Google it. Once I realized that I did not have everything I needed on hand for potpourri, I thought, well, I can make rose water!
Why not?! Once again … how do I do that? Oh yea, Google. 🙂 I am also going to tell you the many benefits of rose water to your health, keep reading!
Below you can see a bowl full of freshly pruned roses. You might think that some of them look just fine and I agree with you! But I literally have so many roses that I have to prune the ones that are losing color and/or are about to start losing petals.
First, I (and my Dad helped too) pulled off the petals from each rose. I started doing one petal at a time; he loves me, he loves me not, he loves me, he loves me not. Scratch that technique – put your thumb inside the rose and pull gently from the bottom; you can get several petals at once.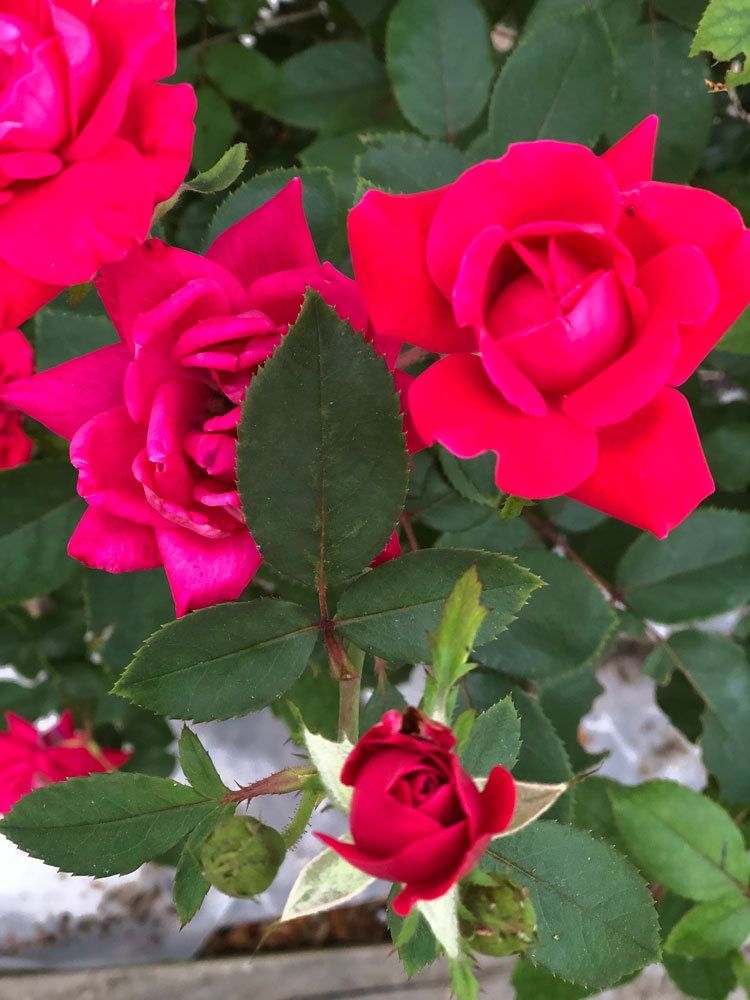 How To Make Heavenly Rose Water
Ok, so now you have to run water over all the petals and try to get the dirt and the bugs (yuck!) off. I used the same strainer that I use for pasta.
Next, put the petals in a pot. My pot is really full here, but I learned (after this first-time-ever experience) that I didn't need so many petals. Pour water into the pot until the water is just covering the petals.
You may want to weigh your petals down with a bowl or a brick. I tried this, but it didn't seem to make much of a difference, so I ended up taking it out. You do whatever works for you!
Let the water and rose petals simmer, not boil.
This process could take anywhere from 15-20 minutes or so; you are just waiting until the rose petals have lost their color. Be happy, that means all of the rose petal goodness is now in the water!
Pour all the water and the rose petals out through the sifter (a strainer would work too) and use a spoon or something to push out all the excess water. Don't forget the bowl below to catch all of your beautiful water! Do you see that color?! Oh my, I was in shock, LOVE!
Since this day, I have bought some really pretty glass bottles with corks for a dollar each (at Dollar Tree), but doesn't the water look absolutely stunning in Mason jars?! I am so in love with rose water now!!
I know you're dying for me to tell you about all of the benefits of rose water! If you've ever been around roses, I am sure you have been mesmerized by the fragrance and beauty of the most powerful flower of all. I read here that Shakespeare was known to write some of his most famous lines around roses and women all over the world use it as part of their beauty regime. The benefits I am about to share with you also came from the link above, it is a comprehensive list!
How To Make Heavenly Rose Water
Here are a few benefits of rose water:
Maintains your skin's pH balance, helps fight acne, dermatitis, and eczema
Helps to heal scars, cuts, and wounds
Hydrate, revitalize, moisturize, and smooth out skin
Calms the skin to help lessen anxiety and stress
Recovers the quality of hair
Prevent and cure dark circles and puffiness
Revitalizes aging skin while keeping fine wrinkles at bay
How can you use rose water that you make at home? You want to refrigerate it to extend its life. You can add it to your shampoo, and facial cleanser, or use it as a facial toner by applying it with a cotton ball after cleansing. Personally, I add rose water to my bath every time I take one to help ease any tension I may be feeling, plus it makes my skin really soft! It can be used as an eye drop, mouthwash, and also while cooking. There are just so many health benefits to rose water, I hope you make some and find out for yourself!
If you loved these ideas then you'll definitely want to browse some of my other Gardening projects that are full of step-by-step tutorials as well as freebies galore! Can't wait to see you again and happy planting!
Danielle
Let's be Social
This post was updated in May 2022.