Learn how a few items from the local Dollar Store can change your bathroom drawer organization into a work of art! This is a definite MUST PIN!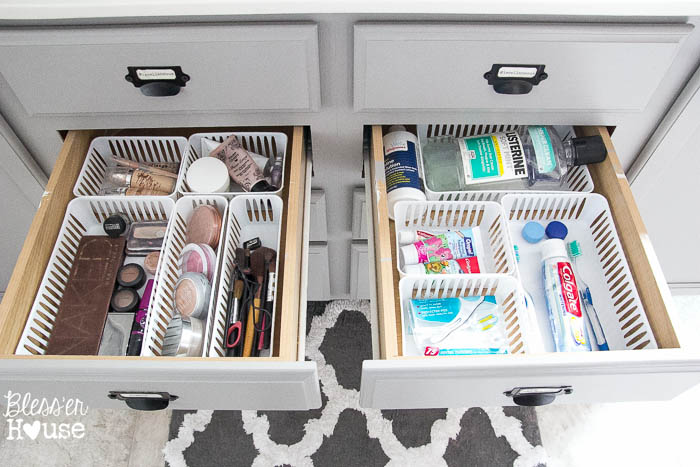 I am so excited to introduce you to my very talented friend Lauren from Bless'er House! She has an incredible eye for rustic design, and always has the best DIY projects and organizational tips.
Yesterday I introduced my DIY Ladder Light over at her neck of the woods, and today she's over here showing us how to create bathroom drawer organization from your local dollar store. So, without further ado . . .
Hi there Summery Umbrella readers! I'm Lauren from Bless'er House, and I was so excited when LZ asked me to share a super simple organization project with y'all!
If you've never mosied over to my little corner of the blogosphere, my husband and I have gone DIY crazy in our new builder grade suburban house. Basically, it's a big white box, and it makes us antsy. So we love to bring it to life with lots of character.
Just a few months ago our master bathroom looked like this: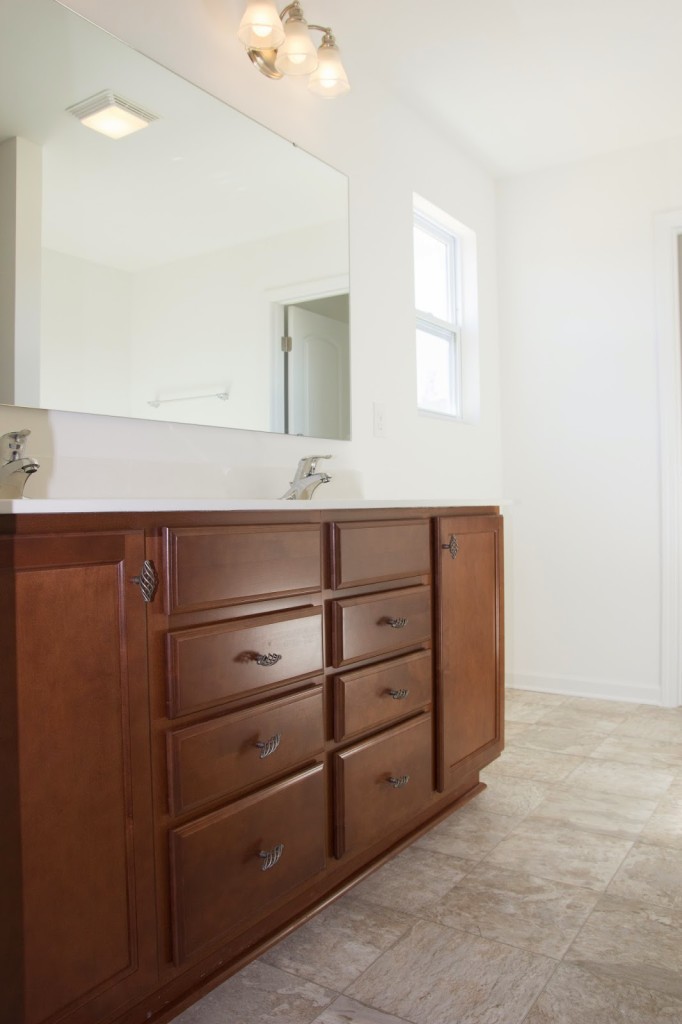 I mean, it wasn't a gross looking bathroom or anything, but it had a really dull personality. Less than $400 later for our DIY makeover, we had a little slice of heaven to look forward to every day: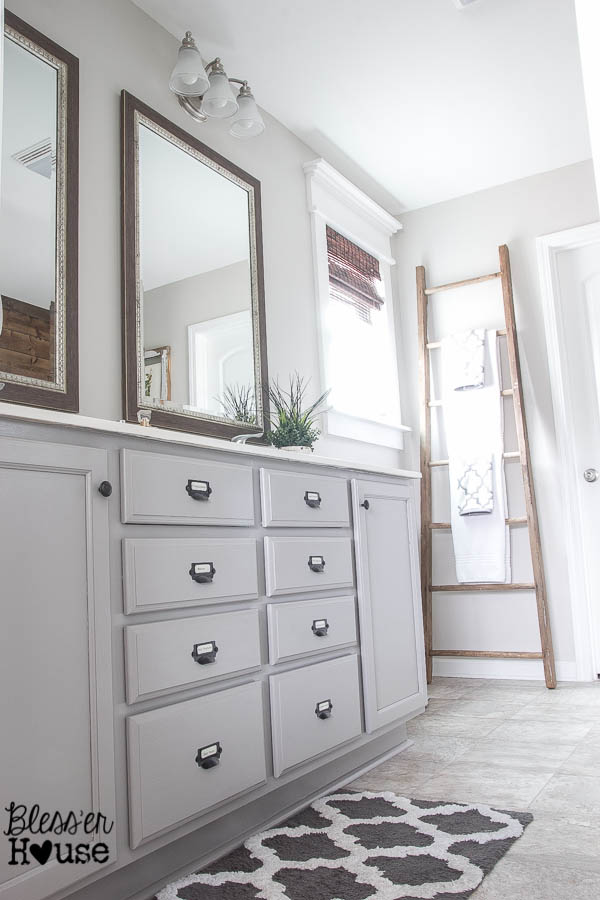 Dollar Store Bathroom Drawer Organization
It's one of my favorite spaces in our entire house. But it had a dirty little secret. After painting our bathroom cabinets, I got the idea to put card catalog label pulls to help organize our drawers.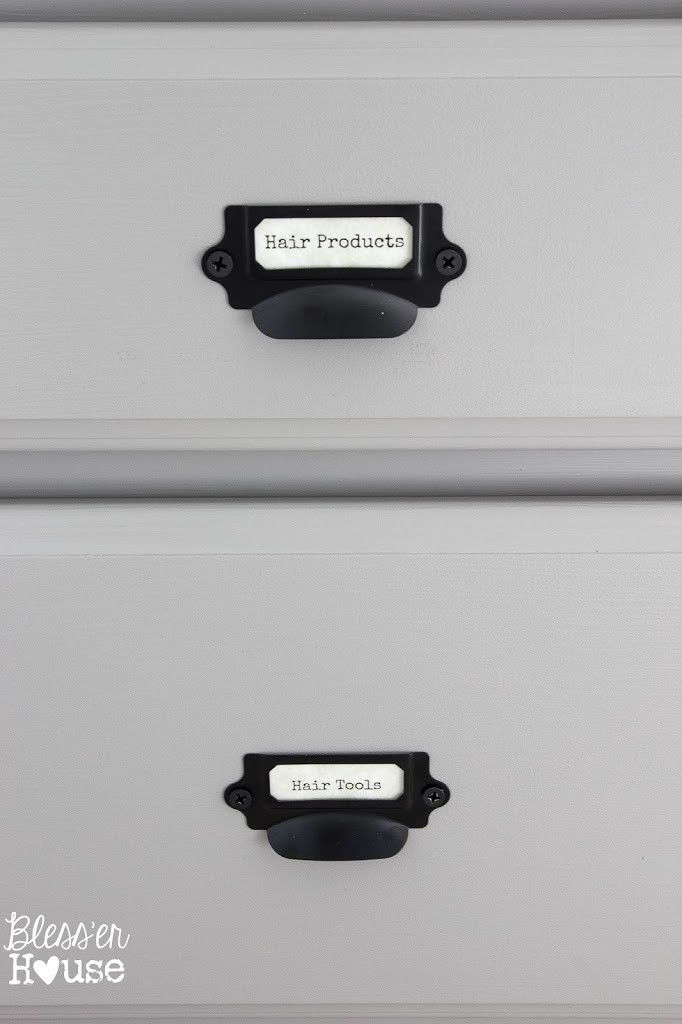 But that was the extent of my organization.
I just stuck items in their rightful drawers and hoped for the best. The thing is…we constantly fight our two year-old with our toiletries in here. Many times, it all ends up strewn across the floor since it's apparently a game to her.
So we had this lovely situation going on: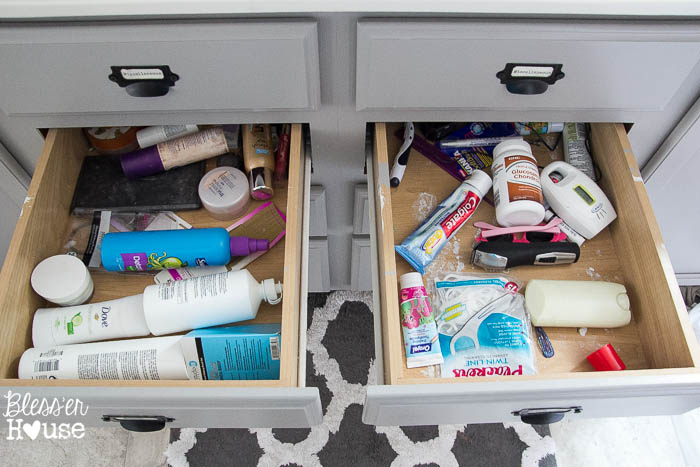 Drawer locks don't work with her. But I couldn't deal any longer.
And I wasn't about to go spend more than I had to on an organizing solution. The dollar store is my always go-to when I get the organizing itch.
I found four packs of plastic baskets for yep…$1 each. At Dollar Tree to be exact.
So now, instead of tossing my makeup into a drawer, I at least have more hope that I'll keep it in a more orderly state.
Looking for more organizing inspired DIY projects?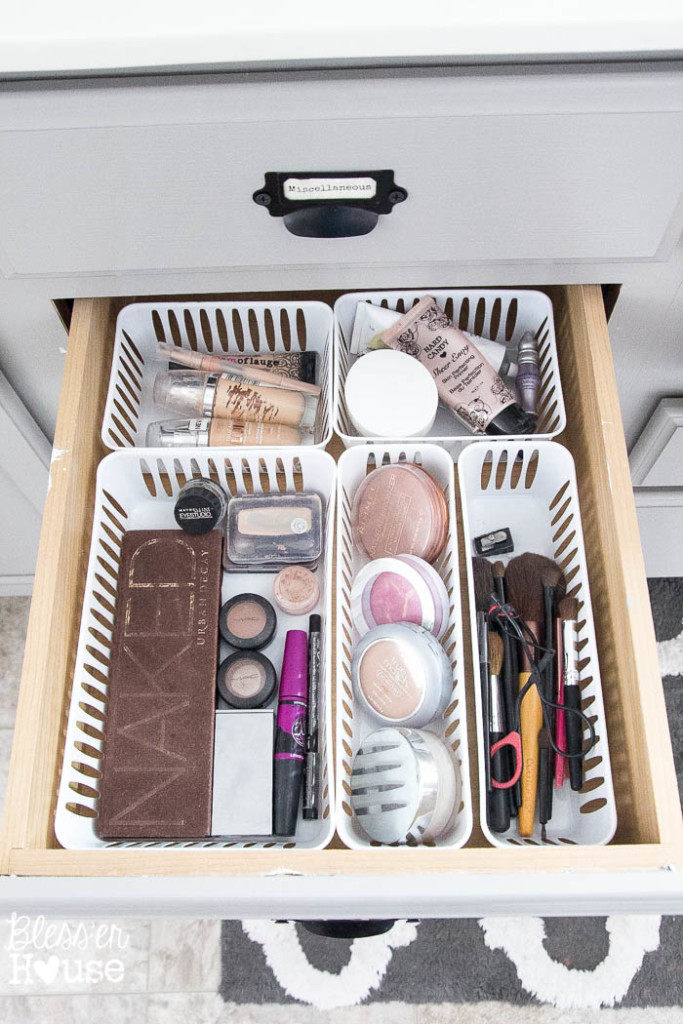 And if my two year-old starts pulling those little baskets out as entertainment again, they're easier to put back in place. If she breaks them, they're all of 30 cents anyway.
Ahhh…I feel like I can breathe again. It's amazing how much taking 10 minutes to organize a couple of drawers can do for your mood.
Now if only I can convince the hubby to keep them this organized too. Hmm…
Thanks so much for having me, LZ! I'm so glad I had this opportunity to get my organizing act together. I'd been slacking lately. Now to tackle all of the other drawers in our house…that's a different story.

Pssttt….
Don't forget to check out my
DIY
projects page chocked full of DIY and decorating goodness!