Crafting a Charming Rustic Halloween Porch: Your Step-by-Step Guide
Craft a captivating rustic Halloween porch with our step-by-step guide. Embrace the season's charm and create a warm, inviting haven.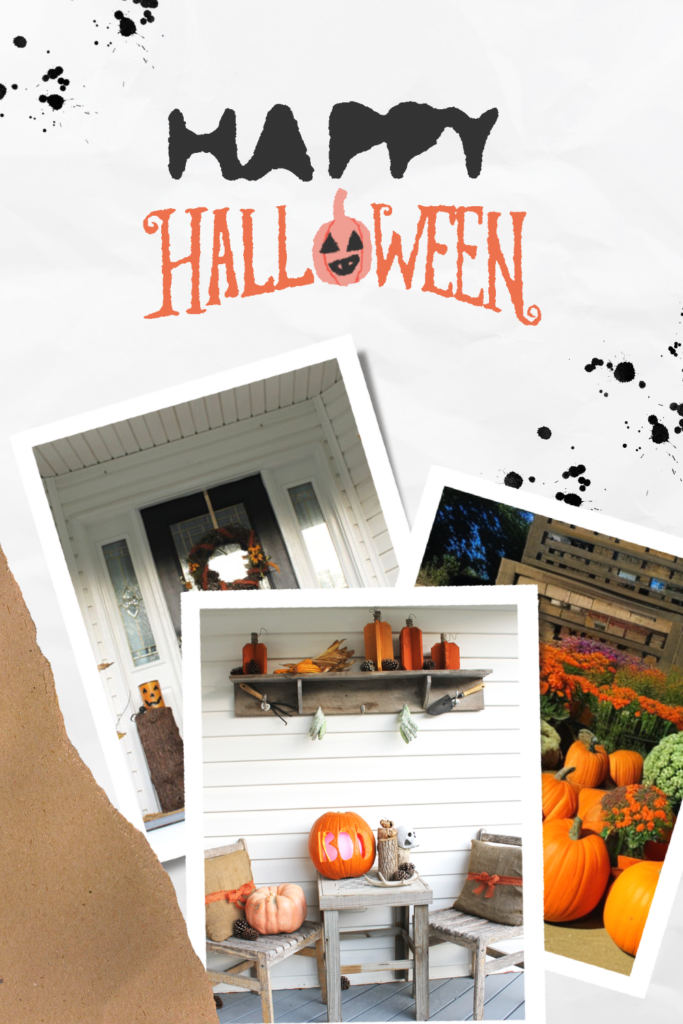 It's so awesome when your little one gets older, and then starts understanding what each of the different holidays is for. It's just too cute seeing the recognition on their face when they finally can put two and two together!
For instance, with Miss Ava, she knows that she gets to dress up really spookyyyy (as she says it) and wear crazy make-up OUTSIDE of our home. I don't care if she dresses up like a circus clown as we head out to our local supermarket, but I do put my foot down on letting her venture out into public looking like one of the natives on Avatar.
But you know… that's just me 😉

So, for this year, I decided to let Ava pick out whateverrrrrr she wanted to be for Halloween. A little bit of a risk, but I figured… how bad could it really be?
Thankfully that little turkey was pretty mild in her choice and decided to stick with her favorite character from the movie Hotel Transylvania. Nooooo… she's not going as the "Toilet Paper Man" as she calls the mummy character. 😉 She's going as Dracula's daughter Mavis, or as he calls her, Mavey Wavey. Such a cute movie. You definitely need to rent it ASAP!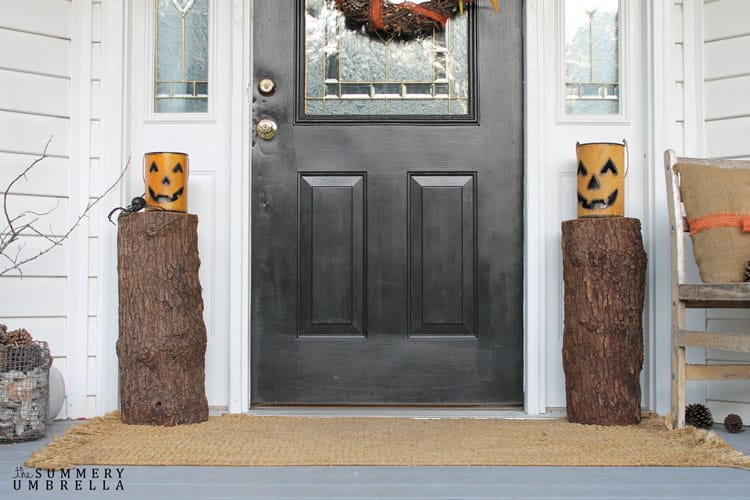 So as autumn's crisp air settles in, it's time to transform your porch into a rustic haven that radiates Halloween charm. With a touch of creativity and some strategic planning, you can create a warm and inviting space that captures the essence of the season. Here's your step-by-step guide to crafting a captivating rustic Halloween porch:
How to Create a Rustic Halloween Porch
Step 1: Theme Selection
Choose a cohesive theme that embodies the rustic Halloween vibe you're aiming for. Think about combining elements like wooden accents, vintage lanterns, and muted color palettes to create an authentic rustic atmosphere.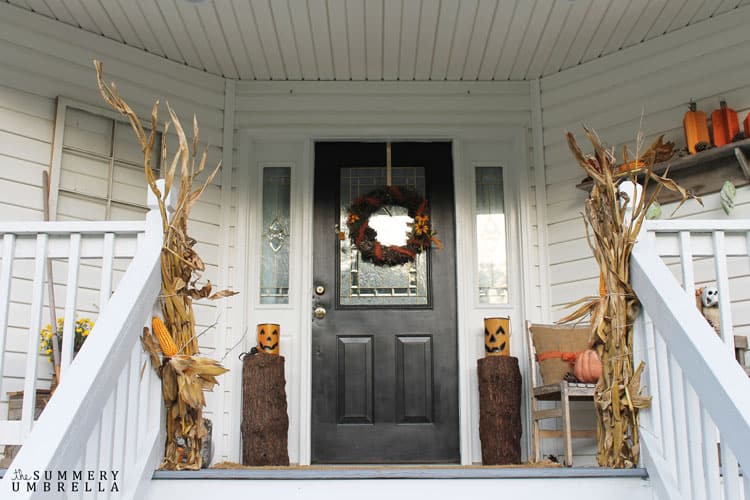 Step 2: Seasonal Decor
Incorporate seasonal decor essentials like pumpkins, gourds, and cornstalks. Arrange them in clusters at various points on your porch, such as the steps, corners, and beside the entrance. These natural elements will instantly evoke a rustic fall feel.
Step 3: Rustic Furnishings
Consider adding rustic furnishings such as wreaths, wooden crates, rocking chairs, and distressed signs. These pieces will infuse your porch with character while maintaining the rustic aesthetic.
Step 4: Lantern Lighting
Enhance the ambiance by placing lanterns along the steps and porch edges. Opt for weathered lanterns or DIY your own using mason jars and candles. The soft glow will add a magical touch to your rustic setting.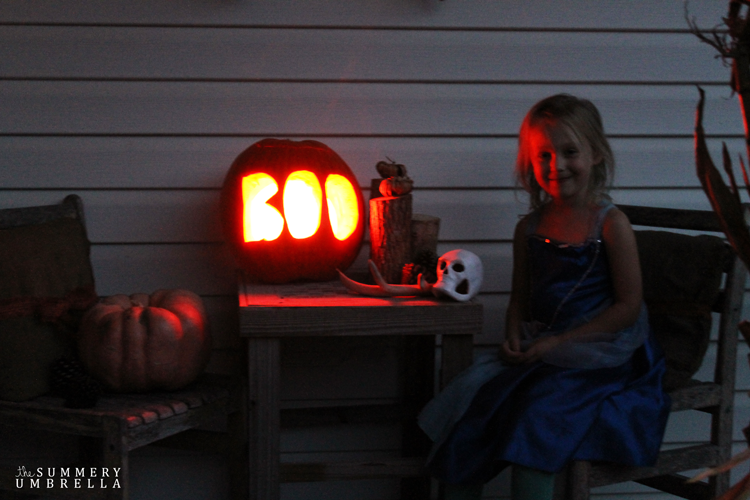 Looking for more Fall inspired DIY projects?
Step 5: Textile Accents
Introduce cozy textile accents like plaid blankets, burlap cushions, and woven rugs. These additions not only provide comfort but also contribute to the rustic charm you're aiming to achieve.
Step 6: Creative Pumpkins
Instead of traditional carving, try painting or etching your pumpkins with rustic-inspired designs. This adds an artistic touch that complements your porch's theme.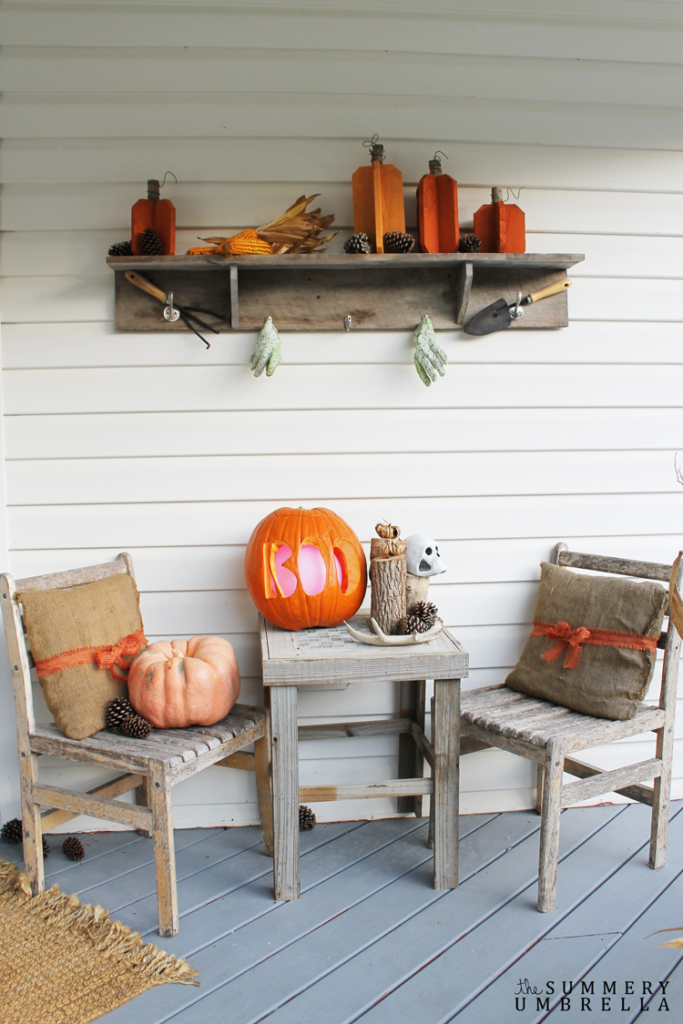 Step 7: Final Flourishes
Before unveiling your rustic Halloween porch, take a step back and evaluate the arrangement. Make any necessary adjustments to ensure a harmonious and inviting space.
By following these steps, you'll definitely be well on your way to creating a rustic Halloween porch that captivates the spirit of the season!
With a blend of natural elements, vintage details, and creative accents, your porch will become a cozy and welcoming haven for both guests and trick-or-treaters alike. Embrace the rustic charm and celebrate Halloween in style!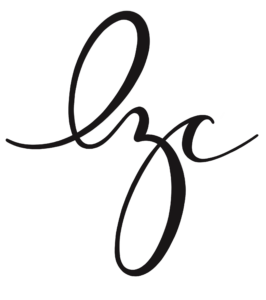 Let's be Social