How to Paint a New Exterior Door
Learn how to paint a new exterior door in a timely manner. You can accomplish this in just a weekend, and with only a few supplies!
Would you believe that the one thing I wanted to do more than anything on my studio was … paint my door?
Seriously. I have been nearly peeing my pants excited about adding such a bold color choice.
I mean, come on. How many pink doors have you met in your lifetime? Not many, right?!
Of course, my husband rolled his eyes when I told him what I wanted to do, but even he had to admit how awesome it looked when it was all said and done.
I bet you're wondering how I came to this color choice, right? Well, honestly… since my uber-talented husband pretty much did this entire building by himself (isn't he awesome?) there were quite a few people who thought he was making this pretty little mama for himself. Aka. a man cave.
And you know me. I wasn't having any of that drama. I wanted to make sure that it would never be misunderstood again. Mission accomplished 😉
How to Paint a New Exterior Door
Here is everything you need to know about how to paint a new exterior door.
Materials
exterior semi-gloss paint (color of your choice)
paint tray
tarp or canvas (if you need to cover your porch)
Steps
1.) Wash the doors
First things first, clean your doors! You can use a sponge and a bucket of water, or even a pressure washer if you have one.
2.) Apply painter's tape
Tape off your doors and windows so it'll make painting easier. I have never liked doing this part, but in the end, I am always so thankful that I did. It would have been so much harder if I hadn't!
3.) Lay out some tarp
Put down your tarp/canvas if you need to ensure your flooring doesn't get dirty.
As I'm sure you've already noticed… I did not. I knew that I needed to sand down my porch anyways so I didn't even bother.
4.) Paint it up!
There's really nothing to it when you use a foam roller. Just make sure you are consistent with whichever direction you decide to go. For instance, I just painted in a clockwise fashion. Example: the bottom of my door has horizontal lines and then my left and right sides have vertical ones.
And that's it! You might need to do 2-3 coats depending on the color that you have selected. Mine took three, and thankfully I only needed to touch up the sides once due to the crazy amount of bugs that got stuck! Ew.
I know it doesn't look like a big drop off from the picture below, but it's the edge of the porch which is over eight feet in the air. Kinda scary, but I'll do anything for a great picture.
Ok, ok. Maybe not anything, but you get the point.
So, what do you think? It's pretty nice, isn't it?!
I'm such a dork. I'm completely tickled pink and so is Miss Ava. It's her favorite color.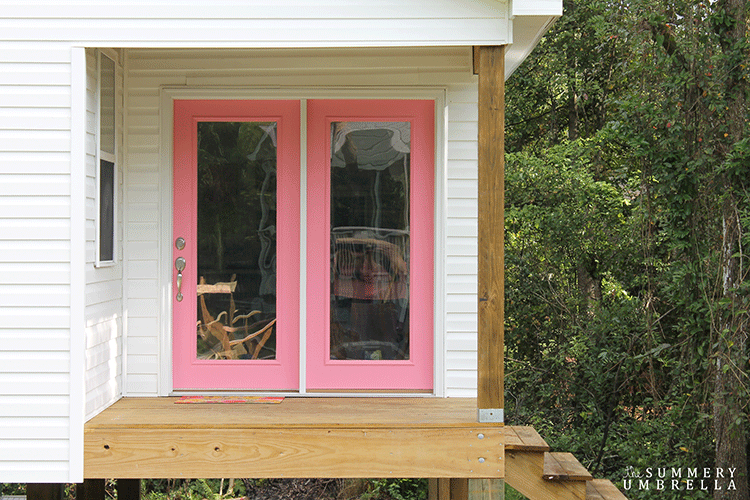 Do you love this tutorial? Then you'll definitely going to go bananas over these ones too!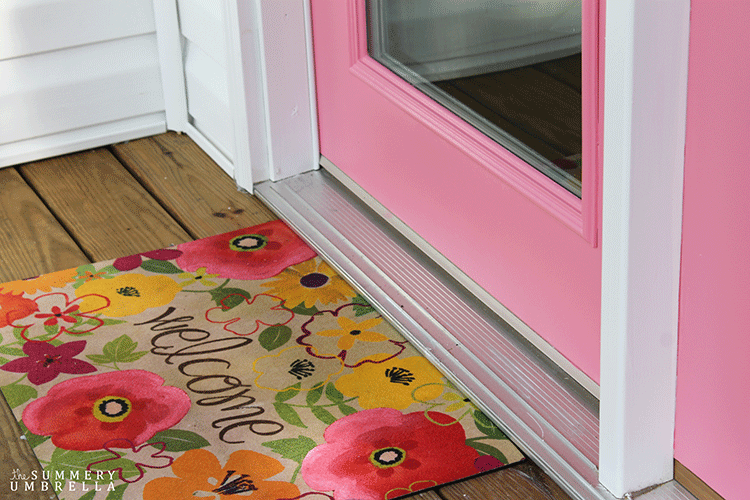 Whoops. I totally forgot to mention that when it's all said and done… go ahead and attach your handle set!
I honestly didn't realize how expensive this little guys were, and opted for a pretty but inexpensive Kwikset Dakota SmartKey Satin Nickel Single-Lock Keyed Entry Door Handleset for $78 at Lowe's. Not too shabby, huh?
Have a wonderful Friday and weekend, and I'll catch ya next week!
Follow me on:
Pssttt …
Don't forget to check out my
Decorating
projects page chocked full of DIY and decorating goodness!