6 Gorgeous Patio Furniture Sets Under $500
You will definitely WANT to check out these absolutely gorgeous patio furniture sets that are also under $500!! MUST READ!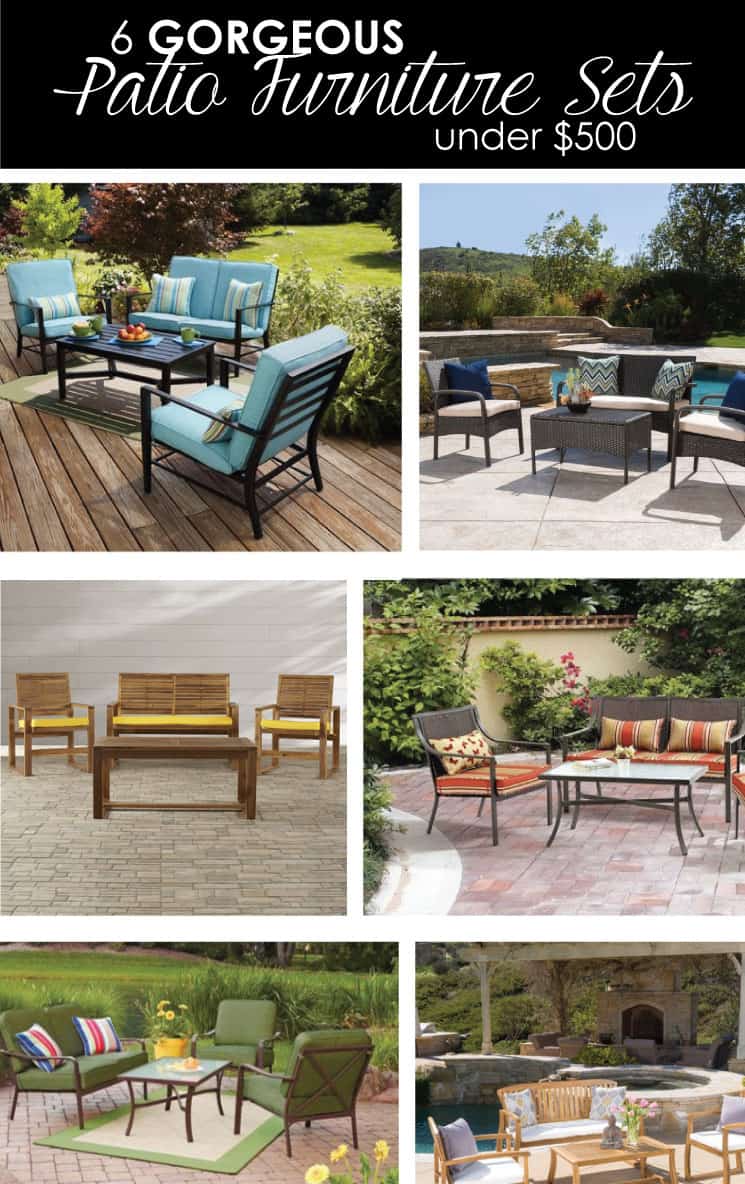 6 Gorgeous Patio Furniture Sets Under $500
This post does include some affiliate links, but they are for your convenience. I promise! Please click here to read my full disclosure policy.
Turquoise Patio Conversation Set | Wicker Chat Set with Cushions | Lounge Set with Cushions (in Yellow) | Patio Conversation Set in Red Stripe with Butterflies | Patio Conversation Set in Green | Country Style Conversation Set
I have been on the hunt for anything and everything "outdoorsy".
I guess it's just that time of year. I've been craving plant life in every nook and cranny both in (and out!) of my home not to mention remarkable shades of blues, yellows, pinks, and duh–greens!
I'm talking birdhouses, greenery, bright wall decor, outdoor rugs, and countless other spring and summer decorating ornaments that have claimed my heart!
For instance, the other day I was drooling over potting benches even though I made my own last year, but it's actually now in the shop. . . go figure. I still absolutely adore that monstrosity, but it looks so flipping amazing in it's current spot that there's no way I could move it back home.
Well, there's that, and then that little fact that it weighs a hundred pounds (or more?), and requires two men to move.
So, yea. That does present a teeny, tiny problem.
6 Gorgeous Patio Furniture Sets Under $500
Anyways, I'm in the market for a new set for the back porch, or at least some inspiration to paint/DIY one.
However, have you ever seen the prices on some of those patio furniture sets?! So, I decided to dig around and look for some of the best looking, but also reasonably priced. Not to mention, decent reviews. I'll tell you what.. there aren't that many out there!
So, enjoy and Happy Spring 🙂
Psst… looking for other outdoorsy-like posts? You will not want to miss out on my Fairy Tale Reclaimed Wood Signs for the backyard, Repurposed Toolbox Flower Planter, or even these 14 DIY Outdoor Furniture Projects.