Nothing Can Bring You Peace Printable and SVG
Do you love changing out your wall decor with inspirational and positive quotes? Then you're definitely in luck because this Nothing Can Bring You Peace Printable and SVG is the perfect reminder to always trust your journey. Not to mention it includes the following: SVG, JPG, PDF, PNG, and DXF files.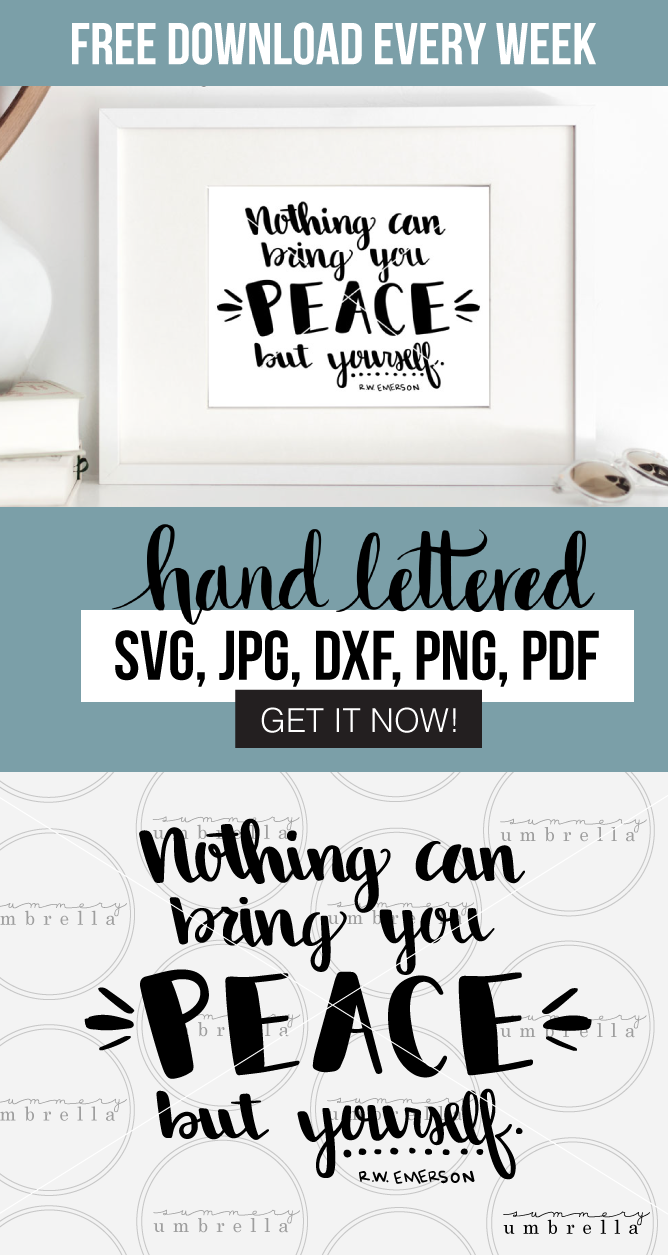 What is peace?
For me, it means that you have found harmony within yourself to not only accept your strengths, but your weaknesses as well.
I used to think that my weaknesses were merely based on my own physical and mental limitations. You know, like how fast I could run, or even my ability to comprehend mathematical equations. However, I now believe that weaknesses go much further than this.
It also means learning how to let go of hate, old grudges, and negative feelings. Each one of us is beautiful, unique, and has our own opinions about everything from the best foods to what rules the world should abide by. Unfortunately we will not agree upon everything that everyone says or will do.
Nothing Can Bring You Peace Printable and SVG
And that my friends, is the key to understanding true peace. Not acceptance of agreeing with everyone or even making them agree with you, but learning to accept that everyone has their own opinion and that's ok. I'm not talking good vs. evil (because that's a whole other ballgame), but just difference in point of views. I could give you countless examples, but I'm sure you're already thinking of a few in your head right this moment.
With that being said, let me ask you this… how can you bring peace to your life? Who can you forgive to move on with your life?
NOW, for the fun stuff!! Just in case you're new around these parts, here are a few ground rules. Nothing fancy, but just as a FYI.
Here's how it works:
Every week I'll be creating a NEW, hand lettered, and beautiful design that will be shared with you for FREE.
This new design will be available for download every Monday through a new blog post.
However, this free download expires at 11:59 p.m. EST on Wednesday of that week.
In other words, if you have not signed up via email (see box below) before Thursday that design will only be available to you in the shop.
This design has expired as a free download and can now be found in the shop. Don't forget to check out next week's freebie that will become available on Monday. See ya then!
Love SVG projects and need some inspiration? Check these out too!
Nothing Can Bring You Peace Printable and SVG
But, don't be sad if you've missed out on any of these past freebies! If you would like instant access to my ENTIRE library of hand lettered designs you can read more about how to subscribe to the Studio Pass here!
You know you're ready for the Studio Pass if you…
Want to stop wasting hours searching for quality vector files—and put that time back into crafting
Wish you had a selection for your projects that didn't look like everyone else's
Wonder what the pros are doing with vector art that you don't know—yet
Take a look inside.

Linda Zahora-Cathcart

Guess what? Today's design is 1 of the 5+ designs that I've added to the The Summery Umbrella Shop this month, and I just know you'll want to check out these new beauties in the shop too!
Please remember: All designs, images, patterns, and calendars (but are not limited to) are © The Summery Umbrella, LLC. These items are for personal use only. You may not reproduce, recreate, or sell in any way. However, please feel free to download for your own personal uses. Also, this is exclusive content so you may not share these downloads with anyone, BUT I'd be most delighted if you directed your family and friends to my page. In fact, I'd be honored and thrilled. Thanks in advance for understanding!​​​ Read more about my personal and single-business commercial use rights over on my Shop Policies page.