Easy Banana Nut Bread Breakfast Kabobs
I don't need to say more, but I will. Strawberry and Banana Breakfast Kabobs. A definite MUST TRY!
Hey there friends!
You probably looked at the title of this post and thought whhaaatttt?? It's ok, I was thinking the same thing as I was putting these adorable breakfast kabobs together! At first, I was thinking that this is such a fun way to eat breakfast, but then I realized, who has the time to do this just for breakfast? So then, my mind turned to entertaining and brunch.
Seriously, it is SO easy to make these and they are perfect if you're wanting jazz up your Sunday brunch or if you are hosting a bridal or baby shower. You can literally make them for any type of party! All you need is a few ingredients. I used 3, that's all!
Easy Banana Nut Bread Breakfast Kabobs
Ingredients I used:
Banana Walnut bread
Strawberries
Bananas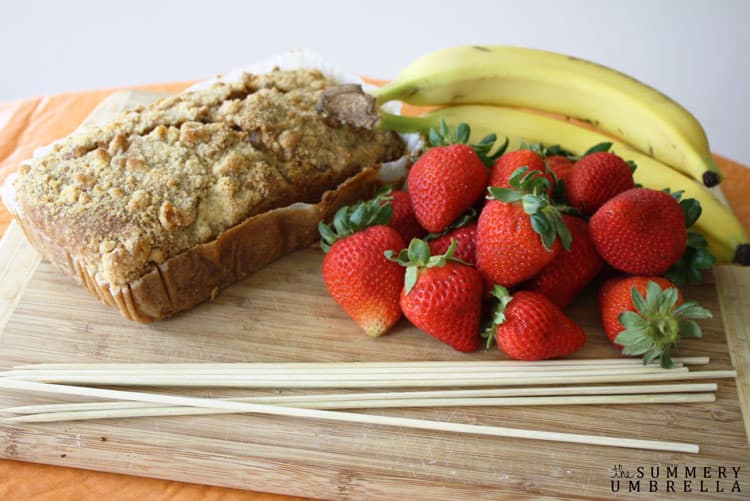 I actually had to go to a couple of grocery stores before I found the Banana Nut bread that I wanted. I'll admit, as I was driving home, I was envisioning the bread crumbling and falling off the skewers, but alas, it did not and I couldn't be happier! I had a back up plan though and I was going to use Angel food cake because I know it is dense enough to stay on a skewer. Thankfully, I didn't have to go back to the store, but I think Angel food cake would be perfect for this little treat as well!
I sliced the bread into about 1 1/2 inch slices and then I cut it into cubes.
Next, I cut my strawberries in half and sliced a couple of bananas, and then I assembled the kabobs. Presto! Super simple and delicious!
What I love about this "recipe" is that you can change the ingredients to what you like best … that is always my goal: to give you recipes and food ideas that you can make all your own.
You could use any kind of fruit that would stay on a skewer: cantaloupe, blackberries, grapes, raspberries. Also, change the bread if you like something better! I saw some Cranberry Pecan bread at the store and I am going to try that kind next time!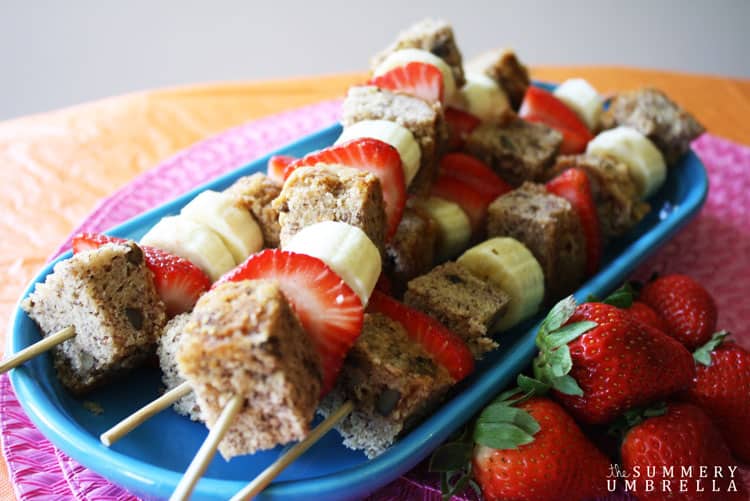 I hope you try these quick and easy Breakfast Kabobs for your next brunch or event! They will surely be a hit!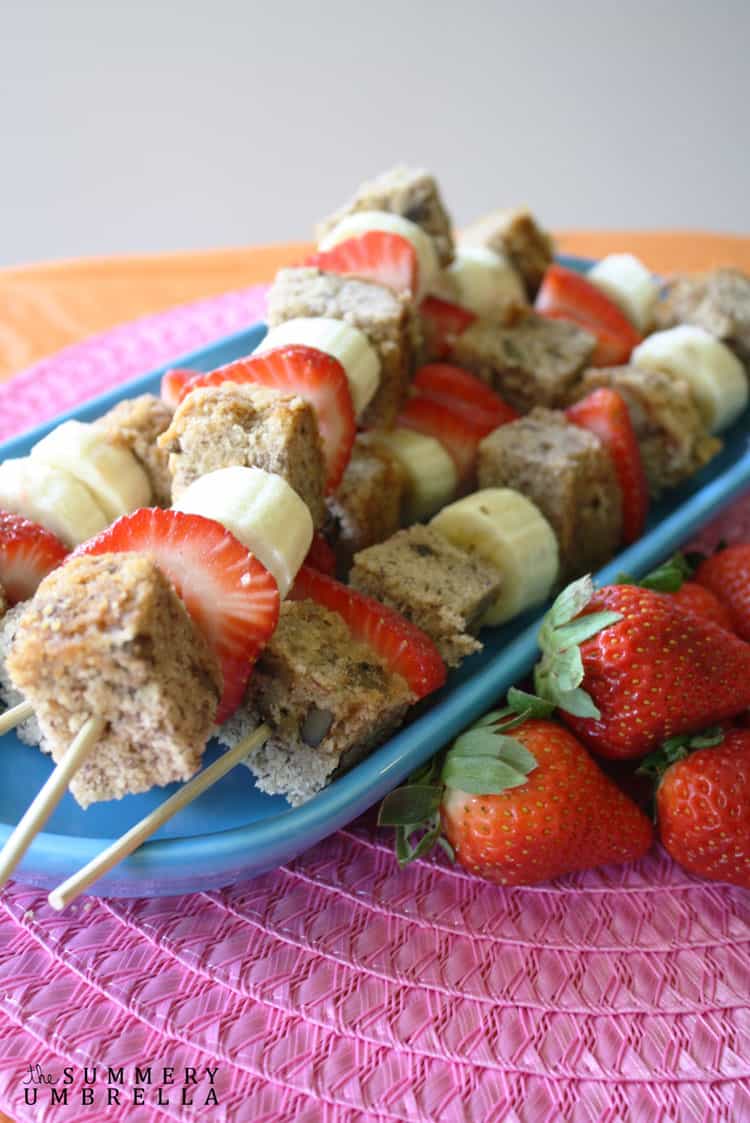 Don't these look scrumptious?!
Let me know what you think or any ideas you have for breakfast kabobs! 🙂
Keep Calm and Cook On,

Psstt… looking for other yummy breakfast recipes? Then you will NOT want to miss on this yummy recipes!
Super Simple Strawberry Smoothie