Below you will find answers to the most common questions that I receive about The Studio Pass Membership. Hopefully they will help clear up any confusion you may have, but if not, no problem! Just send a message through my contact page or email me: LZ (at) thesummeryumbrella.com and I'll get back to you ASAP :)
Q.) What happens after I sign up? 
A.) First things first, you'll receive a welcome email that will provide you with your login information. Don't forget to write down your password somewhere safe! You'll then be able to login and have access to any digital files that come with the membership plan that you selected.
Download any SVG's, eBooks, Art Prints, etc that are available to you. NOTE: If you're on the monthly plan they will only be available to you for 2 months so make sure to download them prior to this time.
Every Wednesday a new item will become available to you
And once a week I'll email you to let you know what's now available (just in case you forget ;)
Q.) How do I login?
A.) You can login on the Members page with your user name and password that you created when you purchased your membership. ((SEE BELOW))
Then, you'll click on the "memberships" tab on the left hand side to access all of the goodies. ((SEE BELOW))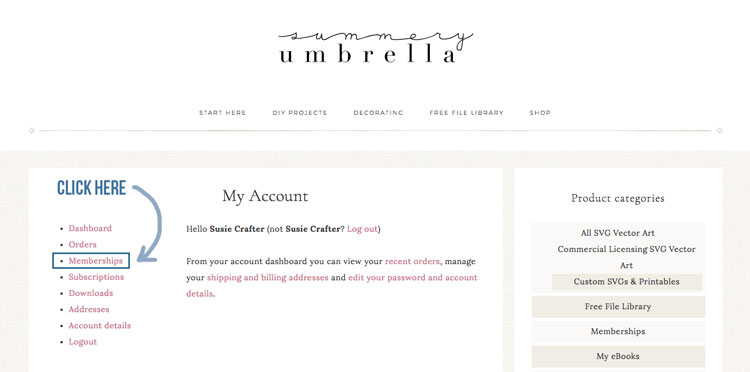 Q.) Where can this exclusive content be found?
A.) You'll be able to find it all in your member account. It'll be listed under Content, Products, and/or Discounts.
Q.) I forgot my password?!
A.) Go to the members/login page and click 'Lost your password?' to reset it.
Q.) Can I sign up in the middle of the month?
A.) Sure! You'll always have 2 months worth of past content at any time plus whatever is coming out for that current week.
Q.) I don't need everything in this membership. Can I just pay for what I want/need?
A.) Both of my membership plans are designed to give you the best possible price–I promise! You may not need everything every month, but there is a lot of exclusive content in both membership plans that make it totally worth it plus super affordable!
Q.) What day will PayPal charge me for my membership? 
A.) You will be charged on the same day you signed up each month with the Crafter Studio Pass OR on the same day the following year if you're on the Premium Studio Pass.
Q.) I don't have a PayPal account. Do I have to sign up?
A.) No, but… I highly recommend it! Paypal is a secure payment method that can be used almost everywhere. However, Paypal does allow you to pay with a credit card under the Paypal login page. You'll enter your credit card information on their secure site, and then they'll process it for you.
Q.) My payment through Paypal failed. Now what?
A.) Paypal will always try two times to use your payment method. However, if it still fails after that your membership will not be renewed. You will then need to sign up again, and correct your credit card information on their site.
Q.) Can I give a subscription as a gift?
A.) Absolutely! You can select either the Crafter or Premium Studio Pass. ((SEE BELOW))
Q.) How do I cancel my monthly subscription?
A.) Oh no, don't go! :( However, I do understand that sometimes this membership might not be a good fit for everyone. With that being said, all you'll need to do is head on over to your PayPal account and login. Then, accomplish the following:
Click on the 'Profile' button on the top right hand side of the page.
Next, select 'Profile and Settings' from the dropdown menu.
Then, click on the 'My money' section, and next 'Update' under the 'My Pre-Approved Payments' section.
 Select the 'Merchant' you'd like to cancel, and then click 'Cancel' on the next page.