My Single Serving Cheese Quesadilla Recipe
I, without a doubt, am a Mexican food junky.
I don't care if it's authentic or Taco Bell or even homemade. I love it all, and could probably eat it for every meal of the day if it was up to me!
Which, by the way, would probably be a bad thing for you. Wink, wink. Nudge, nudge.
HINT: I typically go meatless and load up on the beans. Need I say more?
Anyways, I've found unfortunately that there are quite a few recipes that require you to make big batches of sauce, etc in order to make your own.
So, I decided it was about time for me to create a recipe that would work for just one single serving at a time.
Ingredients
1/2 teaspoon cumin
1/2 teaspoon paprika
1/2 teaspoon garlic
1/2 teaspoon cayenne pepper
1/2 teaspoon chili powder
1 teaspoon mayonnaise
shredded cheese
1 can of black beans
1 can of tomatoes with green chiles
Steps
1.) Open up the cans of black beans and tomatoes with green chiles and mix together with your desired amount of jalapeños.
Like I said, I can eat hot & spicy food all week long so having this combo readily available for me to use in quesadillas, tacos, or even on a salad is ideal for me!
2.) With a knife put your mayonnaise on one half of your tortilla.
3.) Spray your pan with butter spray, and then put your tortilla in it.
4.) Then, sprinkle the rest of your ingredients on the side of the tortilla with the mayonnaise on it.
TIP: You can use any amount of the black bean mixture or cheese that you would like. It's totally up to you! I sometimes even like to add mushrooms or rice if we have it on hand.
5.) Now you can close the tortilla over all of your super yummy ingredients, and brown it on both sides. On a medium heat it'll only take a few minutes so keep a close eye!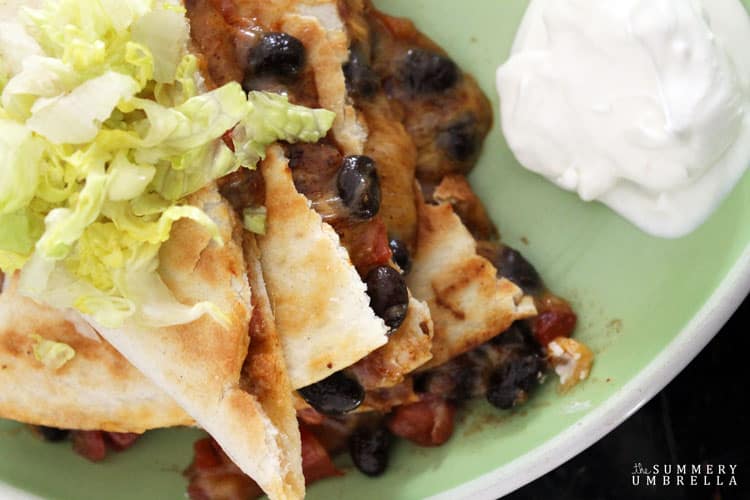 6.) Finally, add lettuce, sour cream, avocado, or any other sides you'd like to your quesadilla.
Wasn't that soooo easy?! Yum!
Enjoy 🙂
Looking for other scrumptious recipes? Check out this…