How to Make Creamy Peanut Butter Fudge
This yummy, creamy peanut butter fudge recipe is going to have you drooling for more! Check out this super easy recipe now, or save it for later.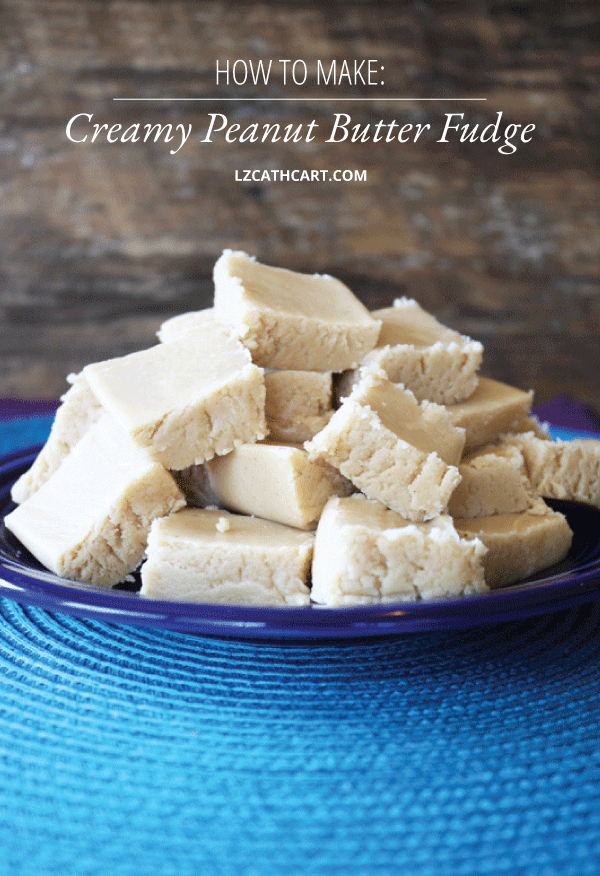 Hey there, how is your week? I am having a greattt week; the sun is shining, my skin is tan, I'm loving life 🙂
Summer is my absolute favorite time of year! Probably because my birthday is the first day of Summer. I know it's not here yet, but it sure does feel like it in the South!
My roses are still blooming and I am so excited to share another cool rose post with you later this week, make sure you check it out!
Ok ok, but today, we are going to make peanut butter FUDGE!!
I can't take credit for this recipe, it is my Dad's … he calls it "World Famous Fudge" and at one time was going to sell it to local stores, but it turned out to be a little too much work alongside a full time job.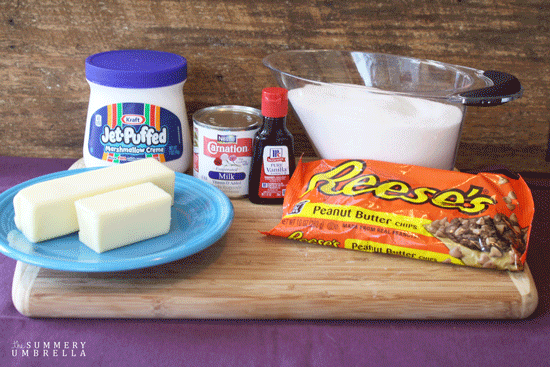 Nonetheless, it is a fudge shop quality and you will be famous for making it!
Ingredients
3 cups sugar (yes, 3 cups!)
3/4 cup real butter (1 1/2 sticks)
5 oz can of evaporated milk (Carnation brand, DO NOT use sweetened condensed milk)
10 oz pkg Reese's peanut butter chips
7 oz jar of Jet puffed marshmallow creme (Kraft)
1 tsp vanilla
1 cup chopped nuts (your choice and optional, I did not add them)
Silicone spoon (you need a sturdy spoon!)
Teflon coated pan
NOTE: For chocolate peanut butter fudge, I use a 12 oz pkg of Hershey's Special Dark chocolate chips
Super Simple Peanut Butter Fudge
1. Coat your 9″x 13″ pan with butter. It really doesn't matter if you use stone, glass, or metal pan because you are not baking the fudge, you are simply pouring the finished product into the pan.
2. Turn your burner on medium heat. Melt your 1 1/2 sticks of butter and add the Carnation evaporated milk.
3. Next, add the 3 cups of sugar and stir until it's all combined.
NOTE: This process requires CONSTANT stirring … your arm will get a workout!
Notice, the change in pot! The first pot was burning the sugar, butter, and milk mixture, therefore, I had to switch pots. Hey, things happen in the kitchen!! As you can see below, the mixture is now boiling perfectly. Bring the mixture to 234 degrees (a softball).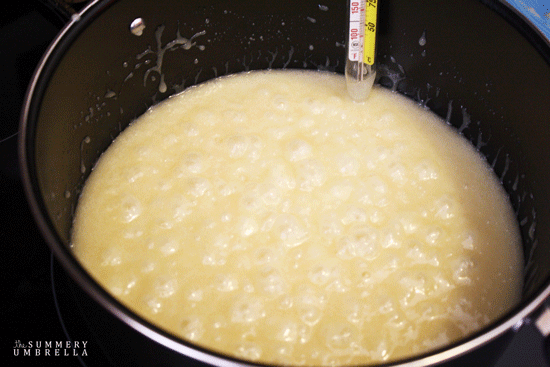 4. Take the pot off of the heat and add the peanut butter chips. Stir until they are completely melted. Also, add the vanilla at this step .
5. Turn the heat down to low and put the pot back on the low heat.
6. Add the Jet puffed marshmallow creme and stir, stir, stir!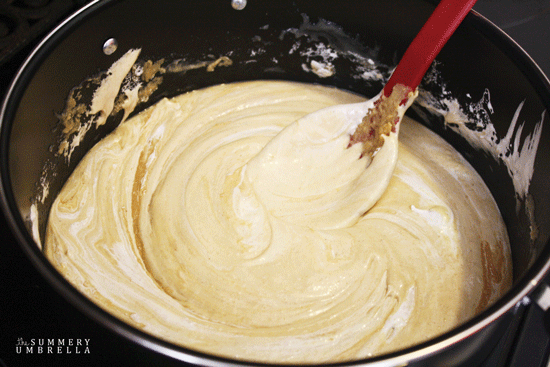 7. This is what it will look like right before it is ready to pour, just a little more stirring!
8. Now you can pour it into your buttered pan! Doesn't this look divine?!
Doesn't this make you want some fudge right now?! It is sooo yummy when it's warm!
I've been known to lick the spoon, I confess! 🙂
How to Make Creamy Peanut Butter Fudge
9. This is the hardest part of the whole process … waiting for it to harden!
I have to tell you, I didn't wait long enough to cut it; I am super impatient! My pieces look a little more "rustic" because of cutting it while it was still warm, who cares?! Not me!
If you stir constantly and you use the right temperature and a candy thermometer, you can make this fudge! Remember: you will be famous for it!
ENJOY!!
Keep Calm and Cook On,

If you loved this project then you'll definitely want to browse some of my other Recipes that are full of step-by-step tutorials as well as freebies galore!
Can't wait to see you again, and Happy Crafting! – LZ
Let's be Social

This post was originally created in May 2015, and then updated in May 2019.