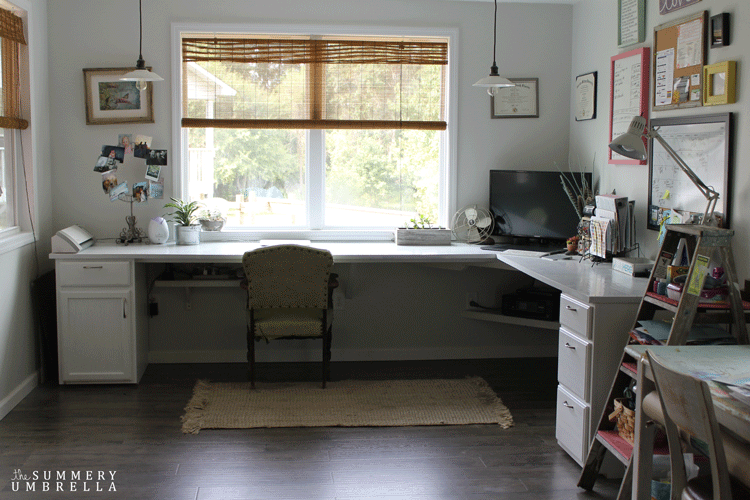 Learn how to use laminate flooring for your desk top with just a few simple steps. You won't believe how easy it is as well as save you a fortunate!
Hello friends and Happy Monday 🙂
Believe it or not, I went through a huge dilemma when it came to creating my studio desk. I do believe I changed my mind on the end result probably… 10 times.
Seriously. I originally wanted a big ol' reclaimed barn wood table, but realized that it wouldn't look right against my flooring until, well, my flooring was in!
So, I decided that I would just keep it simple and consistent, and get the same laminate countertop as my "creation station" in the other corner. Easy fix, right?
Not so much. When Mike went to go pick it up from our local Lowe's we found out that it was no longer in stock and took a minimum of 30 days to get to the store.
You know me. Patience is not my best characteristic.
Then, Mike and I (yes–it was a JOINT effort 😉 had a spark of genius and realized that we had a few extra boxes of laminate flooring that we could use as a custom desktop! So, "how do you do this?" I'm sure you're asking.
Well, I'm not going to go into a lot of details because this desk can be customized in so many ways. I'm just going to provide you with what I used and some helpful tips!
How to Use Laminate Flooring for Your Desk Top
1.) First things first, you'll need to decide on the dimensions of your desk. I needed A LOT of desk space so I picked a L-shaped desk to assist.
2.) Decide how you will "prop" up your desk top. I purchased this unfinished drawer base cabinet as well as this unfinished door and drawer cabinet through Lowe's. Just remember this route is a little bit more expensive and you could definitely use many other options. For example, this flea markets and garage sales if you're tight on cash, and look for shelving units, file cabinets, etc.
TIP: Buying cabinets that are unfinished is typically cheaper than if you buy them already painted!
3.) Next, using plywood install your base to apply your laminate flooring to. You might need to add support beams underneath depending on how big your desk is. Please see picture below.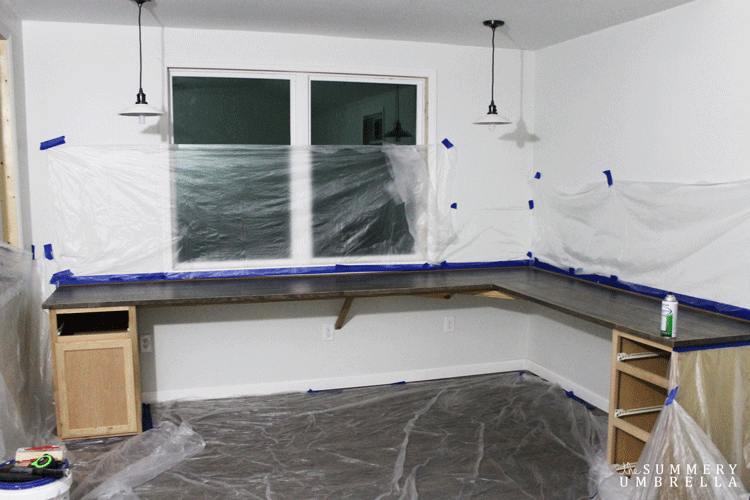 4. Since my desk so large there weren't a lot of options for us to paint in another location and bring it back into the studio. So, if you're in this same predicament just make sure you have plenty of plastic wrap, tarps, and other similar items to use to overspray on your walls and flooring.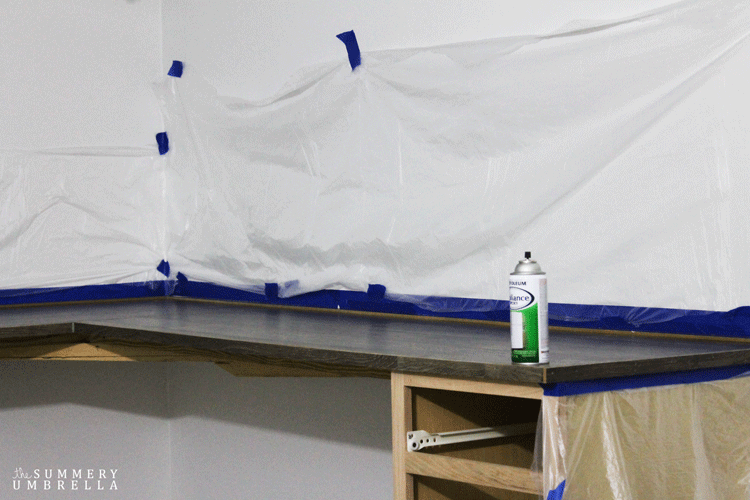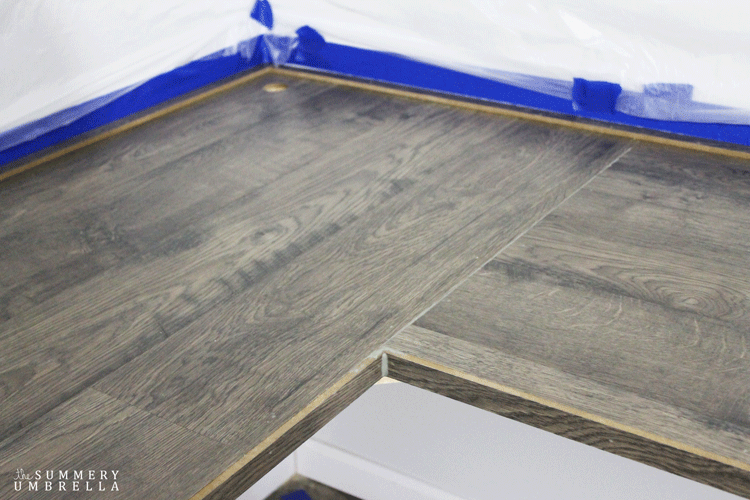 5.) If there are any holes from the nails that you used to put into the laminate flooring or any connecting side pieces make to fill them in with wood first (and allow them plenty of dry time) prior to painting.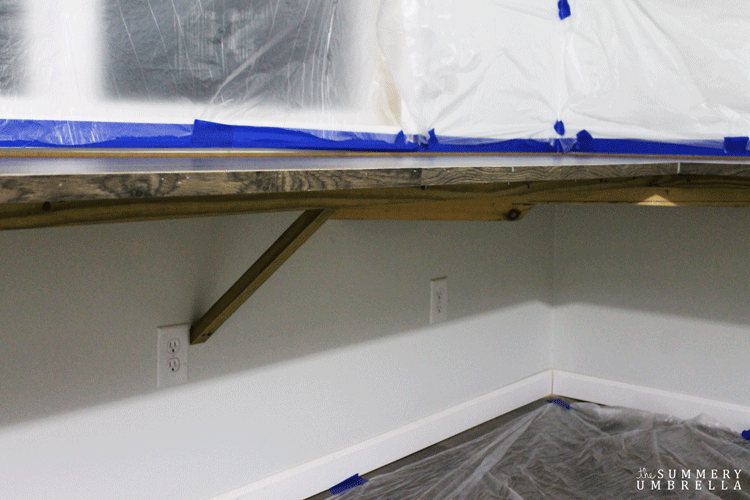 6.) Once you are certain that everything is taped down and covered (if you have to paint in place) go ahead and get started painting the top only of your desk top.
Honestly, I was a little hesitant at first that this would even work. Mike and I have repainted old refrigerators and freezers for his taxidermy business before and it worked out great, but I wasn't sure if laminate flooring would have the same results.
Well, you know what?
I am so impressed by these results from a few bottles of Rust-Oleum Appliance Enamel Spray in White
. Not only is this spray paint easy to use, but the paint is SUPER affordable. Definitely a win-win right?
TIP: Don't fret if you do get overspray on your laminate floors. Just use a little bit of lacquer thinner and a paper towel, and scrub, scrub, scrub!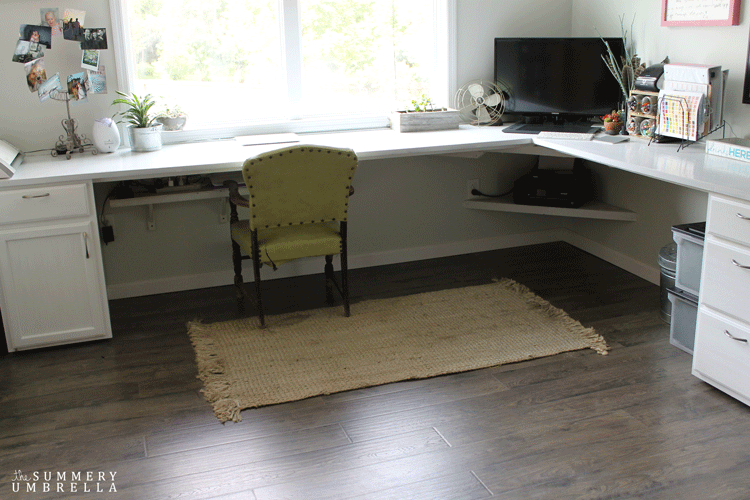 Now, I have a beautiful new desk that was easily customized and didn't break the bank!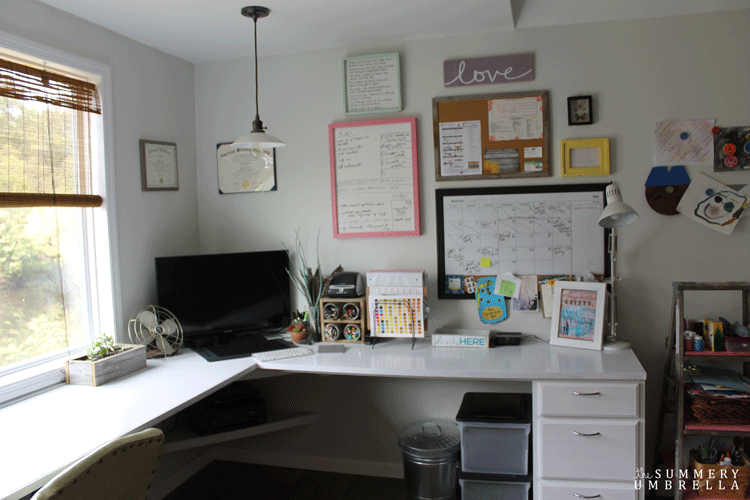 Need more studio inspiration? Let me show you how with these posts!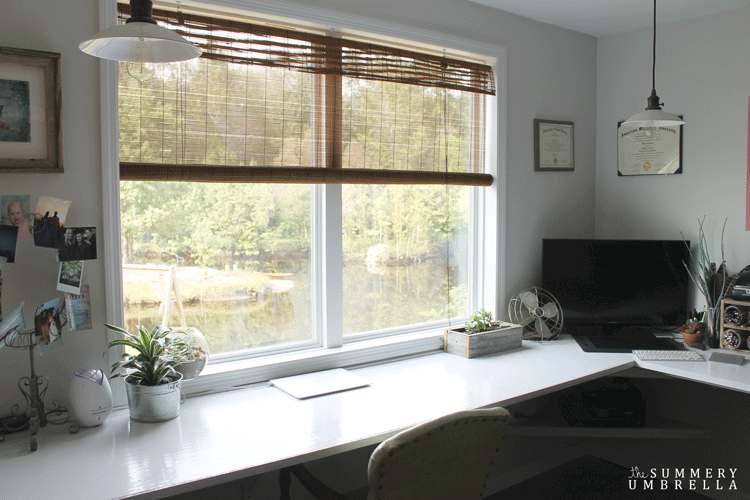 I was pretty picky about the lighting in my desk area, and was so happy when I found these PB Classic Pendants from the Pottery Barn a few months back.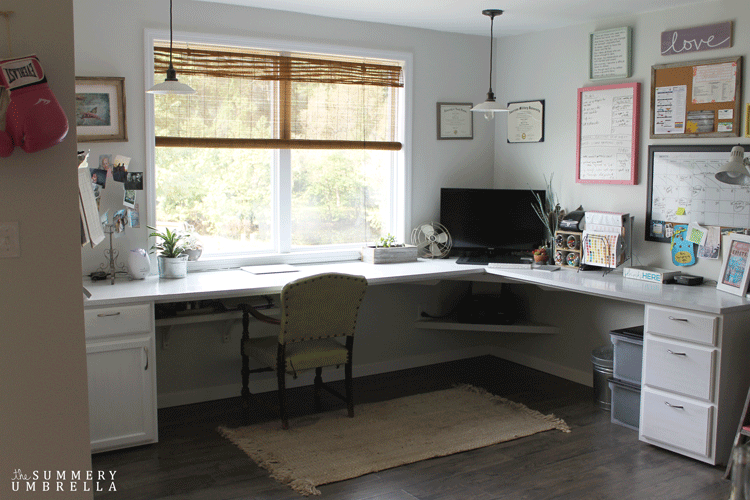 How to Use Laminate Flooring for Your Desk Top
So, what do you guys think?
I'll definitely have more projects for you later on, and hope you have a wonderful week 🙂
Linda "LZ" Zahora-Cathcart
Pssttt….
Don't forget to check out my
DIY
projects page chocked full of DIY and decorating goodness!