Don't Miss These Spots During Your Spring Cleaning!
You will NOT want to miss these spots during your spring cleaning. I am going to show you how to fix these problem areas in this post!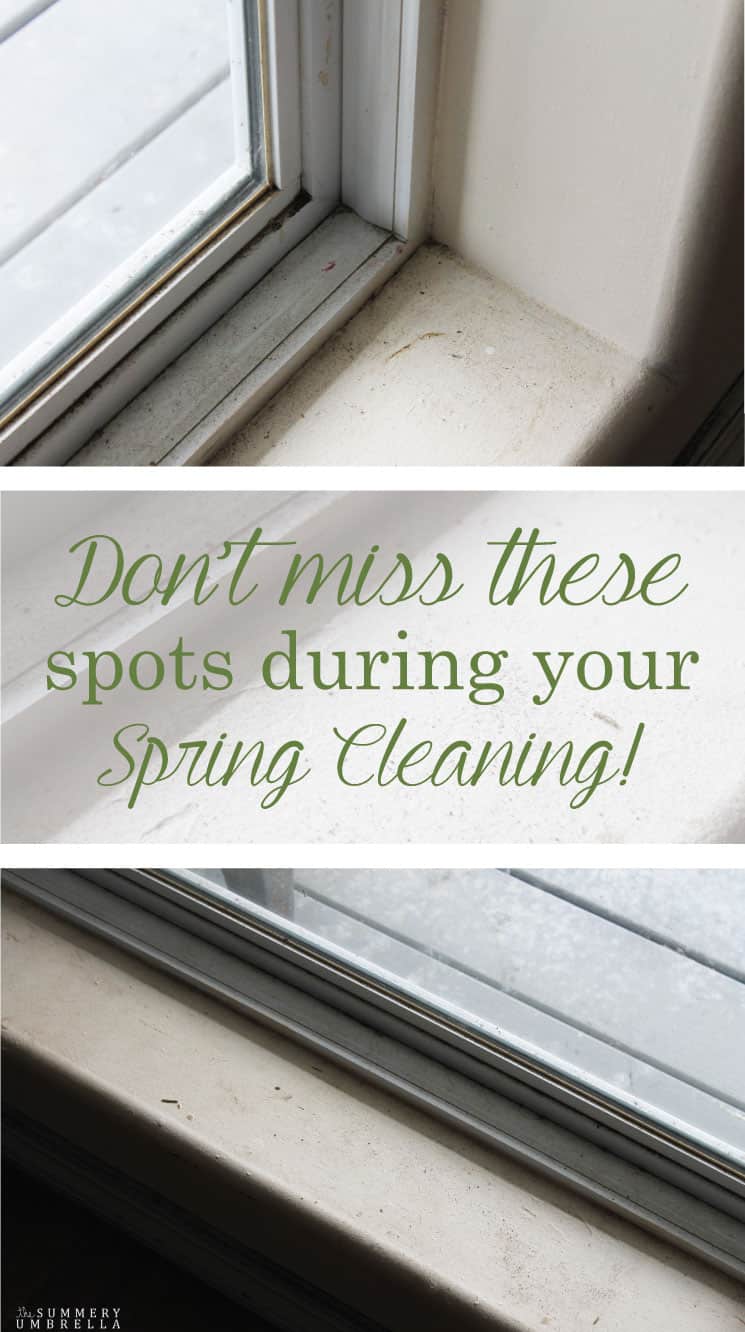 So, technically… I could just tell you what spots you need to clean in your house.
I could lie and show you a pretty picture of what my house "always" looks like–and we all know how well I can lie! Go ahead. You can laugh. It's ok, I really am a terrible liar, and cannot keep a straight face to save my life. And if I can, it's because I don't have a clue what you're talking about or:
a.) the topic is way above my pay grade or b.) more likely, I wasn't paying attention
So, today, I am going to let it all hang out–again. What is with me?!
I'm going to be honest.
Don't Miss These Spots During Your Spring Cleaning!
Because that's something I'm good at.
Sometimes even to a fault.
AKA. I won't sugarcoat it. If you ask for my opinion gosh darn-nit Beverly you're going to hear it!
Alrighty. Now that we got THAT out of the way… are you ready to be disgusted?
I mean… really and truly amazed? From the dirt that is!
Ok, great! Let's get this baby rolling!
This post does include some affiliate links, but they are for your convenience. I promise! Please click here to read my full disclosure policy.
1.) Baseboards
Yes… that really is a picture in my house of a few baseboards (and trim) that desperately needed to be cleaned.
I'm not even joking when I say that I am cringing from embarrassment! How in the world did I miss this?
Well, I probably saw it at some point, but just put it off.
Gotta love the honesty factor today don't ya? 😉
To clean these babies so they are sparkling like brand-new I vacuum/dust them first, and then scrub-scrub-scrub with a soapy sponge.
2.) Sliding Glass Door Tracks
Who knew these things would get so yucky? You know how I clean mine?
I first use a vacuum to get out all the lose stuff, then spray it down with my favorite Thieves essential oils cleaner and use a cotton swab and/or paper towel to get tough to reach dirt or stuck into the grooves. Works like a charm!
TIP: I've also found that buying my paper towels in bulk not only saves me money, but it is also sooo, soo, soo very nice to have a stock pile of them. I seem to always need them throughout the day anyways. Plus, Amazon Prime has free shipping. That's definitely a win-win for me (and you!).
Don't Miss These Spots During Your Spring Cleaning!
3.) Window Ledges
I use my window ledges for everything.
I set my plants on them, home decor, random wine bottles (for watering purposes that is!) as well as anything that Miss Ava decides to put on them.
Needless to say, they get dirty quickly and I forget about them just as easily.
Thankfully paper towels (to the rescue!) and a cleaner does the trick just fine.
Happy (cleaning) Friday!