A Rustic Woodland Wall Gallery: Forest Inspired
I've been wanting to change up my dining room area for awhile now, and I've finally finished this gorgeous rustic woodland wall gallery. Come see now!
In fact, I just mentioned on Instagram the other day that I was ready for a new light(s). Not that I don't like our DIY Mason Jar Pendant Light, but I'm just ready for a change in this area. Do you ever feel that way about a room or certain parts of a room?
I'm not going to lie. It happens to me… a lot. I just like change, I suppose. Either that or I just can't leave well enough alone! One of the two.
So, last week I shared my Rustic Winter Tablescape in the photo below just in case you've forgotten what it looks like! Very rustic… maybe too rustic for what I'm looking for?
P.S. If you don't follow me on Instagram please stop on by! I'm always sharing new stuff 🙂
Don't get me wrong. I definitely LOVE me some rustic goodness, but I think I need to ease up from it a little bit. Maybe add some modern elements… ? So, I decided to start with the walls first!
First, I found this gorgeous Misty Forest Art Print on Minted as a starting point (it's the largest photo in the middle), and was ultimately my source of inspiration. I absolutely love the color blue, and since my family and I basically live in the woods I thought this would be a great piece for us.
Then, go figure, my friend Bonnie from Going Home to Roost had a special holiday edition of this forest watercolor that she created in her shop. I just knew as soon as I saw it debut that I had to have it!
Psst… Bonnie and I are also collaborating together for my new 2017 Spring Sign Collection! Definitely check it out 🙂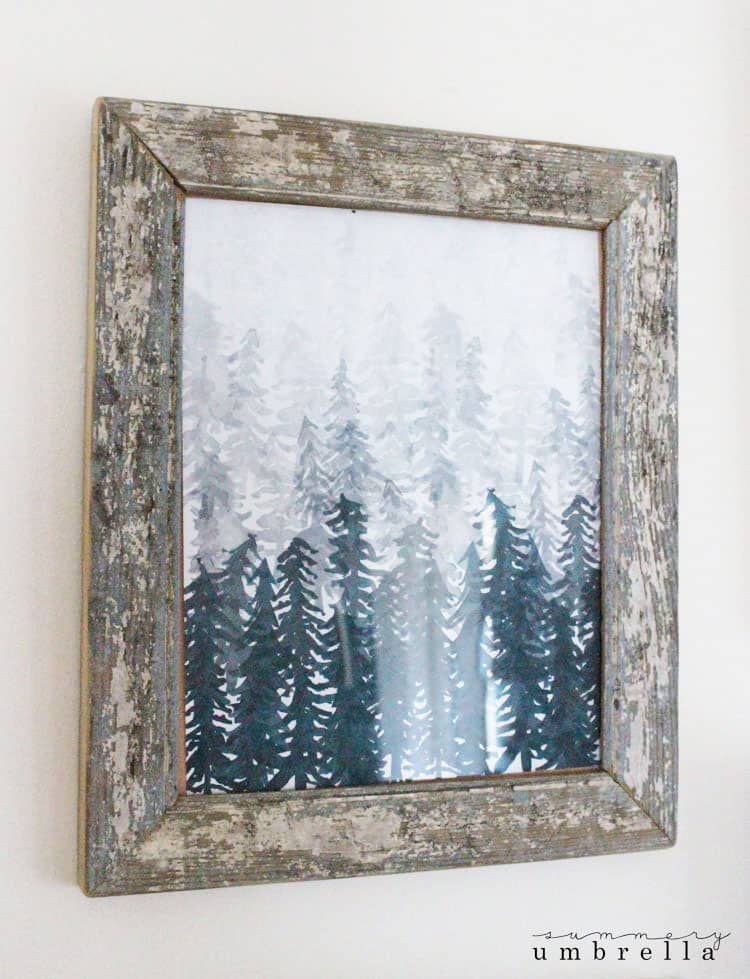 In fact, you can see one of the signs we've created together in this rustic, woodland wall gallery! It's the sign all the way to the right, and it says, "Why fit in when you were born to stand out." –Dr. Seuss
I can't take much credit for these frames. They were all created by the mister. This chippy, farmy, paint goodness just melts my heart! So unique and interesting!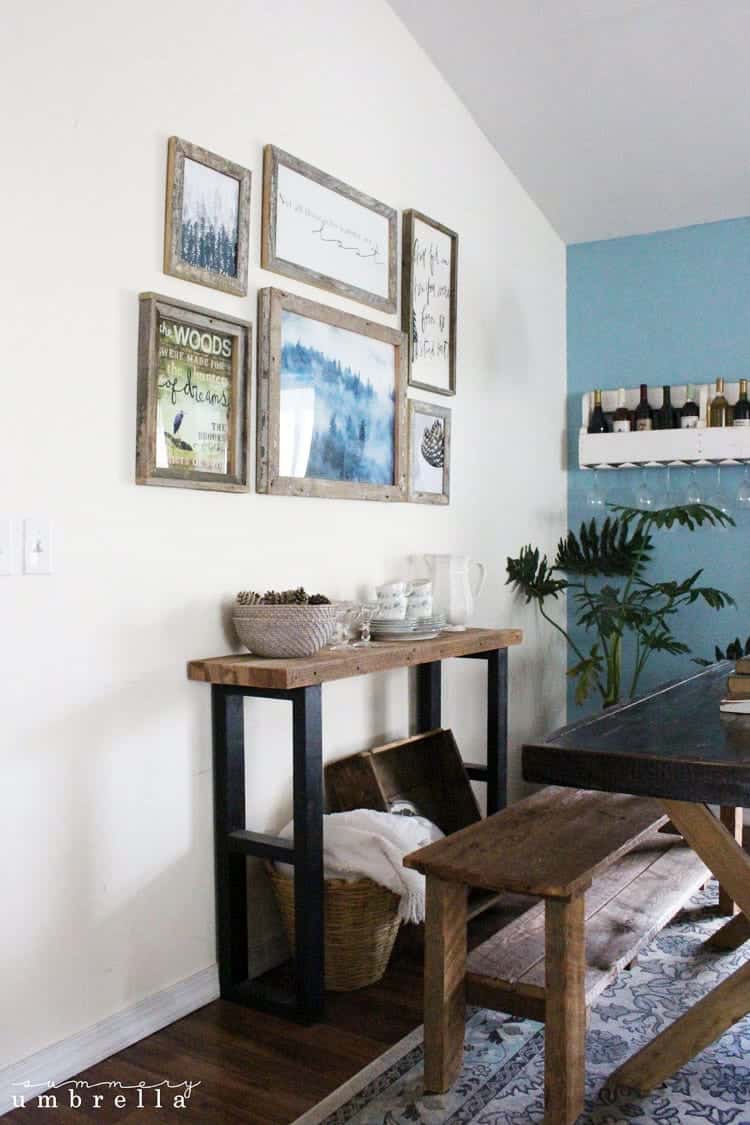 Then, last, but not least, I used one of my Instagram photos (the pinecones) that I had printed through Amazon Prints, my favorite Mae Chevrette mixed media art print (on the bottom left), and then created a new sign (the top middle) of part of a Lord of the Rings poem. Go figure, right?!
"Not all those who wander are lost."
Rustic Woodland Wall Gallery
You're probably wondering why I haven't shown a lot of photos of the entire dining room set up, aren't you? Well, I have a surprise! In a very special post coming up in a few weeks I'm going to have this entire dining room all dolled up, and ready for it's reveal! Trust me, I want to show you already, BUT there are just a few more things that need to be done first.
Happy Monday 🙂