Yummy New Mini Sign Collection
Sometimes you just need a mini sign for your desk at work, or even for a sweet gift for a close friend. Check out the new collection NOW!

Not all signs need to be humongous, or even displayed on your walls. Sometimes you just need a little mini sign for your desk at work, in the kitchen for a giggle, or maybe even for a sweet little gift to let someone know that you're thinking about them.
I am so excited to announce and reveal all eight of my mini signs for those times that you don't need a whole lot, but just a little something-something on the side.
Yummy New Mini Sign Collection
For instance, I have been obsessed with the song "Cake By the Ocean" by DNCE. It's just one of those songs that makes you smile, gets you singing along, and dancing to the beat of your own drum. Which, by the way, could be scary. I'm not exactly known for my singing abilities. Hah!
So . . . of course I just had to make a sign. However, I just felt like my typical size sign was just too big for my liking.
Thus, my mini sign collection was born! 🙂
I Want To Eat Cake By the Ocean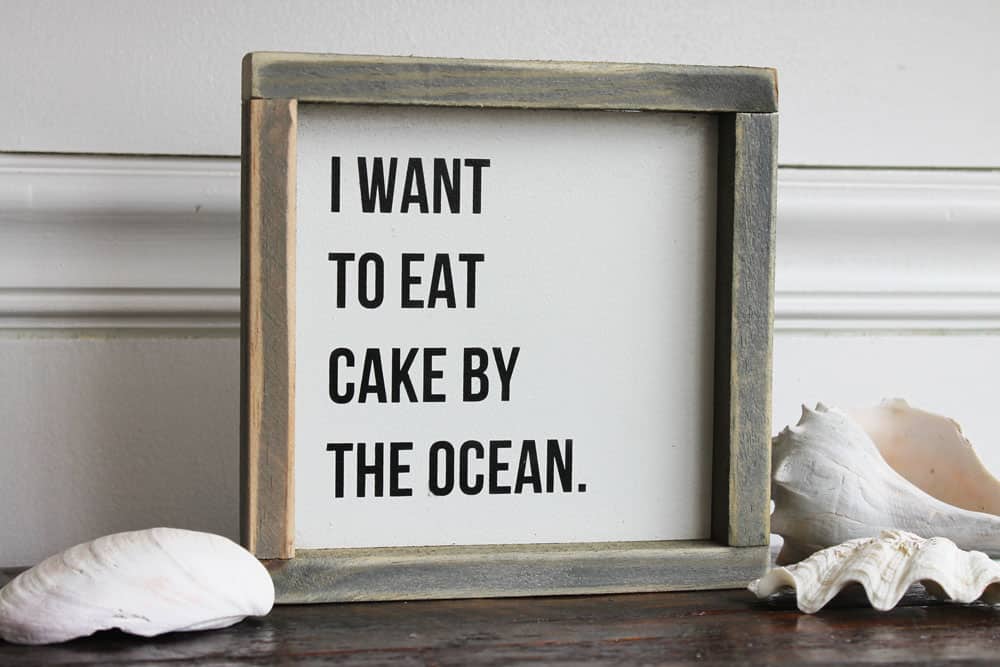 With Spring now here and moving full speed ahead with warmer weather I knew I needed to add a few cutesy woodland creatures to the mix. Don't you just want to reach through the screen and squeeze him?!
Spring Rabbit
Here's another example of a song sign which is by Twenty One Pilots that I hear all the time. My little mini me (aka. Miss Ava) likes to run into Mike and I's room in the morning and yell….
Wake Up, You Need to Make Money!
When Pigs Fly
Spring Bird
Duck and her Ducklings
Believe it or not, even with my strange Harry Potter obsession, this is the first HP sign I've ever made!
I Solemnly Swear
And this little baby is pretty much my work motto 😉
Highly Caffeinated & Wildly Ambitious
Until next time!