Shop My Office and Studio
Shop my office and studio for my favorite list of supplies and tools that I love to use on a daily basis! Some of items may even surprise you. See NOW!
I feel so rude! Here I am, day after day telling you about my studio, showing you how to create your own projects, and then I completely forget to show you around! Soooo not cool. I apologize. Please don't be mad at me! 😉
Trust me, it was definitely not intentional and I would be more than happy to show you around. In fact, I've been getting a lot of questions about the products I use to make signs, etc, and I realized this would be the perfect time to show where I work on a daily basis.
Soo… let's Shop My Office and Studio in this show-and-tell blog post today!
When you first walk into my studio this is the first corner that you'll see. It's full of tools and where I typically frame up my signs.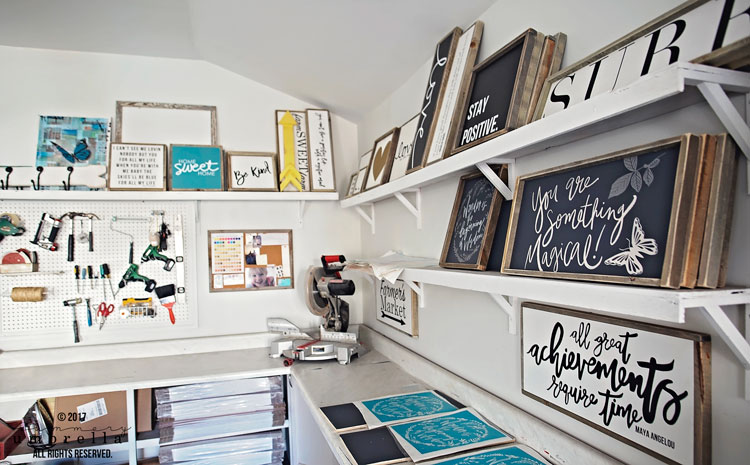 Just in case you were wondering… the below miter saw that I am referencing is actual the one in Mike's shop that I typically use. The on in the photo is an older one that I rarely use.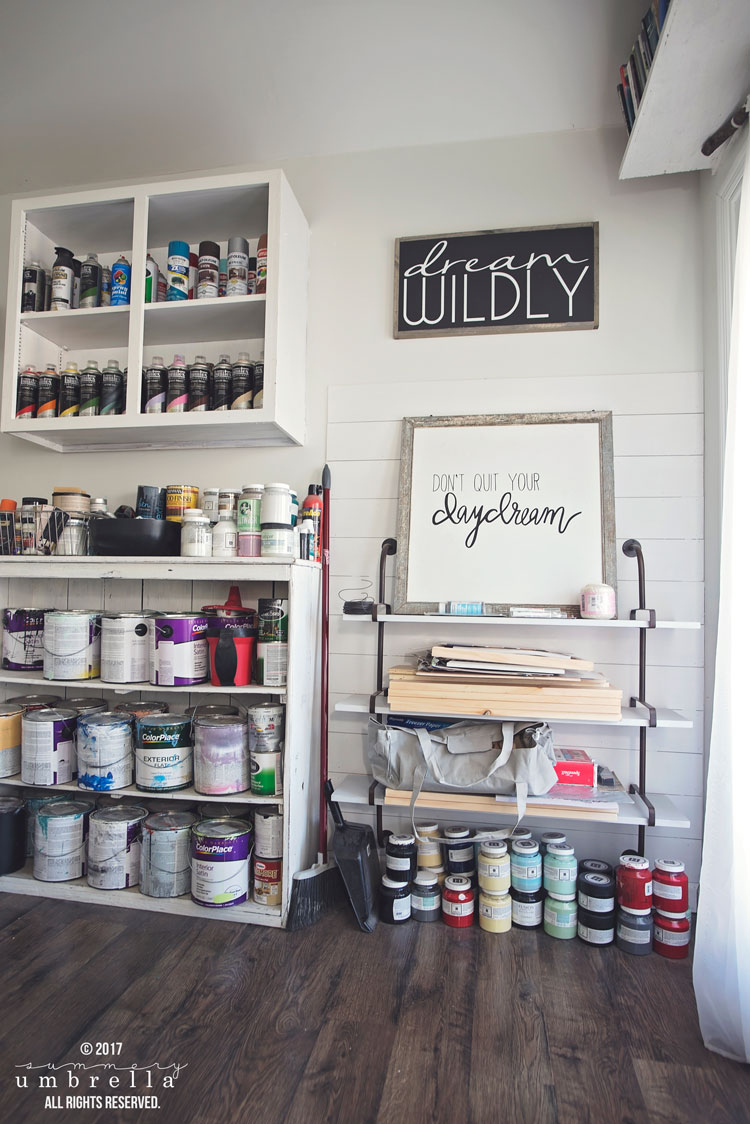 Ever have problems finding matching shelving, or just shelving in general? Use scraps or go junk yarding! I used an old kitchen cabinet (for my spray paint), a book shelf (for my paints), and this shelf unit (in my faux shiplap area for photos) for all of my painting supplies and just painted them all to match. HUGE money saver!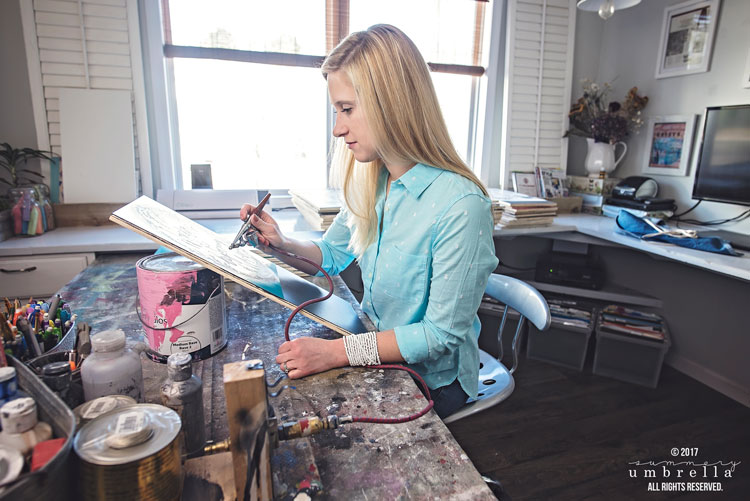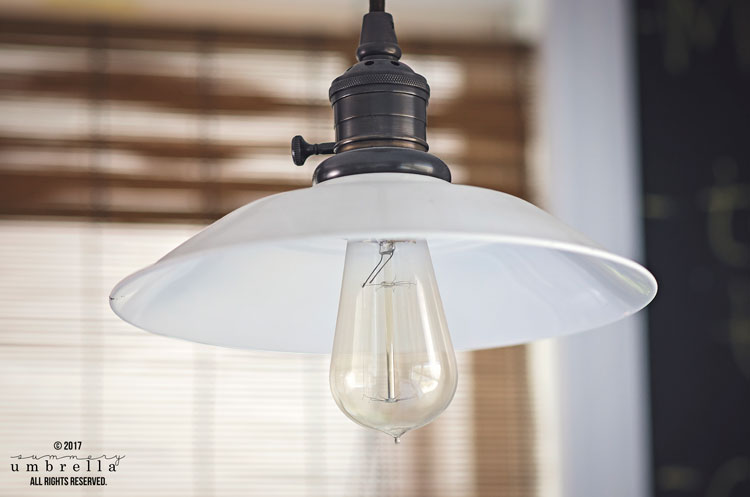 This pendant light is from Pottery Barn, but unfortunately it is no longer available. Boo. However, I did find this one that is similar, and just as cute!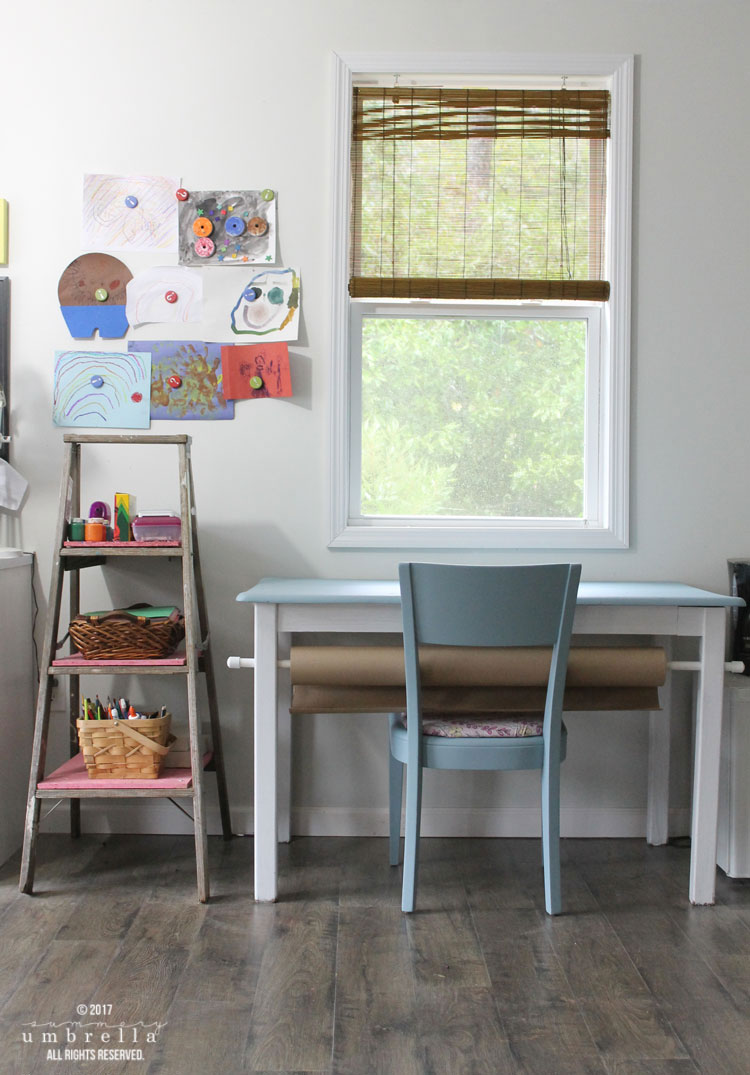 All of the bamboo shades in my studio are believe it or not outdoor shades made for your porch. However, I don't think Lowe's advertises them like this anymore. Probably because so many people have brought them indoors in the last few years!
Other than that… all of the supplies in the picture are random bits and pieces from Walmart, Amazon, and countless crayons from restaurants. You know what I'm talking about if you have kids. Every time you head out to a restaurant they typically have 2-3 crayons and a coloring page to keep your kiddos occupied for a whopping nine minutes. If you're lucky 😉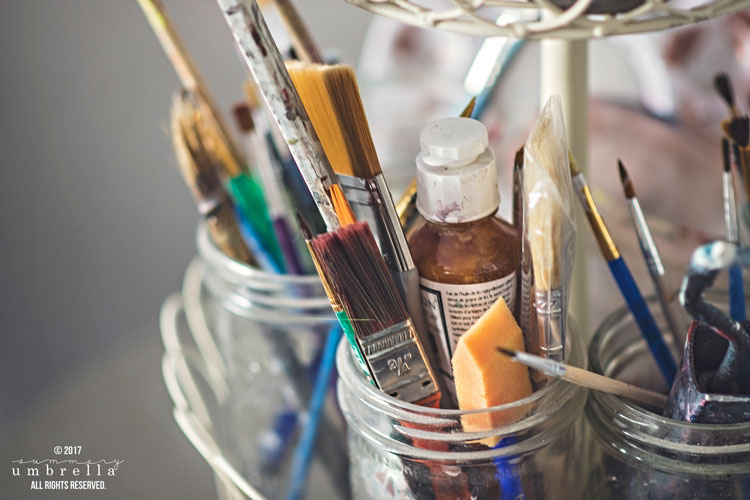 I had the hardest time finding the 2-tier metal stand that you see in this photo, but I thought the rustic/farmhouse one below was even cuter! Definitely on my list to buy next!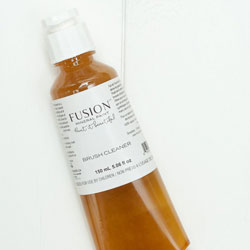 Shop My Office and Studio
And that's it folks! I'll keep updating this post whenever I change anything so you have the most up to date supplies, but other than that… that's my studio 🙂
Pssttt…. Don't forget to check out my Decorating projects page chocked full of DIY and decorating goodness!