Hello September! Looking for a new (and FREE) September Calendar download? Stop on by to get this beauty today for both your desktop and smartphone.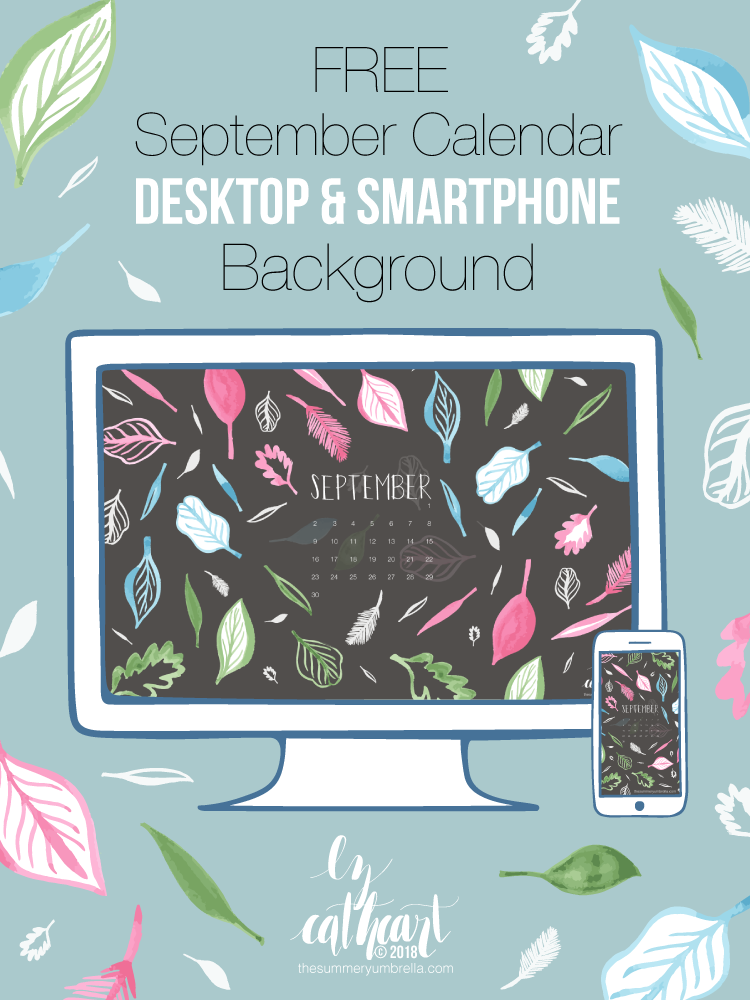 Ava started school last month, but I'm not sure I feel like I exactly have the hang of it yet. How about you? Are you into the swing of things?
You would think I'd be good-to-go, and ready for her to be learning again. However, I think it's because I know that those carefree summer days are over. As in, I can't let her sleep until 9 or 10am because I know she didn't sleep well the night before.
Nope. No. Nada.
Those days are longggg gone. However, on the bright side it also means that cooler weather, sweaters, and large mugs of hot chocolate are just around the corner.
And that my friends, is totally worth summer being over and done with.
But enough gibber gabber from me. Go on, get this free September Calendar download, and get on with your day! Enjoy!!
Desktop Download | Smartphone Download
FREE September Calendar Download: Desktop and Smartphone Backgrounds
Do you love this design, and wish there were more that you could use for your own use? My friend, I have great news for you!
If you would like instant access to my ENTIRE library of hand lettered designs you can read more about how to subscribe to the Studio Pass here!
You know you're ready for the Studio Pass if you…
Want to stop wasting hours searching for quality vector files—and put that time back into crafting
Wish you had a selection for your projects that didn't look like everyone else's
Wonder what the pros are doing with vector art that you don't know—yet
Take a look inside.

Happy crafting!
Linda Zahora-Cathcart

Guess what? Every month I add 5+ designs to the The Summery Umbrella Shop, and I just know you'll want to check out these new beauties in the shop!
Please remember: All designs, images, patterns, and calendars (but are not limited to) are © The Summery Umbrella, LLC. These items are for personal use only. You may not reproduce, recreate, or sell in any way. However, please feel free to download for your own personal uses. Also, this is exclusive content so you may not share these downloads with anyone, BUT I'd be most delighted if you directed your family and friends to my page. In fact, I'd be honored and thrilled. Thanks in advance for understanding!​​​ Read more about my personal and single-business commercial use rights over my Shop Policies page.