Rustic Chic: Elevating Your Bathroom Style with a Unique Toilet Paper Holder
Have you been looking for a rustic bathroom branch toilet paper holder that is not only functional but also SUPER EASY as well? Then stop on by!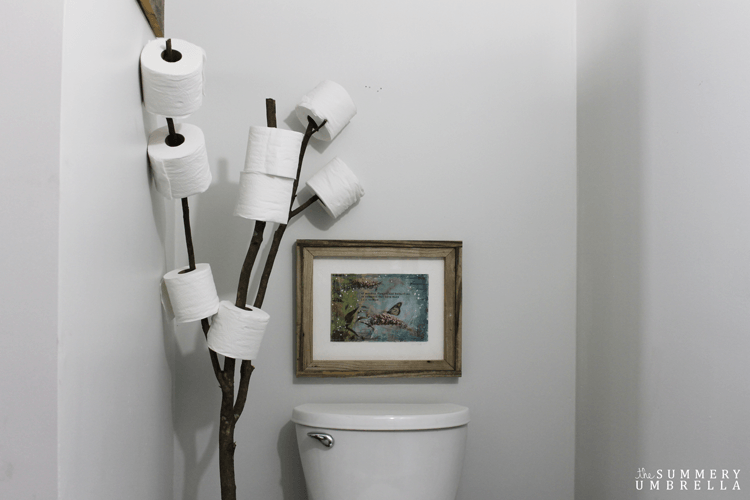 Well, hello there honey bunny! I just wanted to thank you so much for visiting the blog today. You are just as sweet as pie!
Ahem. Yes, I am most definitely practicing my Southern accent out loud as I am typing this post. It's coming along.
Well, kind of.
It's like this cross between a French accent (I took-en-francais in high school–no, I was not very successful at it!), and then add in my Midwestern/Chicago-style accent (that is surely fading away).
Let me tell you, I am thoroughly amusing myself right now. 😉
So, now you know the truth. When I'm not designing and decorating I'm practicing my accents and watching reruns of The Big Bang Theory.
Trust me, I know. I live the good life. I got big a$$ money, and I ain't afraid to spend it.
That's why I use branches repeatedly in all of my decor. LOL.
Have you seen these other branch-related DIY projects?
Actually, I can't take credit for that one. That's a "Mike" (aka. super-talented hubby) comment.
I really wish I could convince him to write a few blog posts every once in a while. He's most definitely the witty one in the relationship.
I'm just persistent. I keep trying…. even when I realllyyyy, realllyyy epically fail.
Which is most of the time.
Like I said though. I keep myself quite amused.
Best Branches to Make a Rustic Bathroom Branch Toilet Paper Holder
Free ones! Seriously. I find random ones in my own backyard that are aesthetically appealing to me.
For color: go for conifers (for example: evergreens)
For a natural wood look: go for the hardwoods (for example: oak)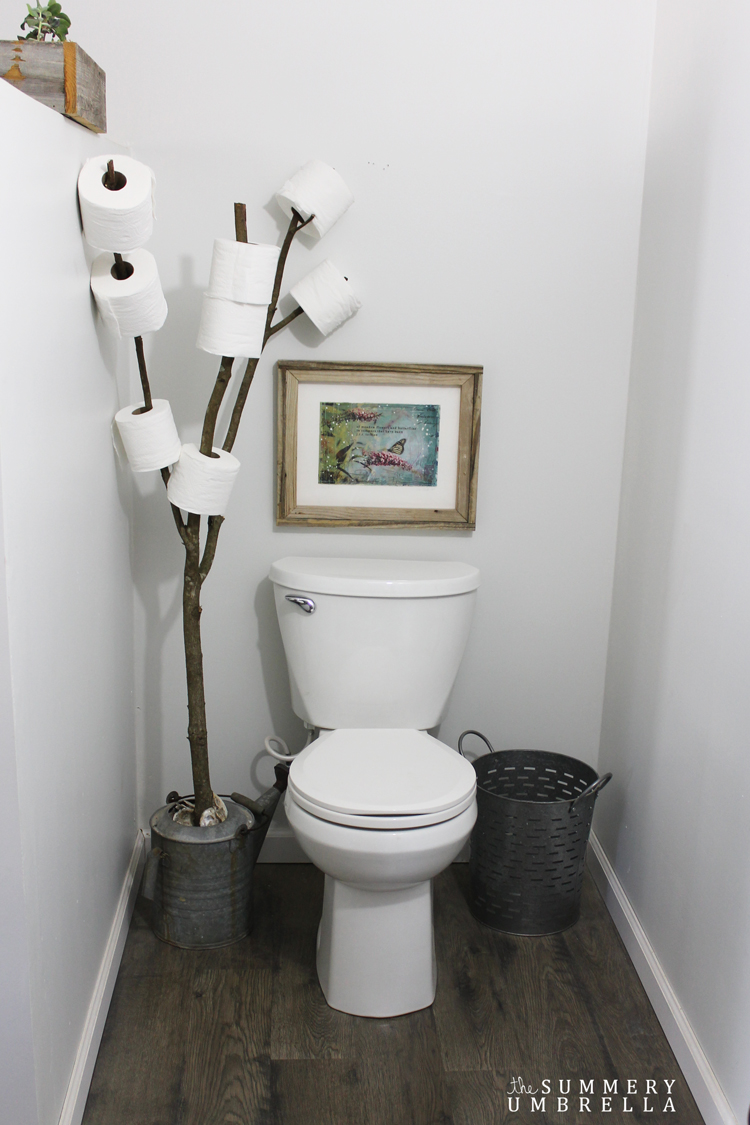 While this particular decorating idea might not be for everyone, I am definitely thrilled that you stayed to get a glimpse into my wild imagination! Sometimes you just need to try out something new and different to find that "big" idea that you're looking for.

Happy Crafting! 🙂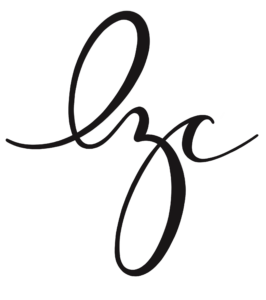 Pssttt…. Don't forget to check out my DIY projects page chocked full of DIY and decorating goodness!
Let's be Social
This post was updated in November 2022.