Well hello, October! Looking for a new (and FREE) October Calendar download? Stop on by to get this beauty today for both your desktop and smartphone.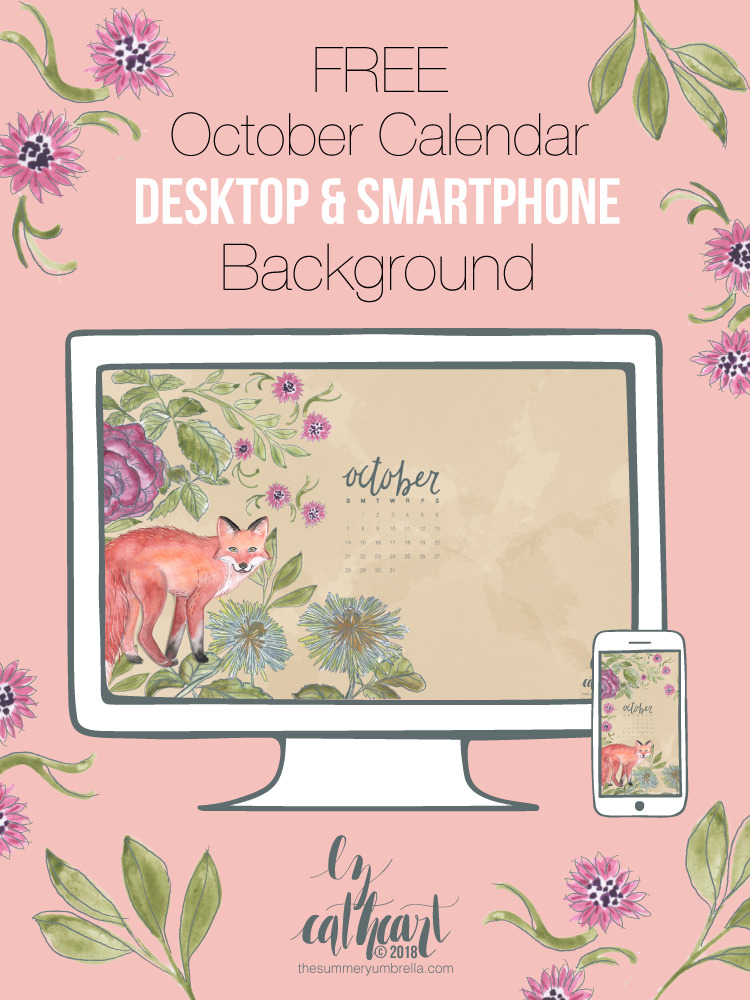 Typically I love the artwork that I create, but sometimes (just sometimes) I loveeeeeeee something that I design. For instance, this little fox has absolutely stolen my heart! However, I've been working on him for over a year now. Now granted, not continuously, but just couldn't find a version that I liked.
I've tried all sorts of different versions ranging from more cartoon-y to super realistic, but none of them just felt right. None of them until about a month ago when I decided to try a watercolor version that added the interesting lines that you can now see paired with the tremendous detail from my favorite iPad and Apple Pen.
Desktop Download | Smartphone Download
FREE October Calendar Download: Desktop and Smartphone Backgrounds
Do you love this design, and wish there were more that you could use for your own use? My friend, I have great news for you!
If you would like instant access to my ENTIRE library of hand lettered designs you can read more about how to subscribe to the Studio Pass here!
You know you're ready for the Studio Pass if you…
Want to stop wasting hours searching for quality vector files—and put that time back into crafting
Wish you had a selection for your projects that didn't look like everyone else's
Wonder what the pros are doing with vector art that you don't know—yet
Take a look inside.

Happy crafting!
Linda Zahora-Cathcart

Guess what? Every month I add 5+ designs to the The Summery Umbrella Shop, and I just know you'll want to check out these new beauties in the shop!
Please remember: All designs, images, patterns, and calendars (but are not limited to) are © The Summery Umbrella, LLC. These items are for personal use only. You may not reproduce, recreate, or sell in any way. However, please feel free to download for your own personal uses. Also, this is exclusive content so you may not share these downloads with anyone, BUT I'd be most delighted if you directed your family and friends to my page. In fact, I'd be honored and thrilled. Thanks in advance for understanding!​​​ Read more about my personal and single-business commercial use rights over my Shop Policies page.