How to Create the Most Amazing Rustic and Spooky Halloween Table Decor
Learn how to design the How to Create the Most Amazing Rustic and Spooky Halloween Table Decor for your next party! Super simple AND gorgeous!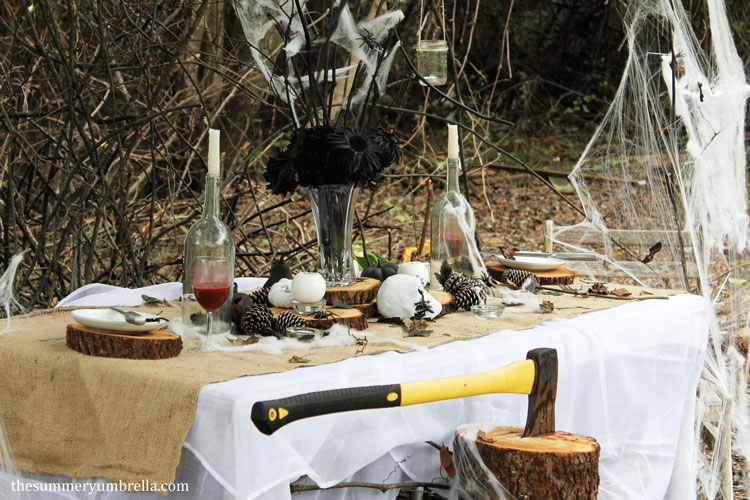 I've been wanting to create a Rustic and Spooky Halloween Table Decor display for some time now, and when I realized that it was already halfway through the month I knew I needed to get on it ASAP!
First, I started formulating an idea of what table I was going to use and my centerpiece. If you follow me on Instagram you'll know that Mike recently cut down a tree (remember my order for wood slices?), and is clearing out a part of the yard that has become overgrown with crazy grapevines. This part of my yard definitely creeps me out, and I figured it would be the perfect place to put up my decorations.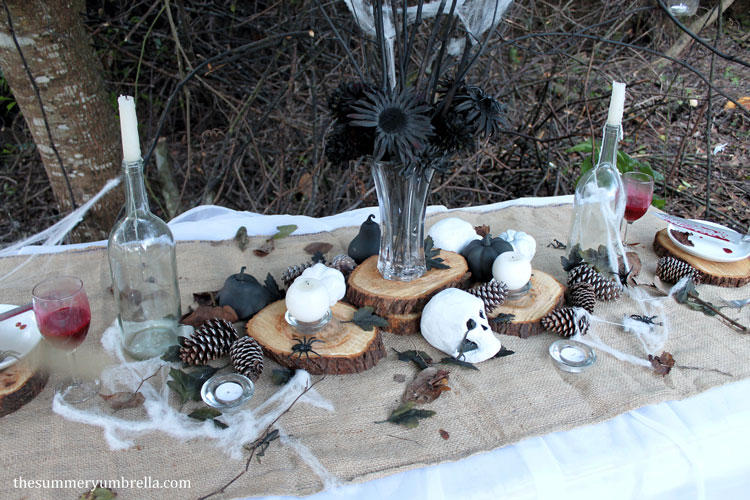 Thankfully I always seem to have extra artificial flowers around the house so I just picked out a few of my favorites for my centerpiece, and spray-painted them black. Normally I wouldn't recommend spray painting your flowers, but since they're supposed to look dead anyways no worries in this department!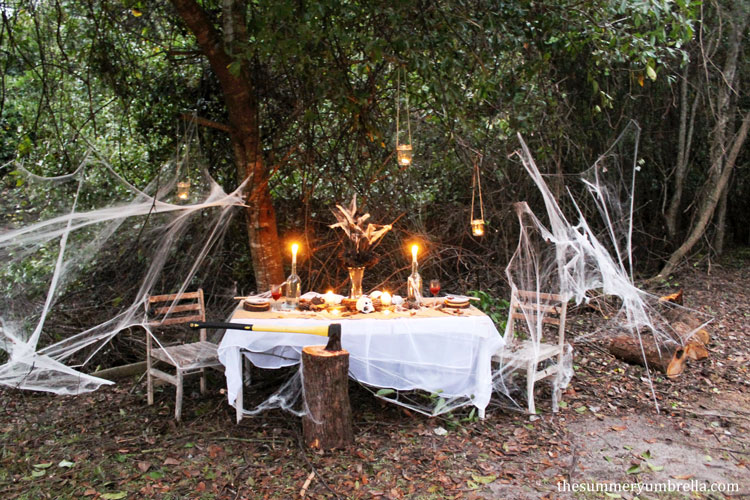 Spooky Halloween Table Decor
I wanted to add some height to my rustic and spooky Halloween table decor centerpiece so what better to use than branches? Once again, I just spray-painted these puppies black, and waited for them to dry. I have found with projects like this the cheapest spray paint you can find usually dries the fastest.
Next, Mike and I dragged out the table I was going to use and a few chairs. I wasn't sure what kind of tablecloth I would want to use so I started off with using two white, sheer curtains that I stole from one of my windows. So far, so good! Isn't this "backdrop" creepy? Eek!
Mike had left his ax nearby, and I couldn't resist adding this element to really amp up the spooky factor.
Looking for more Fall inspired DIY projects?
Since I added the ax to the decor I knew I would need to incorporate a little bit of blood. This was my first attempt. Just water and red food dye. Yea… no good!
A little bit of water
Add corn syrup
Add corn starch (mix everything together, and if it's lumpy put it in the microwave for 30 seconds to help get them out)
Add a few drops of red food dye
Add ONE drop of blue food dye
Repeat steps 1-5 until you get a thick consistency like maple syrup (I repeated approximately 3x)
Since I have never made "blood" before (and was feeling adventurous!) I didn't look up any specific recipes. I decided to slowly add these ingredients so there could be a better way to do it. Who knows. 🙂
Once I found the consistency of what I thought blood looked like I poured it into the two wine glasses I was going to use and swirled it around the glass like you would with wine. I'm still a little creeped out by how well this turned out!
I made sure to save a little bit of my blood mixture to add to the ax. To apply, I just used a paintbrush to drip it down the edge of the blade, and down the stump.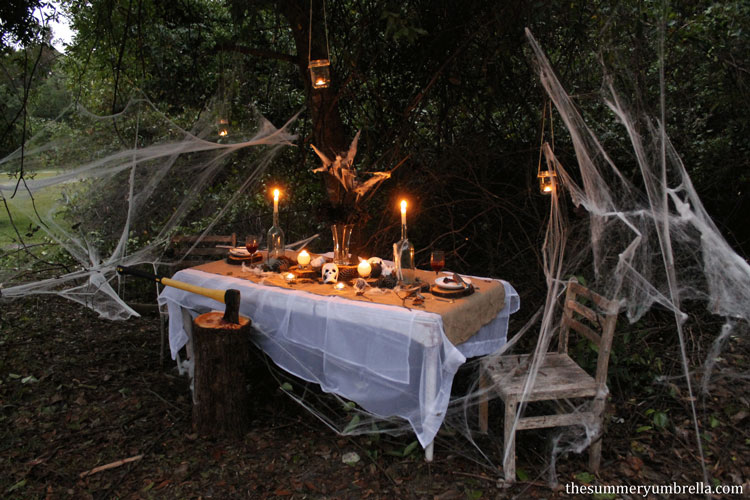 I would have LOVED to have put up an old chandelier, but unfortunately, the vines above the table weren't very sturdy so I used my next favorite option: mason jars with tea lights. All you need to hang them up is a little bit of twine/twisted rope, and you'll be good to go!
Spooky Halloween Table Decor
a few packs of spiders and insects

black spray paint

burlap coffee bags (as a table runner)
How divine do these wood slices look underneath these plates? Squeals! I absolutely LOVE how they are so rustic, but elegant at the same time.
DISCLAIMER: I didn't have any fake knives so just for picture's sake I used real knives. If you plan on doing a similar display (especially if children are involved!) I would most definitely use fake.
Creepy side note: While I was putting together this display an actual wolf spider decided to join me. Umm, I usually don't mind spiders, but when they are the size of the one on the below plate I start to get a little jumpy. Ew!
Do you like to collect old wine bottles? I'm not sure why, but I do. Don't they look awesome with just candlesticks?
Then I added a few extra candles that I had on hand for the nighttime creepy factor.
Spooky Halloween Table Decor
How can you add more nature and avoid the added expenses of creepy? Just add dried leaves, pinecones, and twigs. I literally threw the leaves and twigs in the air, and let them land all over the table and spider webbing.
I put together this whole display in about an hour and a half, but that was mainly due to me being such a perfectionist! Next, all I had to do was wait for the sunset so I could light the candles for the nighttime photo shoot.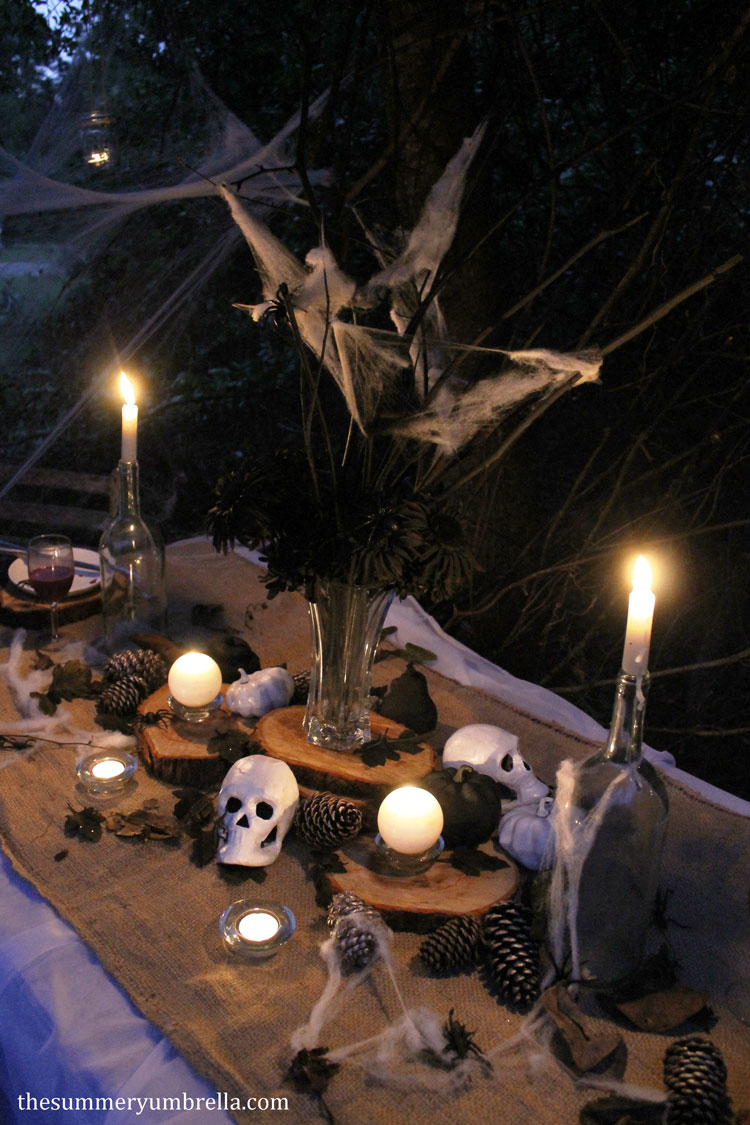 Spooky Halloween Table Decor
During this nighttime shoot, I think I jumped at just about every sound. Wimp? Uh, yea! But, how awesome did this turn out?!
I hope everyone has an awesome weekend!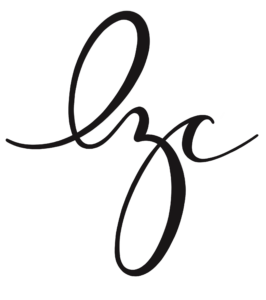 Pssttt…. Don't forget to check out my DIY projects page chocked full of DIY and decorating goodness!
Let's be Social