Gluten-Free Apple Pie AND a Guest Appearance on NBC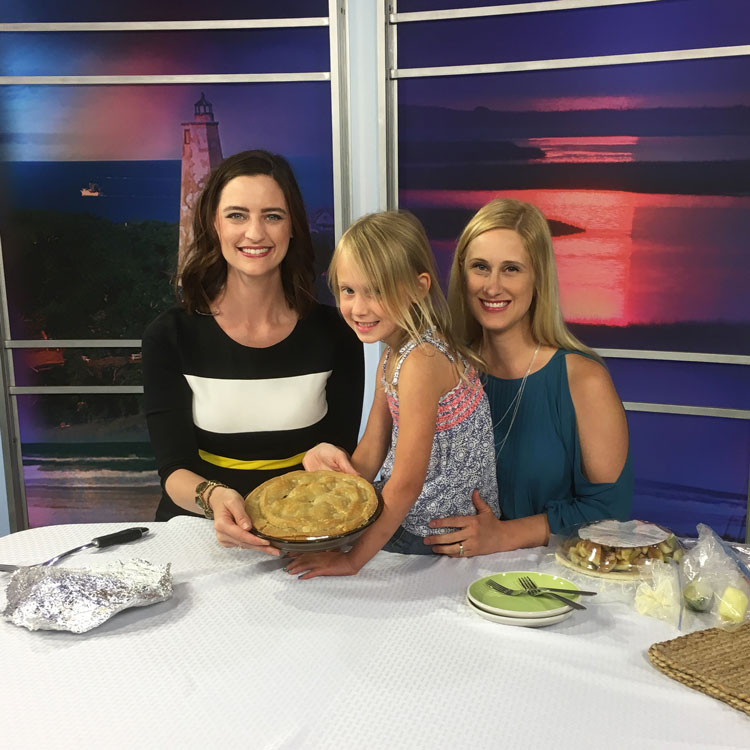 Good morning, happy people! 🙂
I am so excited to share with you a very special moment in my life. Recently I was contacted to do a guest appearance for a local TV station (NBC WECT TV-6 out of Wilmington, NC) to raise awareness about Celiac's disease as well as to share a super yummy Gluten-Free Apple Pie recipe.
Needless to say, I was ridiculously nervous about the entire event, and probably practiced the script at least a hundred times. No joke! I know it's a little out of my "normal" realm, but who doesn't love to eat? I know I do!
So, without further ado, go ahead and check out my entire video clip interview below.
WECT TV6-WECT.com:News, weather & sports Wilmington, NC
Not to shabby for my first time, right?! I was so proud, and decided to stop watching it after the .. ohhhh, I don't know… 10th time. Mainly because at that point I started being too judge-y. Never good when you get to that point!
Anywayssss, I bet you're wondering about this recipe by now. Don't worry, I got your back. It's sooo easy, and pretty delicious if I do say so myself! So, here it is:
Gluten-Free Apple Pie AND a Guest Appearance on NBC
Ingredients
6 apples (I used Granny Smith)
2 T butter
1 T cinnamon
1/2 cup sugar
1 Wholly Wholesome Gluten-Free Pie Shell
Steps
Take out your pie shell and let it thaw out for 10 minutes.
Cut, peel, and core out your apples, and then place into your pie shell.
Mix your cinnamon and sugar together and put on top of your apples.
Evenly cut your butter into slices and put all over your pie.
Bake your pie at 375 degrees for 30 minutes.
See… easy, right?! It's got to be my new favorite pie recipe hands down, and that is no lie!
Hope you have a wonderful week, and see ya on Friday 🙂