How to Create a DIY Kids Storage Ladder
Creating a place for your kid's art supplies has never been easier! Check out just how easy it is to make this DIY Kids Storage Ladder now!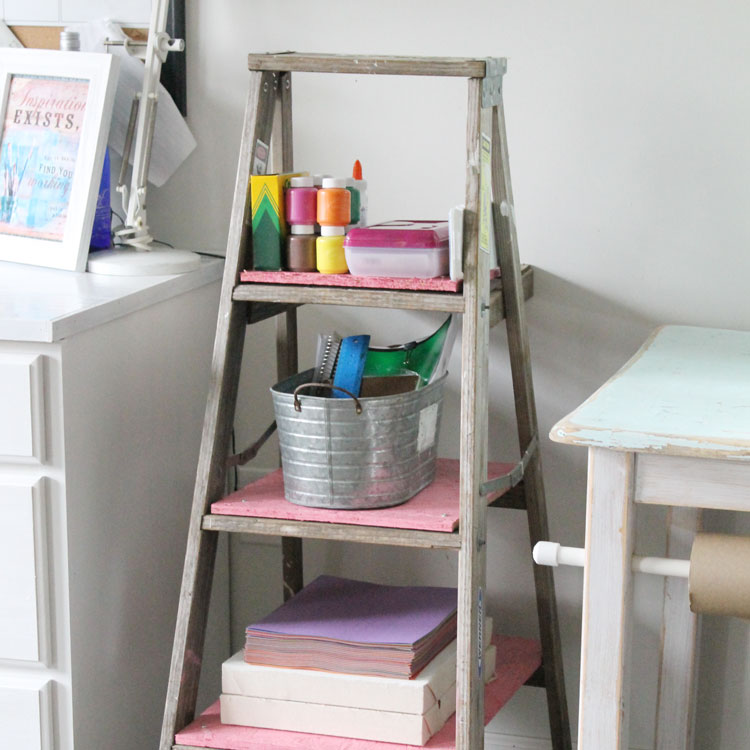 As many of you already know, I have been diligently working on organizing and decorating my new studio as quickly as possible. I hate to admit it, but I get a little cranky when my stuff is out of order.
Can we say, perfectionist? Does anybody else have this problem?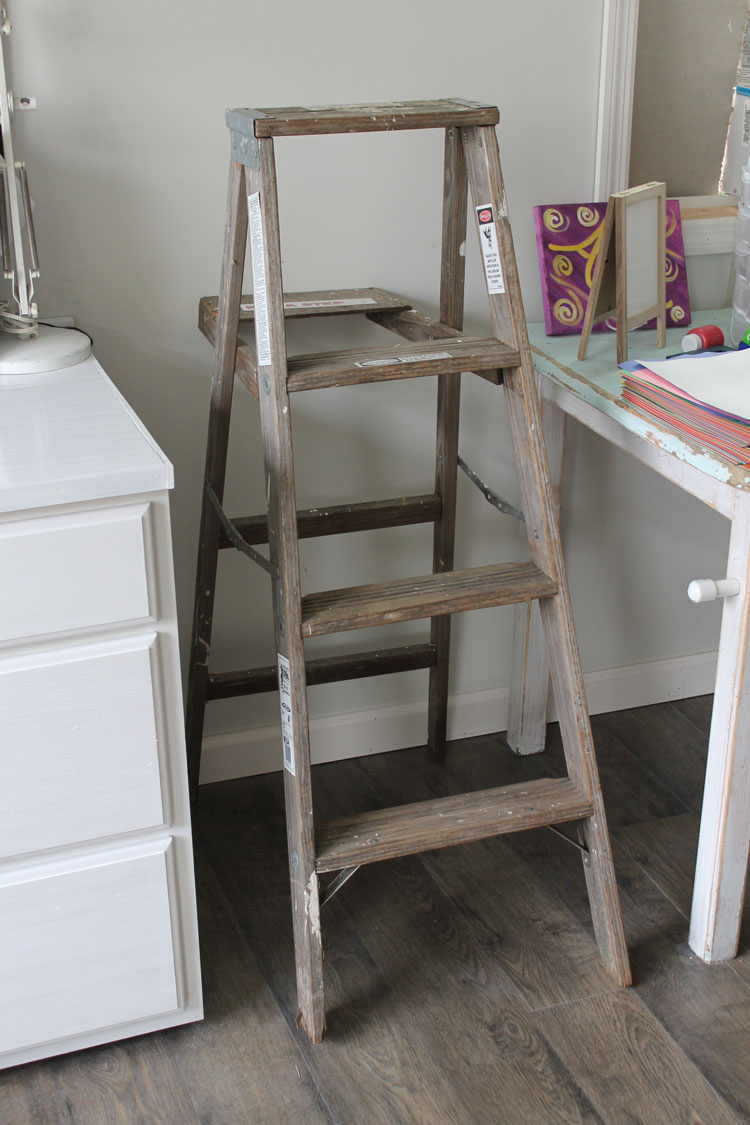 It's both a blessing and a curse, isn't it?
Thankfully I have gotten better over the years, but when it comes to my studio… watch out! This little mama needs consistency in her life, and this place is my sanctuary and my happy place.
However, with that being said I was more than happy to share my space with my Mini Me (aka. the daughter, Miss Ava). She is an incredible artist, and I knew that I would need to set up a spot just for her as well as all of her stuff.
Thus, the DIY kids storage ladder was born!
Turning an Old Ladder into Art Storage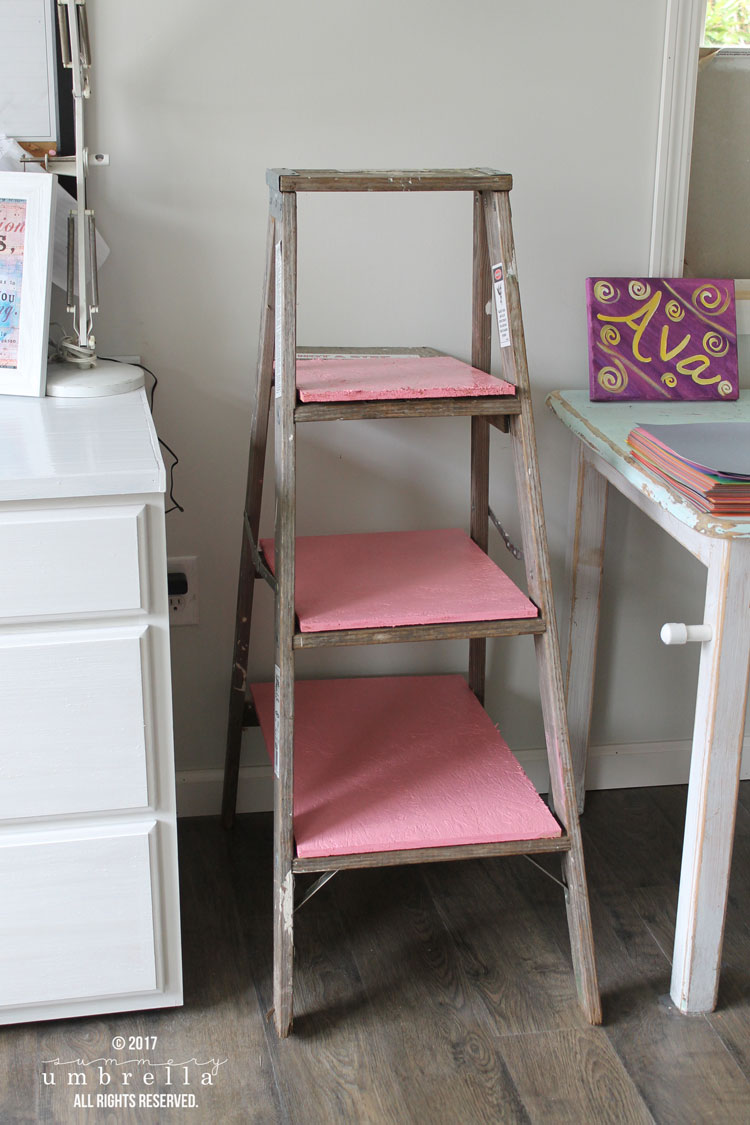 Believe it or not, I actually had different plans for this ladder when I originally purchased it. Shocking, right?
You've never heard me say that before! 😉
But, I soon realized after moving all of my stuff into the studio it would not be able to be utilized for the project I had in mind.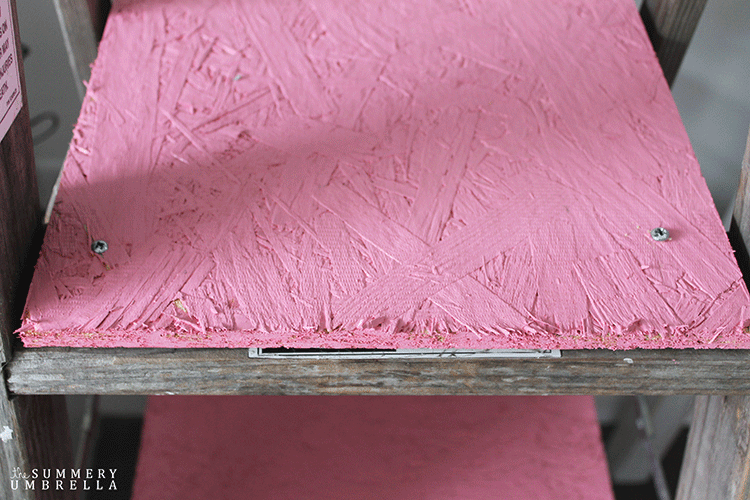 Thankfully I was able to quickly think of this new concept and I just KNEW you guys would want to do the same!
Supplies:
Old wooden ladder (I got mine at a flea market
Plywood
Paint
Buckets
Seriously, this is like the cheapest (and coolest) shelving system… ever.
Directions
Here's how I built and created this unique art-storage solution.
1. ) Buy the Ladder
I spent a whopping $10 on the ladder at a flea market.
2.) Cut the Plywood
I already had the pieces of plywood on hand, and just had to measure them to size to fit on each of the steps.
3.) Paint the Plywood
Then, I painted the wood pink since it is Ava's favorite color.
4.) Screw them into the steps
Last, I screwed them into the steps to ensure that they would not come out just in case she got any bright ideas. You know what I'm talking about! Kids think of everything. Hopefully I'll be one up on her with this one 😉
Ava's favorite art supplies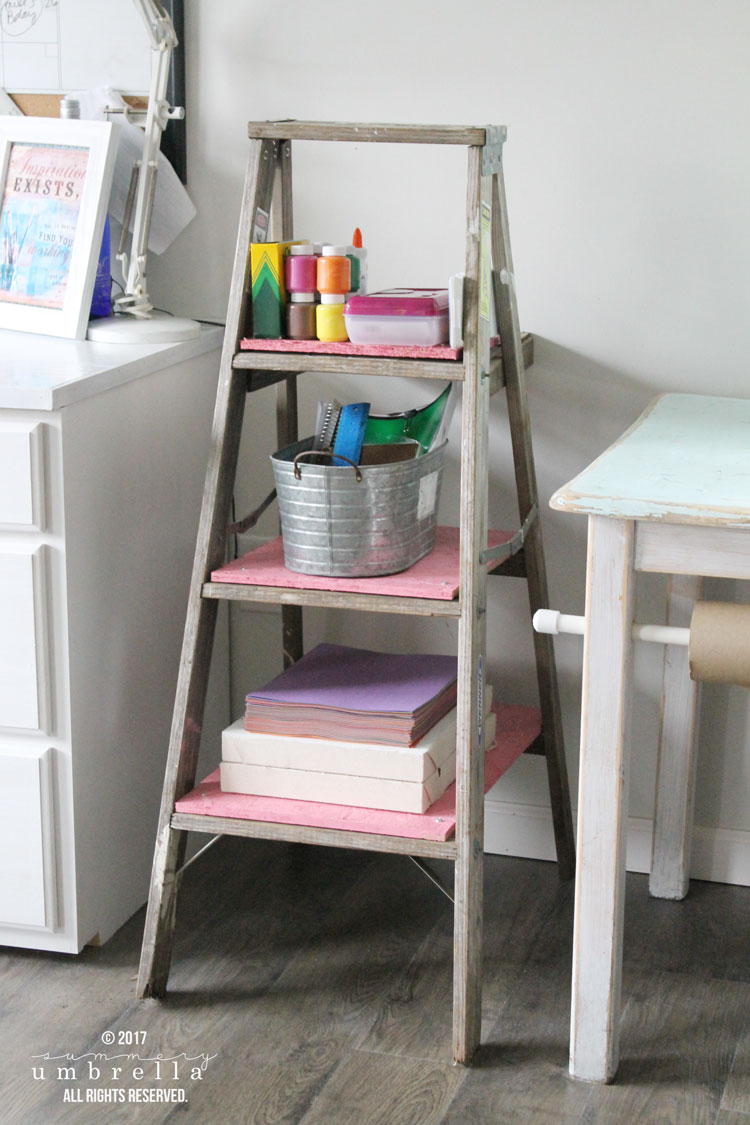 Then, the only thing I needed to do was add a few baskets and all her supplies. So simple, so pretty, and oh so easy.
I just love it when a plan comes together!
Pssttt…. Don't forget to check out my DIY projects page chocked full of DIY and decorating goodness!
More DIY Ladders
Do you love this DIY kids storage ladder? Then you'll definitely going to go bananas over these ladders too!